Knights Defeat Hornets in MIAA Tournament First Round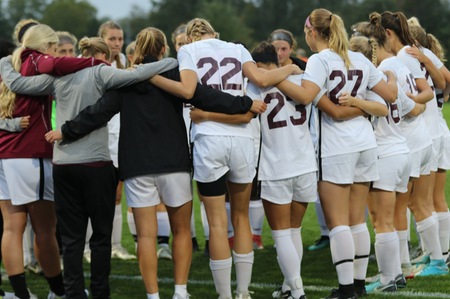 Hang on for a minute...we're trying to find some more stories you might like.
Calvin women's soccer defeated the Kalamazoo Hornets four goals to one in the first round of the Michigan Intercollegiate Athletic Association (MIAA) Tournament last Saturday, October 27. The Knights had already beaten the Hornets 2-0 in the regular season and finished third in the conference. Kalamazoo, on the other hand, ended their season in sixth place.
The Hornets came into the match with guns blazing, putting the Calvin defense to the test from the get-go. They dominated possession and created opportunities, including two very close attempts at scoring, but they were unable to convert these chances into goals. Calvin's defense held firm, and they slowly began to take control of the game. Calvin was finally able to get a foothold on the game when sophomore Emily Van Vliet scored her 10th goal of the season after a tussle in the Kalamazoo box.
The Knights gained momentum after scoring, and they were able to take control of the game. They were able to convert this dominance into goals soon later, when senior Kali Mouw scored in the 31st minute of the half off a corner by sophomore Maria Vander Lei. The score remained 2-0 at the half.
The Knights began the second half the same way they ended the first, dominating possession and attacking the Kalamazoo goal. The Hornets were able to stop the Knights and create some chances of their own. Kalamazoo went on to score 25 minutes into the half with freshman Kai Ketola heading the ball on net off a corner from senior Sarah George. It seemed as if the Hornets would gain some momentum after scoring, but Calvin quickly reasserted their two-goal lead when sophomore Jessie Paulson scored on a shot from outside the box. It was her fourth goal of the season, and she was assisted by Emily Van Vliet. Calvin remained in control of the match for the rest of the second half and grabbed another goal, with Emily Van Vliet scoring her second of the game and 11th overall after receiving a low cross from sophomore Izzy Redfield. The final score was Calvin 4, Kalamazoo 1.
The Knights progressed to the MIAA Tournament semifinals, where they will face Adrian away on Wednesday, October 31.