Volleyball Midwest Invitational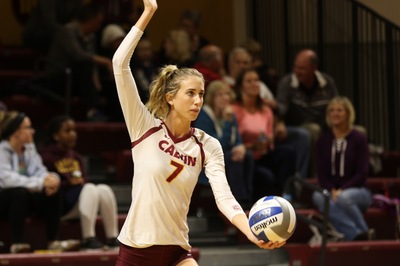 The Midwest Invitational is a tournament Calvin has hosted the past five years that invites various volleyball teams to compete against each other. This year it featured the #1 team in the nation, Calvin, #7 Thomas More, #16 Hope, #19 Northern Ohio, Elmhurst and Susquehanna.
Calvin opened up the Midwest Invitational on Friday, Oct. 12, facing off against Susquehanna and Northern Ohio. As the top ranked team in the tournament, they handled business as expected on the first day by defeating Susquehanna in three straight sets and #19 Northern Ohio in four sets.
On the next day of the tournament Calvin began with a faceoff against Elmhurst, who they also put away easily in straight sets. The next game and last match of the tournament for Calvin was the highly anticipated match against #7 Thomas More.  
In the first set Thomas More jumped off to a fast start, but Calvin responded quickly as the set became a back and forth battle. This continued for the duration of the entire first set but Calvin was able to pull away and win 31-29. This first set symbolized  how the rest of the match would continue to be a back and forth heavyweight match.
The second set began in similar fashion to the first as it continued to be an uphill struggle. This time Thomas More came out on top with the score 28-26, showcasing how this match was sure to live up to all of the hype.
In the third set the match took a different course, as Calvin was able to overpower the seventh ranked team easily to win 25-14, setting the stage for them to finish off Thomas More in the fourth set.  
In the fourth set, Thomas More made a turn for the better as they came out firing, and although Calvin didn't go away easily, Thomas More won the set 25-20 to send the teams to a win or go home final fifth set. The fifth set was reminiscent of the first and second as it culminated into back and forth action at the highest level. Going down to the final point, Thomas More took the fifth set on an ace, resulting in Calvin's first loss of the season.  
The tournament concluded on Saturday with Calvin going 3-1, Thomas More going 3-1, Hope going 3-0, Northern Ohio going 1-3, Susquehanna going 1-3 and Elmhurst rounding out the group at 0-3.
The Calvin volleyball team will be playing this Friday, Oct. 19, against the University of Wisconsin-Whitewater to begin the Elmhurst tournament.