Women's Soccer Kicks off Conference with a Win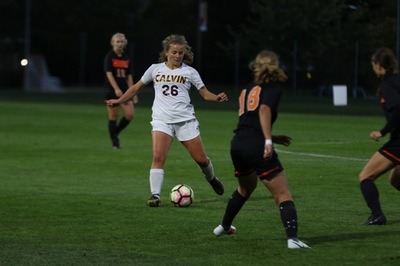 Hang on for a minute...we're trying to find some more stories you might like.
The Calvin Women's Soccer team faced off against the Kalamazoo Hornets for their first conference game of the season last Saturday. Last year the Knights beat Kalamazoo 2-1 at home but lost 3-2 away. This is the Knights' first conference match under first-year coach Emily Ottenhoff.
Calvin began to put pressure on the Kalamazoo defense immediately and created some early chances, including a header that was cleared off the goal line by the Hornets. The Knights pushed for an early goal, and they got one when sophomore Emily Van Vliet scored after receiving a pass from sophomore Jessie Paulson. It was her sixth goal of the season.
The Hornets began to find their rhythm and gain some possession, but the Knights were able to shut down their attacks while creating some attacks as well. After a Kalamazoo corner in the 29th minute, the Knights had a breakaway opportunity in which sophomore Emily Van Vliet scored her second of the game and seventh overall. She was assisted by sophomore Maria Vander Lei. Calvin and Kalamazoo battled it out pretty evenly for the rest of the first half, and the game remained 2-0 at half time.
The Knights began the second half the same way they began the first, attacking hard and creating scoring opportunities. In spite of this, they could not find the back of the net. Calvin and Kalamazoo were evenly split for most of the second half, but it was the Knights who had the best scoring opportunities, including several 1-v-1's with the Hornets' goalie. The Hornets were unable to create any significant attacking plays because of the Knights' defense. The final score was Calvin 2, Kalamazoo 0. Calvin women's soccer will head to Holland to face Hope on Saturday, October 6.