Prison program to bring restoration conference to Calvin
The Second Annual West Michigan Restorative Justice Conference to be held at Calvin.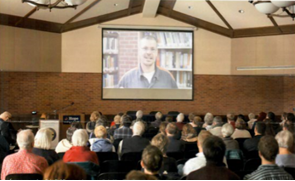 Christ calls us to visit the prisoner as part of our mission to the least of those among us, but on Saturday, Oct. 13 the prisoner will be visiting Calvin College.
With the assistance of the Coalition of Justice Voters and many others, students from the Calvin Prison Initiative Restorative Justice Club developed and organized "The Second Annual West Michigan Restorative Justice Conference: Hope, Healing, and Radical Reconciliation," which will be held at Calvin College's Covenant Fine Arts Center on Saturday, Oct. 13 from 9 a.m. – 4:15 p.m.
Although the students from the Calvin Prison Initiative will not be able to attend the conference in person, they will be present through several pre-recorded videos, handouts, and art work.
Last year's restorative justice conference, "Hope for Restoration: Radical Hospitality and Prison Reform," organized by CPI students and held at Hope College, won the 2017 Bert Thompson Award for Faith-Based Programs from the National Association of Community and Restorative Justice.
"The Hope for Restoration conference was a landmark event at Hope College," said Dr. Jared Ortiz, associate professor of religion at Hope College and director of the Saint Benedict Institute, which hosted the conference. "Not only did it bring together people of radically opposing views—Democrats and Republicans, liberals and conservatives, believers and non-believers, Calvin and Hope—but it sparked our imaginations for what is possible… I think everyone came away from the conference fired up to do something. The students were particularly eager to get involved, but so were many faculty and staff."
This year's conference promises to be just as inspiring and thought-provoking. The conference keynote speakers will be Nicholas Wolterstorff, Noah Porter Professor Emeritus of philosophical theology, Yale Divinity School, and Dr. Charlotte vanOyen Witvliet, one of the country's leading forgiveness researchers from the psychology department at Hope College.
Other speakers include Michael Duthler, former CPI student, Jared Ortiz, Dominique Dubois Gilliard, restorative justice advocate and bestselling author of Rethinking Incarceration; Fr. David Kelly C.PP.S, founder of Precious Blood Ministry of Reconciliation in Chicago, state representative David LaGrand, D-Grand Rapids; and a heartfelt interview on faith and forgiveness between Dr. Michelle Loyd-Paige, Executive Associate to the President for Diversity & Inclusion at Calvin, and Ms. Jerline Riley, who through the grace of God found the strength to forgive her son's murderer and, as a result, has become an advocate for restorative justice.
"I hope that this conference will also be characterized by vibrant dialogue between different constituencies," said CPI co-director Dr. Christiana deGroot. "The topic of the conference is so important, and I hope that we will leave with a deeper understanding of justice and reconciliation. I hope that attendees will be inspired to become not only knowledgeable but also move on to activism for this work of establishing justice."
Dr. Todd Cioffi, CPI co-director and emcee of the upcoming conference expressed similar sentiments.
"Without a doubt the last conference brought together a lot of folks who care about prison reform and are active at different levels. I met some people not equipped to work in college, but to work politically. We need to ask, what do we need to do to work together, not separately. I hope this conference continues to push us to ask and answer the questions: who's doing what and how do we encounter each other and help one another out."
Along with a dynamic line-up of speakers, the conference will feature dozens of display tables highlighting a range of organizations from victim and political advocacy to reentry and prison reform to churches and other groups working inside prisons.
Students who attended last year's conference said it was "a true testimony to humanity and God's grace," and "encouraging and eye-opening to all that is still left to be done." So, come out and support your fellow Knights from the Handlon campus. "The prisoner visited us, and we were all changed by the encounter," said Dr. Ortiz. You, too, will be transformed by this unique opportunity to be visited by the prisoner.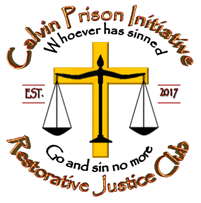 View Comments(1)