Opinion: Library layout hinders inclusivity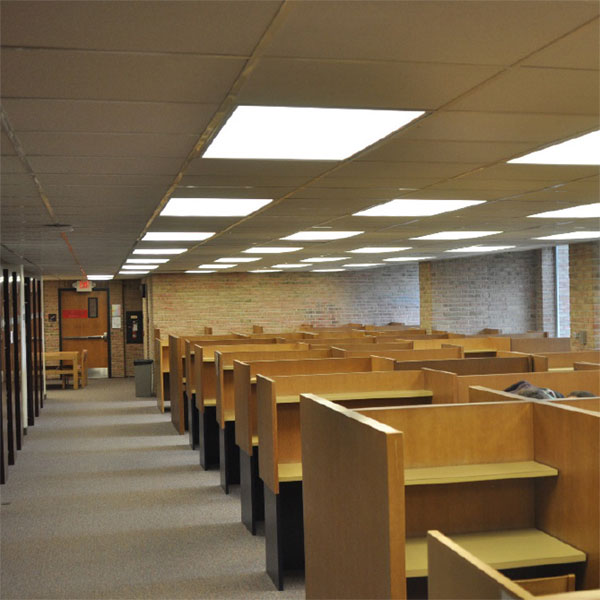 Hang on for a minute...we're trying to find some more stories you might like.
This year, on the first day of class in the Sandbox classroom in Hekman Library, a female student walked two laps around the fourth floor in search of a women's restroom. Confused, she stopped a staff member and asked where it was. He shook his head and acknowledged that the layout of the fourth floor did not include a women's restroom. The library, completed in 1970, was constructed with only a men's restroom on the fourth floor, a floor dedicated to religious and theological studies.
The theology floor is used by Calvin undergrad students, seminary students and faculty. This floor is also home to the H. Henry Meeter Center, which "houses one of the world's largest collections of materials on John Calvin, Calvinism, the Reformation and early modern studies." Resources on this floor are used by the Calvin Institute of Christian Worship, campus ministries, Center for Christian Scholars, Center for Faith & Writing, congregational and ministry studies, ministry leadership, the religion department, Calvin Theological Seminary and any number of other departments, faculty members and students that may be interested.
And not all of them are men. Granted, theology and ministry have long been male-dominated fields, and this was certainly the case when the library was constructed. However, much has changed. In 2016, Calvin Theological Seminary, our very own Pastor Mary's alma mater, celebrated the twentieth anniversary of women's ordination in the CRC. Now, almost 40 percent of the staff and faculty members in the religion and ministry positions on campus are female.
Unfortunately, and perhaps unintentionally, the physical structure of the fourth floor undermines Calvin's welcoming stance towards women in theological fields. A bathroom break for a female undergrad student attending a religion class in the Sandbox classroom may take up to ten minutes and include flights of stairs. Likewise, writing a research paper on the fourth floor may be inconvenient for a female seminary student.
Worth noting is the lack of a men's restroom on the third floor. The third floor is not a department-specific floor, but instead used mostly for recreational reading books and study groups. Given the rather exclusive history of the theology field, the lack of a women's restroom on the theology floor of the library does send a stronger message than the lack of a men's restroom on the third floor. Nevertheless, both single-gender split restrooms are a design flaw that should be remedied.
This issue has not gone unaddressed. In fact, in 2015, the Committee on Gender Equity and the Library's User Experience Team discussed the need for restroom renovations; however, no further action has been taken. In lieu of a full structural renovation (which will probably be a necessary update in the near future regardless due to the dated infrastructure), we propose that the restrooms on both the third and fourth floors be made into unisex bathrooms, like the restroom on the second floor.
This update would make all of the restrooms in the library accessible to all students. A simple change in signage and re-installation of locks would effectively meet this goal, and do so at minimal cost. A minor renovation like this would be a sign of hospitality and care for the entire student body, consistent with Calvin's values of inclusion and non-discriminatory practices.
We believe this would be a worthwhile project for student senate 2018–2019, and hope that our student body will continue to keep our campus hospitable.