Campus safety increases staff, hires fewer students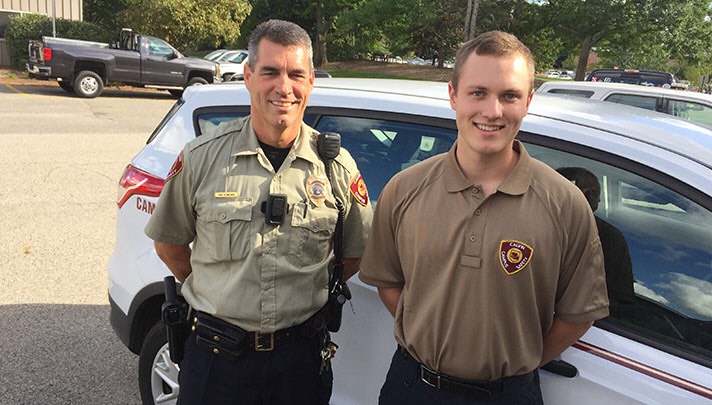 Recent hires to the campus safety staff provide a higher professional-to-student officer ratio and decrease the safety risk for the Calvin community.
Previously, student security officers responded to incidents such as: car accidents, mental health emergencies and stolen bicycles. Last year, campus safety proposed a new model that added more professional employees to the 2017-2018 staff, allowing experienced officers to respond to these incidents instead.
The recent hiring increased the professional staff to 12 full-time and part-time employees. Despite added staff, the new hires decreased budget costs since one professional officer now replaces the former two students responding to an incident.
The campus safety mission, as stated in the 2017 Annual Security Report, is to "strive for a safe and well-ordered campus, effective communications, relevant education and respectful service of the highest integrity." However, the previous model did not align with this mission. As Campus Safety Director Bill Corner stated:
"We were putting the students in positions that, honestly, I was not comfortable with for their safety and their level of experience."
Student security officers in the former model had reported being assaulted on the job. They were not equipped with the training to handle violent incidents. All students were unarmed employees who lacked training in self-defense and defensive tactics. They had little training in communicating with someone who might be contemplating self-harm or attempting to harm others. Additionally, student security officers experienced difficulty when enforcing student conduct violations in which their peers were involved.
The recently-hired professional staff members are former law enforcement officers from the Grand Rapids Police, the Kent County Sheriff department, the Walker Police and a police department in Florida.
These patrol officers have retired from their police jobs and now desire to serve and work with students. They were hired to positively interact with the Calvin College community, including students, faculty, staff and all campus visitors. Their position requires them to be the armed, primary responders for all on-campus incidents.
While hiring more professional staff was a central aspect of the new model, campus safety also intentionally preserved its reliance on student positions. Students provide the campus escort service and conduct building checks to ensure the security of campus buildings after-hours. They are also responsible for dispatch, which means monitoring the life safety equipment during a critical incident. Campus safety currently employs 15 dispatchers and eight student security officers.
Non-professional positions provide an opportunity for students to find their calling. The campus safety office dedicates an entire wall to photos of former students who have careers in law enforcement. Many former students return to visit and share their life experiences with their mentors, much to the delight of the campus safety staff.
One former student security officer became a state trooper after the passing of her father. She asked the now-retired campus safety supervisor, Steve Van't Hof, to pin on her badge at her pinning ceremony.
"I really appreciate the fact that so many of our former students like to come back to talk with [us] and share what's going on in their lives," stated Corner.
If you find yourself in need of the escort service, please call the dispatch line at (616) 526-6452.