Calvin community raises $10K for Johnny's employee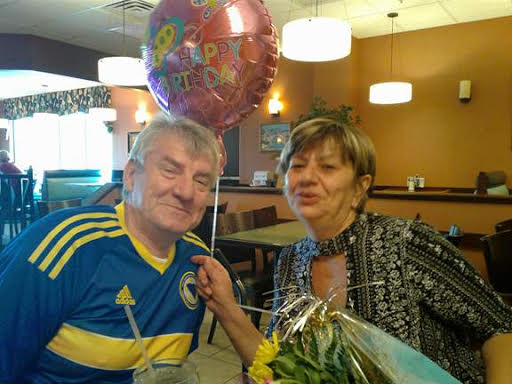 Hang on for a minute...we're trying to find some more stories you might like.
The Calvin College community banded together to help a Knight in need this past summer. Ramiza Fazlic, who has worked on Calvin's campus for 14 years (currently she works in Johnny's), had unexpected expenses when her husband, Fuad, passed away in June.
Fuad Fazlic was diagnosed with pneumonia at Blodgett Hospital in March of 2017, and was put on antibiotics and oxygen. At the end of May, he was moved to St. Mary's, where he was diagnosed with lung cancer.
"They found it on a Sunday, and he died on Friday. He had 59 years," said Fazlic.
In order to pay for the funeral, Fazlic was forced to put several thousand dollars on a credit card. When her co-workers asked about her financial situation, she admitted her plight and agreed to let them assist her in her time of need.
Daniel Pilarski, a systems analyst for Calvin IT, started a GoFundMe page to help raise money for Fazlic. The initial goal was $9,100 which would be enough to cover the funeral expenses. This was later raised to $10,000 in order to pay the fees owed to GoFundMe for use of their domain.
"The day after Dan started the account, he came and said they had only made $200. I said that's fine, but he wanted to put my picture up. So he took my picture and put it on the page and two hours later, he came back and showed it to me. There was $2,500 already," Fazlic exclaimed. "Most of the money was made in [the following] twenty-four hours. I came back from the weekend, and it had just sprung up!"
It took two months, 532 shares on Facebook, and 203 donations, but Fazlic received enough money to cover the entirety of her husband's funeral. The GoFundMe page is covered with sympathies, blessings, and prayers.
"I'm sorry for your loss Ramiza, and I'm grateful that you shared your situation with Daniel," commented English professor James Vanden Bosch. "You've given us the opportunity to grieve with you and also share the burden. May God comfort you and bless you during these difficult days."
Amandeep Bal said, "Thank you for always being such a ray of sunshine during my time at Calvin. I cannot imagine what you are going through… You may not remember many of us, but we will never forget you. May the Lord give you strength."
Fazlic was deeply appreciative of the comments.
"I've worked here 14 years, you know. And I'm happy. I love it here," states Falzic. "All of the students are really nice, the staff is nice. I didn't know they loved me so much, really. I feel much better. I feel like I have family here."
Fazlic received the check on Saturday, Jul. 29.. All debts from the funeral were paid, and she is doing well.
"I can't say how much I appreciate it. There aren't words for that. How much I feel, how much I know they love me." says Fazlic. "I just want to say thank you to everybody. I can't say how much I feel and love the Calvin community. God bless them."
"We should expect mountains to move when we are obedient, act in selfless faith, and give Him the glory. [My wife and I] have seen it work this way many times over the years," said Pilarski. "He is faithful; there is no doubt. Personally, there is nothing more faith-affirming than to trust Him, remain obedient, and to watch His work unfold."