Calvin professor produces worship CD
Calvin professor Forrest Wakeman is about to drop his newest contemporary worship album — "Messes to Miracles" — this spring of 2017. The album, which is being produced by Wakeman, features a series of religious artists from the Grand Rapids area.
"Messes to Miracles" is not Wakeman's pioneer studio album, but it is his first with local worship director and producer Andy Ferris. The album is "nearing completion right now, as my tracks are all in Nashville being mixed there by Shane Wilson, a professional mix engineer who has mixed for dozens of nationally known major-label Christian and worship-related artists," Wakeman said.
Wakeman hopes that his music offers a compilation of anthems that modern day churches will be able to use. "My goal for this was to write a collection of original songs that are intended to be used in corporate worship," said Wakeman. "They are definitely contemporary in style, ranging from power ballads to anthems to intimate expressions of praise to quirky, fun, upbeat worship tunes. Several of the songs use direct paraphrases of scripture passages as their lyric inspiration."
The album is set to be released May 15 and will be available as a physical CD, on iTunes, Spotify and "pretty much any other outlet where you can purchase or stream music," Wakeman said.
This is not Wakeman's only presence in the music scene. According to his biography, he has "played for over 20 Broadway tours (including national tours of "Wicked," "Grease," "Joseph and the Amazing Technicolor Dreamcoat" and others), the Grand Rapids Symphony, West Michigan Symphony and Holland Symphony orchestras, numerous solo and ensemble recitals, weddings, banquets, corporate functions, etc."
He was also a member of the band Felix Culpa in the 1990s, playing at the same music festival as artists such as Jars of Clay.
In addition to his computer science classes, he is a private piano lesson instructor for Calvin and serves as an adjunct at Cornerstone University and Aquinas College. He is also the music director at Blythefield Hills Baptist Church in Rockford, MI, where Wakeman will be giving a live CD release concert for this new album on Friday, May 19.
Preliminary reviews have already started surfacing, and Wakeman is receiving high praise for his work:
"Forrest has an exceptional talent and God-given gift that he has diligently honed over his lifetime to provide anyone listening live or by recording an enjoyable performance," said the executive director of Highway Melodies Ministries, Bryan Tilburt.
"Messes to Miracles" was made possible through a Kickstarter campaign that Wakeman launched last fall, in which he raised $7,300 to produce the album. This was Wakeman's first time producing music and his own album after taking a hiatus.
About the Contributor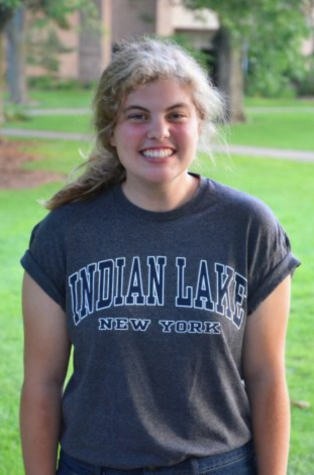 Maddie Hughey, Print Editor
Maddie Hughey is the print editor for the 2016-2017 school year after having been campus co-editor, on-call writer and staff writer in years past. She...