A guide to coffee shops in GR
Coffee shops are the staple for many students' study habits. According to TripAdvisor, there are roughly 35 coffee shops located throughout Grand Rapids. With so many to choose from, it's hard to decide which spot to go to fuel a caffeine addiction. Here is a comprehensive guide to the shops rated in the top seven on TripAdvisor.
Madcap Coffee Company
16 minutes from Calvin
Rated as the top coffee shop in Grand Rapids by TripAdvisor, the trendy Madcap is located in the heart of town. Started in 2008 by two friends, Trevor and Ryan, the store strives to have the best quality coffee. According to their website, the coffee shop is "committed to buying, roasting, retailing and wholesaling specialty coffees." They spend much of their time traveling to world, trying to find the best sources for their beans. All of their coffees can "be traced directly back to a farm or cooperative where they were produced."
Their passion for excellent coffee is seen by many of their customers, including many Calvin College students. One sophomore at Calvin, Hannah Mulder, said "their coffee is so good. I would highly recommend it. It's a little smaller, ounce wise, then you'd get [at other coffee shops], but it's worth it." Sophomore Maria Emerson agrees, saying "their coffee was good, very good."
The store features a black-and-white minimalist theme. They often have a poem or other works of art displayed in the store. Seating includes both tables and couches.
The shop is often busy. Joshua Wilson, also a sophomore at Calvin, said that for studying "It's not really good. I tried studying there, but with all windows and people moving around — I got distracted." Emerson thinks it's a perfect hangout spot. "It feels more like a place you go and sit with your friends," she said.  
Starbucks
5 minutes from Calvin
The Starbucks located on 28th Street was ranked second on TripAdvisor. According to their website, Starbucks is "not just passionate purveyors of coffee, but everything else that goes with a full and rewarding coffeehouse experience." They strive to have "the highest quality coffee in the world," and to "engage with our customers and communities to do business responsibly."
The location on 28th street features tables and comfy chairs. It also has its own parking lot, and is a quick drive up the Beltline for Calvin students. Because of this, sophomore Meredith Hanson said, "It's convenient," though "not much to write home about." Since the store is familiar to most students, sophomore, Aleca Stewart said "it's one only of your really dependable coffee shops."
Hanson also said "It's not particularly busy all the time," and that "it's bright, and it's pretty open." The store has quick service, and offers a lot of seating for studying.
Ferris Coffee & Nut
20 minutes from Calvin
Located twenty minutes away from Calvin, it seems not as many students have been to Ferris. The store's website describes itself as "a family-owned and -operated company with a heritage that dates back to 1924." The store sells both coffee and nuts, and they "focus on continuously producing high quality plant-grown products."
Sophomore, Kelly Looman described it as "deceptively simple." She goes there about once a month, and usually gets their plain latte. She thinks it's a good spot for studying: "it's really nice inside, so I tend to do homework there." The store is very cozy, and offers many seating options.
Sophomore, Jacob De Man said "the location is really cool," and that "they've got great lights." The location creates a good atmosphere to study in.
The Sparrows Coffee Tea & Newsstand
13 minutes from Calvin
Sparrows is cozy, quiet and quaint. The coffee house is located inside a hardware store built in the early 1900s, as an old step ladder with plants on it reminds customers. Its website cites one customer review, saying the store "makes me feel like I'm cuddling up in a cafe to read my favorite book on a rainy day in Paris." The Sparrows "places great effort into finding and serving the best coffee and tea available." They also have "raw cold-pressed juices," made from organic ingredients.
As its name implies, the store also serves as a newsstand. It stocks newspapers like the New York Times and the Grand Rapids Press, as well as many magazines. Customers are encouraged to buy a magazine to read with their drink of choice.
Many students enjoy the atmosphere of Sparrows. The shop's decor is full of plants, and the front has Christmas lights with pinecones on them. Mulder described it as "really chill," saying it makes for both "a really good study spot and a really good hang out spot." She really enjoys their decorations and the open windows they have up front. Emerson said it's "very relaxing, and a good place to study." Hanson thinks it's a good spot to study at if "you have a big test, or just one or two subjects."
Emerson went to the shop about twice a month last year. Her favorite is the "Big Papa Toe." "It's really good," she said. "it's amazing. That's what I get almost every time."
The store offers many tables, and also has patio seating outside. At the front of the store, they have to comfy chairs, where, according to their website, two customers got engaged.
Rowster New American Coffee
15 minutes from Calvin
Rowster's website describes its customer's experience with their coffee as a "sultry love flame that breathes life into your very existence." It says that they "are dedicated to the path of carrying those experiences into your existence for you to enjoy."
Located on Wealthy Street, Rowster offers a very minimalist, modern feel. The store's menu is written on a wall painted with black chalkboard paint. De Man said "their aesthetic is simple, it's clean, lots of wood grain, things like that, which is just very pleasant to look at."
Most of the seating is at two different bars, one at the window and one by the baristas, as well as a long bench with six small tables.
Their baristas will bring ordered drinks to seated customers. De Man "found that their staff is tremendously friendly," and really enjoys it there.
De Man said the shop does "a lot of direct sourcing, which I think is really cool." He also really enjoys their coffee. "Their skill in latte art is some of the best in all of Grand Rapids," he said, "and I've had flavours there which I didn't anticipate coming out of coffee."
Lantern Coffee Bar and Lounge
17 minutes from Calvin
Lantern offers a unique coffee drinking experience, as it is set up similar to a bar. A large part of their business ethos is a commitment to making an ecological difference. Their website says "not only do we pay close attention to how our coffees are grown, handled, and processed, we also pay attention to the waste and impact of our shop." They strive to remain waste-free, serving their drinks in either ceramic mugs or compostable cups. Their lids, straws and stir sticks are all also compostable.
They also have an open mic every Thursday from eight to ten. Emerson said the open mic was "really cool," and that "a lot of the people who got up there where actually good." However, she had unintentionally gone to open mic night, and said it's not the best for studying. "It just wasn't exactly what we wanted at the time," she said.
During other times, many students think the atmosphere is good for studying. Junior Jacob Ray said "it has a pretty chill atmosphere, it's a good spot to do homework." Mulder said that she likes "the variety of seating options." They have tables, high tops, comfy chairs and even two cubby desks. Stewart describes it as "glam in a vintage kind of way."
For drinks, Mulder said that "everything I've had there, coffee wise, is so good." Stewart likes their chai lattes.
Bitter End Coffee House
18 minutes from Calvin
Open twenty-four hours and located inside an historic bank, the bitter end is, according to its website, "committed to providing the world's finest coffees in an environmentally friendly, agriculturally sustainable, and culturally sensitive manner." It uses "organic, Fair Trade beans wherever possible and support efforts to improve the quality of life for the Third World coffee farmer."
Many students appreciate the fact that it's open twenty four hours. Wilson went to the shop "almost everyday for the last week of finals last semester." He said that "even though the chairs are really close by and if when it's full it's crampy, for some reason I just like the environment of it."
Stewart described its atmosphere as "the epitome of all hipster coffee shops." She said "It's different, it's kind of eclectic." Many students appreciate the good service offered. Wilson said "people their are really interesting, especially the bartender … he was very social and very nice person to talk to."
The walls are covered from top to bottom in artwork. Seating can be limited, especially at night, as it is a very popular study spot.
About the Writer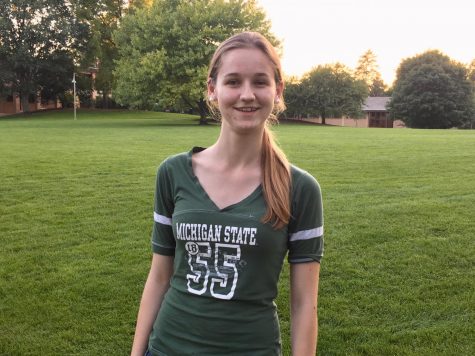 Madalyn Buursma, Features Editor
Working as the features editor this year, Madalyn is a senior majoring in writing, with minors in Chinese and political science. Her favorite part of her...