Calvin professor appears on conservative watchlist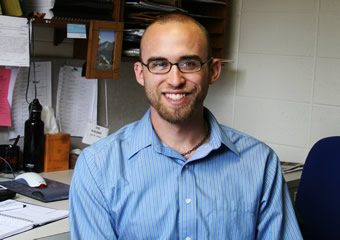 Hang on for a minute...we're trying to find some more stories you might like.
After last November's racist snow-writing incident, Calvin social work professor Joe Kuilema wrote a piece in Chimes urging readers to confront the reality of white privilege and institutional racism. In addition to earning him multiple responses in later issues of Chimes, the article has recently landed Kuilema on Professor Watchlist, a catalog of college faculty who supposedly "discriminate against conservative students and advance leftist propaganda."
Professor Watchlist is published by conservative activist organization Turning Point USA, and Kuilema's entry on the list links to a report of his statements in Chimes on campusreform.org. Similar articles criticizing Kuilema have appeared on The Daily Caller and Stormfront.
"The part that angered the most folks was this assertion that if you deny the concept of white privilege, I do think you're assuming — whether implicitly or explicitly — a degree of white supremacy," Kuilema said.
Professor Watchlist, however, claims that Kuilema "condemned all white people for being white supremacists."
Kuilema clarified that white supremacy becomes a concern when white people deny that institutional racism is a problem:
"If the game is totally fair, if the system isn't rigged in any way, then it's hard to avoid implicit assumptions about who's winning, and I think that's where a lot of Calvin folks still potentially are."
Many of Kuilema's critics have asked why he continues to teach at an institution that he believes is in part a product of racism and white privilege. While Kuilema admitted that "there is a legacy of historical racism and an ongoing participation in institutional racism within [the Christian Reformed Church]," he also said that "I don't think you can get away from that. That would be to pursue a moral purity that as Reformed Christians we don't believe exists."
Echoing his statements in Chimes last year, Kuilema said that "to be white is to benefit from racism."
He also emphasized the importance of defining the term "racism" carefully:
"If when you hear me say 'to be white is to benefit from racism' you are imagining racism as only personal bigotry, hatred and animosity, then that's not true. If you accept the social science definition of racism as privilege and power, then that's a little bit harder to get around."
Kuilema's inclusion on the list was based only on conservative news reports about his opinion piece in Chimes last year, not on any student complaints or observation of his teaching or scholarship.
Kuilema expressed concern that appearing on this list would cause people to think he's "openly partisan in his teaching."
"I don't think that's the case at all," Kuilema said. "I'm actually very invested in dialogue between people who disagree, and in that way inclusion on this list is not at all reflective of who I consider myself to be or reflective of what my students have experienced in my courses. Certainly I have beliefs and truths that I hold dear, but I always want to make space for the perspectives of others and encourage my students to have authentically open minds about ideas that they may deeply disagree with."