Cameroonian pastor questions prosperity gospel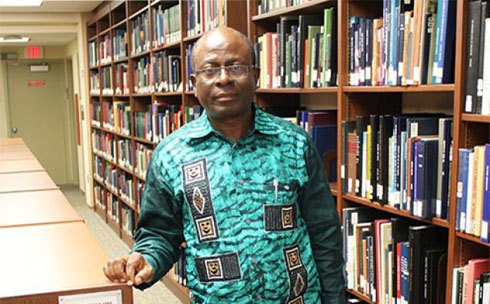 Dr. Epiemembong "Louis" Ebong, a pastor from Yaoundé, Cameroon, has been studying at Calvin for two months, developing a Reformed approach to the emerging "what-can-God-do-for-me" churches in Cameroon.
Churches in this "new movement" are often started by people hoping to earn money and attract a large following. Ebong noted this at his talk with Calvin alumni and students Tuesday. These churches preach a gospel of prosperity, healing and personal development. Such promises are luring people away from mainline churches, a fact which worries Ebong and other lecture attendees from various African nations.
Although this conversation revolved around Ebong's experiences in Cameroon, people love the prosperity gospel in the U.S., too. Karin Maag of the Meeter Center explained, "The human desire to have that comfortable life is a very human need that's present wherever you are. It's not unique to any one place, it's just how we tackle them that's different."
Christianity is thriving in much of Africa, but according to Ebong, mainline churches with pastors trained in theology are losing members to these new, fast sprouting churches. Establishing a church in this city is one of the easiest businesses, especially if the pastor can perform miracles.
Of the ten richest pastors in the world, six are from Africa, according to Ebong. A commentator after the event suggested "at least five are probably from Nigeria," where the measure of good pastors is how many private jets they own.
The preaching in these churches revolves around human concerns — sickness, business, visas, marriage, barrenness. These new ministries have names such as "Mountain of Solution Fire Ministry," "New Glory Revival Ministry" and "Vision, Glory, Intervention Ministries." Their preachers often say things such as "I declare," "I decree," "I rebuke" and "your problem has been solved right now," said Ebong.
"God becomes God only insofar that he solves our problems," explained Ebong. "He is not God for who or what he is but as he meets our needs."
As a result, Christians feel hopeful because they expect miracles. In contrast, according to Ebong's recent research, "Calvin's teaching focuses on enjoyment of eternal life, about heaven, intended to create a sense of duty in the Christian: knowledge of God, true piety, self denial, the right way to live and undivided attention to the Lord."
The Calvin, and certainly Christian, community as a whole can relate to this. "We all face the challenge of seeking God and seeking God's will instead of our own and that's true wherever you are," said Maag.
Ebong didn't suggest that these churches don't perform any miracles at all, but he is exploring what the place of miracles is in the church today. Asking for miracles didn't seem to be the issue; only how, instead of focusing on God's claim on humanity, these churches rely on humanity's claim on God.