Calvin Improv: just a team having fun
This is where theatre and comedy combine into one magnificent display of courageous silliness. The stage is small, but your ambition is big. Wide eyes stare at you hungrily, desperate for you to appeal to their soul. Perhaps they came because they had nothing to do on a Friday night, or perhaps they came because they were looking to have a good time and forget the week behind them. Either way, this is your stage, they are your audience and the people standing next to you are part of your team. You are not performing in your church's youth musical, you are part of Calvin Improv.
That is, of course, if you are a part of Calvin Improv. If not, don't worry, only approximately .0001% of all Calvin graduates have been. Whether you are one of the thespian warriors commanding a 30 square foot stage or not, this article aims to be enlightening, engaging and most of all, award-winning.
There is a chance that someone picks up Chimes, comes to this section and has no idea what Calvin Improv is or anyone involved in it. The purpose of this article then becomes two things: highlighting three of Improv's busiest nights, which happened to fall consecutively last week, as well as an overdue spotlight on one of Calvin's most creative and entertaining student-made products. Before we begin, prepare a napkin under your chin so as to catch any unwanted innards being emitted by your nostrils and the short shots of air soon to be coming from them.
I have never been in an improv group, but like many Calvin students I have attended one of Improv's shows on campus. Long held in the Gezon theater inside Spoelhof Center, every other Friday or so, Improv has been a staple on campus for many years. I remember as a young and pimply-faced high schooler when Calvin's improv team came to my school. Some of my peers were into it, some weren't. What I remember most, though, is the respect I had for someone being able to go in front of a big group of strangers without a specific idea of what they are going to say or do. The same can be said for battle-rappers, but instead of pointing out an opponent's unfavorable physical trait, a member of an improv team must work with the people around them as well as in the audience to create something out of nothing.
A co-captain of Calvin Improv as well as the student org's president, TJ Noa, told me of the bond between the people on stage because of their ability to have fun with each other through a profitable dependence on one another.
"One of the best parts of improv is working with a team," said Noa. "Improv is basically like jumping out of an airplane and your team is the parachute because you don't know what you're going to do and you don't know what to expect. You can completely fall to your death, but your teammates are there and they accept what you put out there and are building something out there. They catch you and make sure you're safe."
Noa went on to explain that the risk involved in doing improv is entirely enjoyable because you have friends next to you taking the same risk.. The notion that there is potential for one to fall to their proverbial death on the stage is enough for my heart to skip when I see someone stumble. More than a joke falling flat, though, audiences at improv shows are involved in the act more so than most center-stage forms of entertainment. This means that the security of the individual on stage is in the hands of their teammates, but the full success of the show is in everyone's hands. This includes the hands of the wonderful students of Hope College as Calvin Improv saw last Thursday.
On to the three-day comedy tour, then. It all began on a typically chilly October day. The Improv team gathered at the ATM in Commons Annex as they do before most shows. Noa says that this is the beginning of the preparation process when the team can ease their nerves. They then traveled to Holland where they teamed up with the improv team from Hope. The purpose of the show wasn't just for the audience to smile for 45 minutes; rather, there was a more endearing and admirable purpose. After all, there is most likely always a higher purpose for Calvin students to wantingly team up with Hope students. This is not an indictment of the Flying Dutchmen, instead it's a commentary on the widespread business of college students. Neither I, nor any Calvin student, would happily mock those people from that one school. I digress.
Hope and Calvin were performing to raise money for the Holland charity group Good Samaritan Ministries. The two improv groups performed their normal sets, within a span of 45 minutes. In the end, Calvin raise approximately $1,500 and all-together the show raised an amount somewhere under $5,000. Calvin was deemed the "winner" of the event after audience members purchased more raffle tickets (serving as votes) for Calvin than they did for Hope.
If a pseudo-victory and raising money for charity weren't enough, Calvin Improv had two more nights of performance to look forward to. The next day, Friday, was the group's biggest performance in terms of scale. They were opening for illusionist Banachek. It may not be the same as opening for Beyonce or '90s boy band 2Gether, but it was the first time Improv has performed in the Hoogenboom. Such a big stage is not normal territory for improv groups, who usually excel in smaller areas that are more friendly towards audience interaction.
As they always do, a quick pre-show warm up helped the team alleviate their nerves. Despite their efforts, Improv was not set up to succeed as they usually are. The talent was the same, but having to use microphones and being distant for the audience lead to what Noa called a limiting performance. The group also ran out of time and were unable to perform their last activity. The setting was more conducive for stand up comedy; and while comparisons can be made between the two forms of entertainment, they are different in many respects. Noa said that the show wasn't necessarily bad. It happened to be sandwiched in between two good ones.
Fortunately for Improv, like a junior in the last week of their semester abroad program, they would soon return home. The Gezon, which hosts various events throughout the year, gives some of its Friday nights to Improv. Unmistakably, this is where Improv feels most comfortable. Feelings may have been varied by the audience, but last Saturday's show was one that gave great confidence to Noa and the whole Improv team.
"[The Gezon] feels like home for us, it's the best place for improv," said Noa. "Everyone is so close and right there. We didn't have any microphones so we had complete physical freedom. Even though we were missing some of our core players, we still had a really good show. If we had the whole team it would have been that much better of a show. I think the show on Saturday gave a lot of hope to the team for what the rest of the year can look like."
What will the rest of the year for Improv look like? The hope of Noa is that it will be looked at through your eyes. So the question of whether or not you are a part of improv is really a question of whether or not you have an hour to spare on a Friday night. By showing up and being an audience member, you are a part of the improvisation. It's like when the NFL lets you buy a $200 jersey with your last name on it. It doesn't make you the starting quarterback for the New England Patriots, but you are contributing. Now imagine that instead of there being a seven-billion dollar industry, there are nine or so people talking to you from ten feet away. That is part of the joy and success of improv: intimacy.
The motto for the Improv team is, "We Have Fun." Its written on the back of their matching t-shirts as well as all over their faces.
There is a chance that your version of fun is not the one that the members of improv display. What you can always count on is that the team will never stop having their version of fun, and will always look to attract yours.
About the Contributor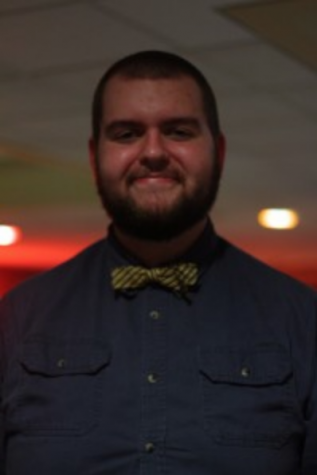 Mark Peless, Online Editor
Mark is the online editor this year, which means that he has control of everything that goes on the Internet. Last year he was the sports editor, so his...