Calvin censors Islam-themed piece at classical concert
Members of the vocal ensemble Cantus revealed during their concert at Calvin last Friday, Feb. 19, that the college had censored a piece whose lyrics contained Muslim themes.
The concert, part of the music department's Guest Artist Series, was titled "The Four Loves" and featured a section about religious faith built on the Greek word "agape." From a microphone on stage, one member of Cantus explained their intention to include at least one piece from each of the major Abrahamic religions. The song representing Islam, they explained, "has been censored before, as it was tonight by the leadership of Calvin College."
After expressing their disagreement with the decision, Cantus sang a replacement song, "Would You Harbor Me?" that had already been included in the audience's programs. Written by Ysaye Barnwell, this song is about acceptance without regard to religion, social status, race or sexual orientation. Its lyrics include "Would you harbor a Christian, a Muslim, a Jew, a heretic, convict or spy? … Would you harbor me? Would I harbor you?"
The censored piece, titled "Zikr," was written by Indian composer A.R. Rahman. According to Adam Fieldson, a tenor in Cantus, "Zikr" is a setting of a Sufi prayer that depicts the "whirling dervishes [spinning] to combine the three fundamental components of human nature, which are mind, body and heart."
The lyrics of Rahman's piece are in Hindi, and they include lines that translate to "Take anything other than Allah out of your heart" and "Everything other than Allah will get destroyed one day.
"We were really disheartened that [Calvin] didn't want us to sing it," Fieldson continued, "but we think we found a great alternative."
According to Heather Rodgers, the events manager for the music department, the decision to ask Cantus to replace the song came after a conversation between her and Ken Erffmeyer, vice president for advancement.
Rodgers said she and Erffmeyer determined that "Zikr" was not a good fit for the Guest Artist Series because its content "does not concur with what we believe as followers of Christ." The other Guest Artist Series concerts this year include the annual performance of Handel's "Messiah" which took place in December and an upcoming performance of Fauré's Requiem, both very Christian works.
"As a presenter, [Calvin has] the right to review the program of any artist that we hire," Rodgers said. Cantus' agent agreed to the program change during the booking process.
Rodgers called Cantus' reference to the music replacement during the concert a "surprise" and "highly unprofessional."
"Zikr" was not the only piece on Cantus' program that departed from traditionalist Christianity. During the section on familial love, Cantus sang "23rd Psalm (Dedicated To My Mother)" by Bobby McFerrin, which replaces references to God in Psalm 23 with the speaker's mother. Other pieces were explicitly Christian, including a very folksy rendition of "What Wondrous Love" and a setting of a prayer by St. Francis of Assisi.
Kati Pohler, a sophomore who attended the concert, said she was "not at all" surprised that Calvin censored "Zikr."
"It's clear to me that Calvin values controversy for discussion and education," said Pohler, citing the student activities office's recent showing of "Straight Outta Compton." "But I don't think the music department wanted this concert to have the same atmosphere."
Angela Dieleman, a senior, was surprised that Calvin allowed Cantus to include the McFerrin piece after deeming "Zikr" a bad fit, but she also acknowledged the value of music that stretches and challenges our beliefs:
"Even though I don't think I could sing this song [McFerrin's "23rd Psalm"], it was good to hear. We humans need reminders that we can't explain or fully understand God through labels. We can't put God in a box, because he's bigger than our box."
About the Writer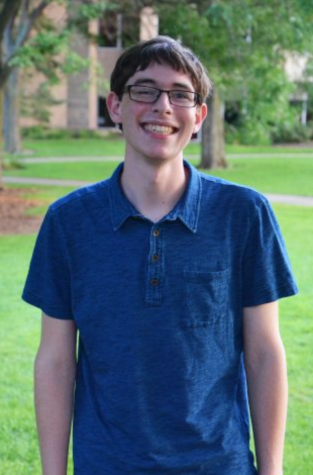 Josh Parks, Editor-in-Chief
Josh Parks is the Editor-in-Chief of Chimes this year after rising through the ranks as a copy editor, religion editor and then print editor. He's a...