Lesser Known Clubs of Calvin
With so many clubs and organizations at Calvin, any student can find a group that focuses on something they love. Many students are not aware of some of the smaller clubs, particularly those that are new, such as the two groups that are new this semester, the Fish and Hunt club and the Cycling club.
A newer club to Calvin is Catholics at Calvin. They started about a year ago, and according to group member Cecilia Berkemeier, while the group is small, there are more people in the group than some students might think. The club works to establish community, sets up car pools, and hosts events for members.
"Right now we're still kind of in the building stages," said Berkemeier, "so we're just trying to form a community and a place for Catholics to feel comfortable." They hope to create "a sense of belonging and community within the greater Calvin community."
A long-term goal is to connect the group with all of Calvin and to start conversations about different denominations.
"Catholicism is something that is not as familiar to most students at Calvin," Berkemeier said. "There's a tendency to have miscommunications or misconceptions about Catholicism."
In the future the club hopes to host different events in order to create conversations about Catholicism.
Another new club is the Hunt and Fish club, which just got chartered this semester. Daniel Weaver, a senior and member of the club, said, "It's going to be fun; you can be outside in nature and you get to learn more about hunting and fishing." Weaver said their goal is "to get people involved who hunt and fish in the state of Michigan, or even people who don't know anything about it or are just interested."
Future meetings will consist of things like fly fishing demonstrations, ice fishing and fly fishing up north. Weaver is also looking to bring in a few speakers.
Calvin Cycling Club is also new this year. The club started meeting in January, and according to their Facebook page, their aim is "to create a co-ed cycling club that promotes cycling for Calvin students, faculty and alumni. The club offers students the opportunity to learn and develop a healthy lifestyle through cycling and the opportunity to compete at a collegiate level."
David Hartwell, one of the leaders of the group, said it is great for "people [to] gain better ability for cycling, whether they are beginner or advanced." Currently, the group meets in the spin room for about an hour. Hartwell said once it's warm enough, they will start riding outside. The group has an average of 20 people come to each ride. Hartwell said the best part of the club is "interacting with other people and meeting new people and building relationships."
Another great club not everyone knows about is Mu Kappa. Laurel Farina, this year's president of the club, said it's a club for missionary kids (MKs), third culture kids and pastors' kids. It's basically for "any kid who grew up in a different country than their parents are from," Farina said. She said the best part of the club is the community, and that it's a great place for MKs "to meet people who come from the same place as you do, like that you're able to relate with."
At a typical meeting, "everyone shows up a good 15 minutes to a half hour after when it was supposed to begin, which is normal," Farina said. At the meetings, "we eat good food, have a lot of laughs, play a lot of fun games, play music." The nights typically end with worship and a sleepover because the gatherings go that late. The group is small, with about 10 to 20 people at each meeting, but Farina said they have a strong sense of community.
The Middle East Club is a club that, according to Hannah Matson, one of the leaders of the club, hopes to "build bridges so that people can connect with people of other cultures and religions and to make conversations possible." Matson said that while the Middle East is a "lesser known topic," it's an important topic often overlooked in the media. The group aims to start good conversations about it, often through lectures and trip reports.
Recently the group took a trip to Dearborn, Mich., a city known for its large Islamic population. There, they visited a Mosque, where, according to Matson, they "got to learn first hand what that's like" as well as learn about "their beliefs and where they stand on different current events." Some topics they discussed were Trump's candidacy and the Syrian refugee crisis.
The group also learns about the cultures of the Middle East. In Dearborn, the group tried a lot of different foods, and Matson said at meetings they "try to bring in new food every time so that people can try something new and enjoy it."
A great organization for artists is the Visual Arts Guild. Caitlin Smits, a leader in the group, said their "purpose is to promote the visual arts on campus, as well as art history." The group does so through different events; their two biggest events are the sub arts show and the spring art show
Smits said "the sub art show is basically a student takeover of the art department in the Spoelhof Center basement." The spring art show is also a takeover, occurring on the last day of classes during the cookout on Commons Lawn. It showcases students' artwork, and, Smits said, has "different art-related activities where everyone can get in touch with their creative side."
Gender Equality Now is a club whose purpose, according to Claudia Peterson, "is to educate Calvin's campus about issues facing men and women and the inequalities they face in everyday lives — not only here on Calvin's campus and the Grand Rapids area but all over the world."
The group gets together to discuss different issues and inequalities people face. For instance, Peterson said that during October the group talked about Halloween costumes, discussing if they can be "sexist and culturally inappropriate." Peterson said that the group allows members to hear "multiple people's voices about all of these issues and see the different ways people can be effected by something so small."
Calvin College has a club or organization for everybody, from groups that focus on discussing important issues to groups that focus on getting active. All these clubs are a great way for students to find their own community, or, as Farina put it, "find your people."
About the Writer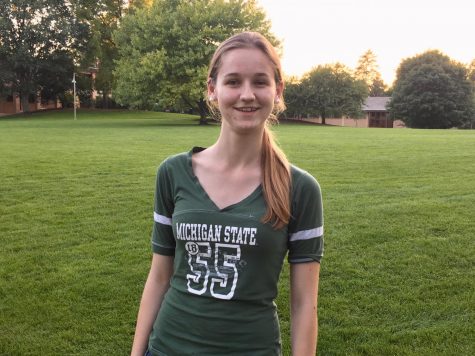 Madalyn Buursma, Features Editor
Working as the features editor this year, Madalyn is a senior majoring in writing, with minors in Chinese and political science. Her favorite part of her...