Getting to know the friendly face of Commons: Nancy Rinks
She sits in the swivel chair at Commons and looks students in the eye as they approach. Her cheerful voice never fails to ring out a variation of "Hi" or "How ya doing?"
Nancy Rinks has been working at Calvin cafeterias for as long as many freshmen have been alive (18 years) and she loves it.
"She's very welcoming and smiling, happy. It's good to see the same person every day, too," said sophomore nursing student Natalie Voss. "It's a sense of familiarity. It's almost like having a mom, like when you come downstairs for breakfast in the morning and always see the same person."
Food service coordinator Lindsay Cato says that Rinks adds something immaterial to the dining experience at Commons.
"She's very caring. She cares about the students. She cares about her job. She puts a lot of thought into her work. Everything she does, she does with a purpose," said Cato.
"Especially on Monday mornings, it's nice to walk in and have somebody who says 'Hi' and asks you how you are doing and really cares about it," said Peter White, a sophomore and biochemistry major from Kenya.
And Rinks's relationship with many students isn't confined to the several seconds and "How you doing?" every couple of days.
"I think that with the kids being away from their own parents, a lot of them want that one person who kind of relates to them, who they're close to, especially girls," she said. "I've had two or three of the girls that I've really gotten really close with and it's kind of like a mother figure, I think, you know, somebody they can talk to when things are going bad and stuff like that."
Don't be fooled. She doesn't just remember the few students with whom she has formed relationships. She remembers students' responses, she says, and checks back with them if they seem down one day.
"I've almost got it," she chuckles as she punches a student's number into her scanner. She is close to memorizing it.
In her nearly two decades at Calvin, she has been able to see many changes. She remembers watching two students' budding relationship.
"They were two kids who came here. We kinda saw them spark between each other, but they denied that there was anything going on," she said. "It was just, 'No, we're just friends! We're just friends!' Well, by the time they finished college after four years, they were engaged and we got to go through all that. It's a lot of fun when you try to relate to the kids and really try to be friends with them."
It's what helps keep her young, she says. Most people can't believe that she's in her mid-60s. And it may also come as a surprise that Rinks won her battle with breast cancer in 2011.
It's hard," she said. "You spend long hours sitting in a chair, freezing cold because the medicine that they give you is poison."
The news hit her family hard.
"I was stage three, so I was quite advanced," she says. "I had to tell my grandkids and my kids what was going on. It was horrible."
She recalls their reactions.
"I can remember my son and my grandson both saying, 'When I left and I went out and sat in my car, I was so angry and I just cried and pounded on the steering wheel,' you know. 'Why are you doing this to my grandma and my mom?'"
Once she started treatment, though, she remembers her anger evolving into gratitude.
"I had a very easy time with my treatments," she said. "I would have my treatments on Wednesday. I would be sick Saturday, Sunday, but I only missed one day of actual work other than my surgery."
The ease of treatment surprised her, though she had to go through chemotherapy, radiation and an operation.
"I watched other women who went through breast cancer and they went through so much," she said, adding, "It was devastating to lose my hair, but so many other people had to have transfusions and they were so sick that they couldn't even get out of bed."
Since being declared cancer-free four years ago, Rinks says that she's not about to waste any time worrying about the disease.
"I guess I live with; if it's to be, it's to be. God will take care of me," she says. "I'll go where I'm supposed to go and when it's over and done with, I've got a great family. I've got great kids, I've had a great job. I've had a very full life. So, when he's ready to take me, he'll take me and I'm really not to have any anger or regrets or anything like that."
Now, on the other side of her ordeal, she has some advice for stressed students.
"Try to live your life day to day," she says. "You've got a future ahead of you, but don't waste your whole life worrying about the future. Things usually work out. I mean, you might have hard times that you don't know how they are going to turn out, but you also can't dwell on it."
About the Contributor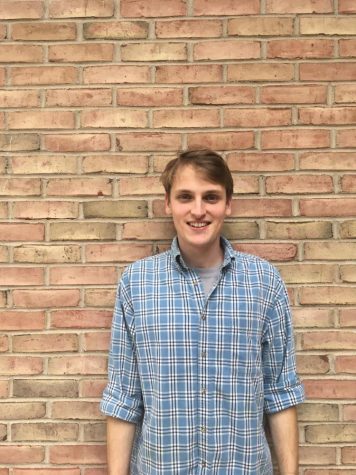 David Fitch, Sci-Tech Editor
David Fitch is a senior English literature major/Information systems minor and this year's Science and Technology editor. David is a humanities guy who...