Students share experiences at Graphic Design Round Table event
Senior graphic design majors Bethany Paquette and Kendra Kamp shared their advice for up-and-coming designers at an informal Q&A hosted by the Visual Arts Guild Wednesday afternoon.
The event consisted of a question-and-answer time with Paquette and Kamp, who shared their personal experiences with "workflow practices, getting those dream clients (as well as red flags Kendra and I have experienced with potential agencies) and building an impeccable portfolio," according to Paquette.
The two speakers offered advice on various subjects. One of the topics they touched on was ethics.
Paquette explained that she was approached with an offer to Photoshop models for $70 an hour and almost took it. "You're going to come around people who want you to do very unethical things," she said. "It's very tempting."
"Befriending people not because you want them to pay you but because you're interested in what they do is really important," said Kamp. "If you see that they need help, you have the skills to help them as opposed to just wanting them to pay you for something. It's more genuine and people really appreciate that."
Answering a question about finding clients, Paquette said that her freelance clients range from individuals like students and brides to full-on agencies who have too many projects to do themselves.
"It kinda depends on your niche, what you want to go into," Paquette explained.
"I surround myself with the type of work I want to do," said Kamp. "Since I want to do music design, like posters or album art, I hang out with a lot of people who go to concerts and who make music. I go to a lot concerts myself."
"Finding people who have a need is really important," Kamp continued. She elaborated, saying that if you see someone who's busy or has a lackluster design, ask them if they're looking for a designer.
"I also network a lot with Frank and Bonnie Speyers," said Paquette. Frank Speyers is a professor of art and art history at Calvin. He worked as a brand designer for several Fortune 500 companies before becoming a college professor.
The street goes both ways, however. They also talked about what to look for in a company. One of the problematic attitudes they pointed out was if the company just wants them to "make it pretty."
They need to see you as more than a person and find meaning in your work, said Paquette.
One of the most important things Paquette and Kamp talked about was resumes and how to build and structure one.
"School work isn't going to cut it in a resume," said Kamp. She stressed the value of doing work outside of homework. "I do the on-campus posters and I've started leaving [performers] those posters, just a couple extra nicer copies in their dressing room with my card on it. Or contacting them and being like 'Hey, I was the one who made those posters.'" She said it doesn't always lead somewhere but sometimes it does.
Paquette emphasized the importance of a well-designed resume in the event of not being able to meet face to face with a potential employer: "My resume is going to be my face."
"To me, the roundtable was a complete success," Paquette said. "The turnout herd was fantastic, and I'm looking forward to one-on-one coffee meetings to keep new designers fueled. Giving that healthy dose of motivation and learning from peers is encouraging and empowering."
"I thought the event went really well," said Kamp. "In a time of discomfort and stress for the art department at Calvin it's really cool to see artists and designers building community to challenge and encourage each other. That's something I've really wished I had in my first few years at Calvin."
About the Writer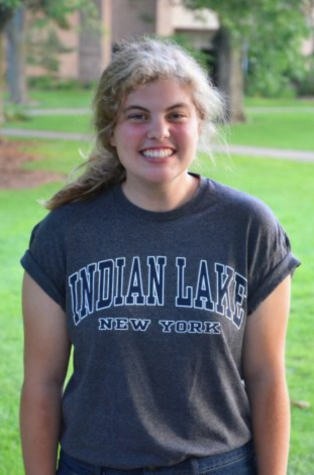 Maddie Hughey, Print Editor
Maddie Hughey is the print editor for the 2016-2017 school year after having been campus co-editor, on-call writer and staff writer in years past. She...