The Dearth of Non-Indie
Do you like Indie music? If you like attending concerts at Calvin (hopefully you do) a good majority of their concerts have indie music. If you're not the biggest fan of indie… well, you're left out in the cold. There's not a ton of variety going on.
Unfortunately, that's what sophomores Kerri DeVries and Jordyn Stromback have discovered. As a result, they feel a bit left out in the music scene at Calvin. DeVries – who prefers country – can only recall one country concert in the entirety of last year: Home Free, an acapella country group. Even then, she felt like SAO joked about them and didn't really treat them as "real musicians," in comparison to the Indie groups that are all over Calvin.
"It's very frustrating," said DeVries, who frequently attends Indie concerts even though she's not particularly a fan. "It all just sounds like the same. The concerts are more fun when you know who's there and you know the songs."
Stromback, who does like Indie music, agrees. "It's hard when every band is new to you. I like a lot of it, but I feel like a lot of people get left out." Both sophomores understand that there needs to be an appeal to the larger fan base. Clearly, indie music is popular at Calvin, so they understand why a majority of their concerts would still be indie. That's not really something they're arguing with.
At the same time, though, it doesn't change the fact that they're left out. DeVries said that she believes SAO doesn't have non-indie concerts as often because they don't think they'll sell as well – but that's only because they focus on their indie fan base. Maybe the indie-lovers won't come, but they don't represent all the music-lovers on Calvin's campus, which the two sophomores feel needs to be remembered.
There's also the fact that if you're not from the area, you may never have heard of a lot of the Indie bands. Before coming to Calvin, neither DeVries nor Stromback had even remotely heard about a good chunk of the bands that performed here – supporting local Indie is good, but it's also great to remember that your audience comes from all over the country and the world.
It's hard to be in that position — to like music and very much want to listen, but finding that there's nothing but concert after concert of the kind of music you don't care for at all. Just remember these two when you're checking out the music variety at Calvin – if you see a non-indie concert, maybe go check it out? A little support goes a long way, and it could mean that we'd get more variety in the long run!
Think of the non-indie fans! We exist!
About the Writer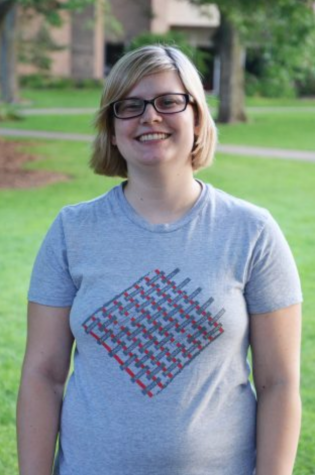 Kelsey Powers, Opinion and Editorial Editor
Kelsey Powers is one of the opinion and editorial editors for the 2016–17 year, after serving the same position last year. She's a senior from Kalamazoo,...