Calvin to offer voluntary buyouts to faculty in the art, music and history departments
Last Tuesday, President Le Roy sent out an email that resulted in a flurry of mixed emotions among the history, music and art and art history departments.
Professors from these departments now have the option to accept an offered "voluntary resignation" or "buyout" to resign from their post, effective in August.
The provost's office has done an analysis and found that the art and art history department has four more faculty members than are justified by enrollment as determined by the faculty/student ratio, and the history and music departments each have three more faculty members than are required by the same ratio.
According to history professor William Katerberg, faculty cuts have been on the horizon and the buyouts are just speeding up the inevitable. However, the shortened timeline poses some concerns.
"Say three people are going to retire in the span of two to five years, it's easier to plan for changes," said Katerberg. "If you lose two people all of a sudden at the end of the semester, it's much more of a challenge."
The affected departments are dealing with the news as best they can.
"Faculty in the history department are a mix of angry, sad and concerned," said Katerberg. "People naturally look for someone to blame. But it's the general situation in higher education and Calvin more than anything else."
"In a way, we regret that it has come to this but we also understand why," said professor Timothy Steele in the music department.
Though the professors regret that budget cuts have to be made, they believe the buyouts are a gentler way to reduce faculty.
"I think that it's a very generous and fair thing for the college to do," said Steele.
"It would be extremely difficult if they were to say to us, 'Okay, three people have to leave,'" said VanReeuwyk. "The buyouts make it a more gracious way and a softer way of dealing with [faculty cuts]."
The news has caused many students to question the future of their departments. For sophomore Sofia De Jong, this potential downsizing could lead to a reduction in student influx.
"No kids looking at Calvin are going to come here for art if the art program is suffering," said De Jong. "They're going to go somewhere that benefits them. We're already in the basement and limited in supplies."
"I think this is one of the dumbest ways to do a budget cut," said sophomore Emily VanStaalduinen.
"The arts are so important for fostering creativity and preserving history, and Calvin is worsening its reputation by making their art program smaller," said research assistant Audrey Hughey.
"I think [those are] reasonable concerns," said Katerberg in response to these worries. "Though, it's not unique to Calvin. It's an ongoing phenomenon around the country; we're just dealing with our own version of it here."
"This is not about dismantling the arts programs at Calvin," said Steele. "This is about getting our resources well aligned. It's about making sure that Calvin actually has the resources to invest in programs that are going to make a difference."
Other students, however, are more in favor of the buyouts.
"It's just making the student to faculty ratio more even," said first-year student Kerri DeVries. "They would do the same thing if there weren't as many people coming [to Calvin] for science degrees. It's what you have to do to get out of debt."
The departments are committed to continue to provide a quality education for students in these departments despite the reduced faculty.
"We are absolutely committed to continuing to offer the programs we currently offer to all current students," said Steele. "If a student is a music major today, they will be given every assistance to complete that major during their time here at Calvin. That's an absolute commitment."
"I do think that we are committed to make it work," echoed VanReeuwyk. "We'll figure it out. Even if a program were to be cut, anyone who has declared will graduate with that program."
"It's more challenging when you have fewer faculty," admitted Katerberg. "The history department will try to be creative in maintaining a broad-based major that serves its students well. And, as frustrated as people in the three departments feel at the moment, we'll work to keep moving forward."
This situation can come across as detrimental to these departments but both President Le Roy and the affected departments want students to feel reassured.
"My concern is that students jump to conclusions that they don't need to jump to," said VanReeuwyk. "The college and the administration are still very much behind these departments. There's no denying that."
Art students showed up in full force to a town hall meeting with Le Roy on Thursday, asking about the future of the department.
"We don't intend to abolish the art department or music department," Le Roy assured them. "That is something we're never going to do."
"I won't be the president of Calvin College without an art department," he added.
Though there will be no department removal there will still be some challenges for their respective futures.
"We're in a difficult time right now and we have to weather these things," said Steele. "We have to get through them and ride them out as best we can."
About the Writer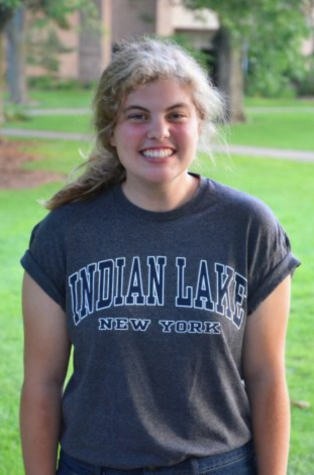 Maddie Hughey, Print Editor
Maddie Hughey is the print editor for the 2016-2017 school year after having been campus co-editor, on-call writer and staff writer in years past. She...