Lecture discusses core classes and critical thinking skills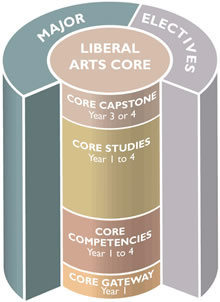 "Does Calvin's liberal arts curriculum foster critical thinking skills?"
Jim Jadrich, science education and physics professor, addressed this question last Friday in an informative presentation for faculty and staff members. The lecture came at an important time as faculty prepare to vote on three core proposals in May.
"Since the claim is often made at Calvin that our liberal arts curriculum develops critical thinking skills, and because the college is currently looking into changing core requirements, I thought it was a good time for the faculty to take an honest look at the sort of things we do that actually foster critical thinking skills, what things do not, and how we could do better by our students," said Jadrich.
In his lecture, Jadrich described critical thinking skills and how a liberal arts education develops them. "Critical thinking skills denote the ability to think critically in many different domains," he explained:
"An individual's ability to think critically within any field or context depends primarily on how much content knowledge the individual has in that area. Therefore, the more you know about different disciplines, the better your critical thinking skills."
Jadrich has over 15 years of teaching experience at Calvin. "From the time I began my work in education I have been interested in the question of what can be done to foster critical thinking skills," explained Jadrich.
After studying how critical thinking skills are gained through recognizing the same deep structures in many disciplines with different surface features, Jadrich posed the questions "Could we do better?" and "How could we design a better core?"
Professors are key in fostering these critical thinking skills in students according to Jadrich. They must identify the underlying concepts and ideas shared in different core courses so as to help students learn how to transfer their critical thinking skills.
Several faculty members asked questions following the presentations about how this discussion impacts their teaching and grading, and what significance it has for Calvin's core curriculum.
"Explicitly revealing deep structures in or across domains increases a student's ability to think critically in that domain," noted Jadrich. This means that having more of a shared content core and designated, targeted critical thinking skills would offer students more opportunities to transfer these skills.
As for students,  Jadrich encourages them to "learn as much content as you can. The more you know, the better your thinking skills."