Solo number wins 2015 Calvin's Got Talent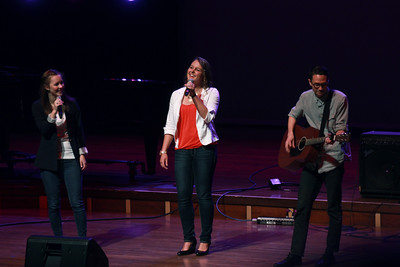 Daniel Michaels' slowed version of Vance Joy's "Riptide" connected with audience members at Calvin's Got Talent, propelling him to the $300 win.
"I can't believe it," the first-year student said after the show. According to Michaels, he was going to perform a different song as a trio but, after his group members became sick, he decided to go solo, preparing "Riptide" the day before the show.
Performing with just a guitar, Michaels' act was one of two solo acts, but this simplicity paired with his smooth voice may have caused people to vote for him.
"When he played, he played with a lot of confidence," said first-year student Ana Estrella. "He chose [the song] so it fit his voice really well."
"I was singing along," she explained. "If you get people to sing along with you, you've got to win."
Second place and $150 went to Rachel McEwen, a harpist who called her act "Harpless." She played a mashup of songs — from "Let Her Go" to "Time to Say Goodbye" — which seemed to impress the audience.
McEwen, who has been playing the harp for 11 years, said Calvin's Got Talent was "incredible to be a part of."
XCrew, a dance group, took third place. Group member Seyoung Jung, a first-year student, said, "The preparation paid off." The group of 10 will get to split $75.
"I was really impressed with the XCrew dancers," said junior Julia LaPlaca. "They had a really fabulous ending to their piece…it was very memorable."
During intermission and at the end of the show, the audience voted by texting in a keyword from their favorite act for that half. The top six then came out and the audience voted again.
While this seemed to bring in enough votes, having only 90 seconds to decide — without even a refresher on the acts — could have affected people's decisions and caused some people to be unable to vote at all.
Many other acts from the night stood out as well.
A group of men sang a mashup of love songs from "Pretty Woman" to "Ridin' Solo." They told a story of love and love lost humorously, breaking into the top six.
Sons & Brothers, a top six trio playing guitars and a harmonica, covered NeedtoBreathe's "Washed By the Water."
The musical talent of Whitney and the Broken Hearts was also noticed and voted into the top six.
However, some wished there had been more non musical acts. "I was disappointed in the lack of variety, especially compared to the last two years," said LaPlaca.
Senior Ye Joon Chung agreed. "I was pleasantly surprised by the amount of people who were talented," he said, but felt that for a talent show too many acts were singing and dancing.
His favorite was the band Metal Meltdown. "It was the shock factor," he said. "The main singer didn't look like a guy who would sing metal, but he had a great metal voice for the genre."
LaPlaca liked the duo who faced-off with violins. "Kinetic Strings was very charismatic and charming. I thought they were extremely poised."
Chung said, "I think everyone really thought the violinists did well and were surprised that they didn't make the top six."