Where are they now? Chimes alumni look back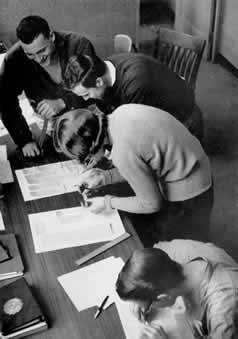 Dr. Susan Bruxvoort Lipscomb—Features editor (1994-95), Editor-in-Chief (1995-96)
After graduating from Calvin, Dr. Bruxvoort Lipscomb went on to complete an M.A. in Humanities from the University of Chicago, then an M.A. and Ph.D. in English from the University of Illinois, Urbana-Champaign.
Since 2005, she has been teaching at Houghton College, a Christian liberal arts college in western New York. She is currently the department chair of English and Writing, the area associate dean of arts and letters and the faculty advisor for Houghton's student newspaper, "The Houghton Star."
Bruxvoort Lipscomb says her time at Chimes prepared her to be a faculty advisor for a college student newspaper. "I understand the importance of student journalism in a liberal arts college, and this prompts me to be an advocate for students to speak from their perspective about campus events," she said.
Looking back on her years working for Chimes, she said there was one takeaway from her experience that outshines the rest:
"I met my husband while we were both Chimes staffers and it is through working together to produce a paper each week that we learned that we were  a compatible team. … Working on the Chimes together taught us that if we could survive the nights of staying up until 4 a.m. to edit and lay out a paper, we could probably manage a household, raise a family and teach and mentor a group of undergraduates for a semester abroad."
Mrs. Thea Bouma VanHalsema–Editor-in-chief (1944-45)
Mrs. Thea Bouma VanHalsema, though she worked for Chimes in the 1940s, was not the earliest member of her family to contribute to Chimes. Her father, Clarence Bouma, was the editor of Chimes in 1915 when Chimes was still published in Dutch.
Reflecting on her life post-Calvin VanHalsema said, "I guess I have been the book-and-article writer, while my husband, Dr. Dick Lucas Van Halsema, was the traveler. He never wrote of our travels, but he planned them all, including a sabbatical trip to the Netherlands and a Volkswagen microbus drive with five children under 12 from Amsterdam to Jerusalem and back, in the days when all borders were open."
VanHalsema wrote a book about that trip called "Safari for Seven," and she has also written several other books, including "Three Men Came to Heidelberg," "This Was John Calvin" and "Growing and Going: Is Cross-Cultural Mission for You?" (co-written with her husband).
VanHalsema is 90 now, and she says she is still driving and remembering well, living in her own condo in the southeast of Grand Rapids.
Dr. David Bratt—Sports editor (1987-88), Editor-in-chief (88-89), Reviews editor (89-90)
After serving on Chimes in some capacity each of his four years at Calvin, Bratt went on to get his Ph.D. in the study of American religion. He says he couldn't get editing out of his blood, however, and he ended up working as a book editor at Eerdmans Publishing Company here in Grand Rapids.
Bratt remembers Chimes as the most important non-academic experience of his Calvin career. "The weekly rhythm of pulling together stories, editing and proofreading, laying out the physical pages, checking everything over and then delivering stacks of copies across campus took up some part of almost every weekday. … Many days [the Chimes office] was my first stop in the morning and my last stop at night."
The Chimes staff was a group of people from many different majors and programs, according to Bratt, and they tended to take on a heavy workload between academics and their work in Chimes.
"There was a certain amount of automatic respect from a number of professors that came with that. It was relatively easy to invoke a looming Chimes deadline as an excuse to push back a deadline for a classroom assignment, especially if you were fairly prominent on staff. … [The professors] saw us as active participants in our education and in the life of the college as a whole."
He also remembers that, back in the 1980s, opinion-editorial articles were not nearly as common as they are today:
"Back then there weren't as many opportunities to publish an opinion as there are in the age of social media, so by publishing ourselves in that way, we were really sticking our necks out. We almost had to be at least a little arrogant to believe we could do that. But it was really rewarding (if also more than a little scary) to see everyone sitting around Friday morning, reading what we'd written."
Overall, Bratt's time at Chimes made him a deeper thinker and taught him to ask questions and engage in debate. "We [the Chimes staffers] could be a little juvenile in our approach and in our assumptions—that's all too clear in retrospect. But we cared about Calvin, and we really wanted to do our part to make it a better place."
David LaGrand—Reviews Editor (1985-86), Editorial Assistant (1986-87), Editor-in-chief (87-88)
David LaGrand has spent much of his post-Calvin life living and serving in the Grand Rapids community. LaGrand is the senior partner in a small law firm, "LaGrand & Lowery," serving as a criminal law attorney in Grand Rapids.
Currently a member of the Grand Rapids Public School Board, he is also a former Grand Rapids city commissioner. In addition, LaGrand is an ordained minister in the Christian Reformed Church, and he is the joint owner of the Wealthy Street Bakery, a Grand Rapids favorite.
Reflecting on his time at Chimes, LaGrand said, "Being Chimes editor really sharpened my commitment to reformed Christianity and my desire to work for justice in the world at large. My favorite memories are of late night drinking sessions after putting the paper to bed, and drinking with faculty members at Chimes parties."
LaGrand also had some words of wisdom for Calvin students today as they face a global climate that is continuing to change and evolve. "My advice to current Calvin students is to not aspire to comfort, but to take the radical and dangerous mandate of the gospels seriously, and to be courageous enough to really challenge the insipid civil religion and allegiance to violent militarism that passes for Christianity in the Americas, particularly in the United States," said LaGrand.
Ms. Sunmee Jo—News Editor (1991-92), Editor-in-chief (1992-1993)
After her graduation from Calvin in 1993, Ms. Jo went on to attend law school and establish herself in a legal career in both Michigan and Virginia. She worked for five years as a staff attorney at Legal Aid of Western Michigan, dealing with cases involving eviction, divorce and bankruptcy, among others.
In 2001, she moved to Virginia and began working with the Social Security Administration's Office of Hearings and Appeals in Falls Church, assisting with appeals hearings of Medicare claim denials. She has played several roles as an attorney in the D.C. area, and she is currently an administrative appeals judge for Social Security, reviewing disability cases that have been allowed or denied by other administrative law judges across the nation.
Looking back on her time at Chimes, Jo said she is thankful for the relationships she formed with fellow staffers, as well as personal growth she experienced. "Chimes helped me develop a point of view and gave me a voice. I learned to risk putting thoughts and ideas to paper and how to write to inform, entertain, persuade, provoke, and live with the consequences, intended or unintended, of such communication."
Jo cited writing for Chimes as an experience that went on to help her in her legal work, as well. "As an attorney and adjudicator in the federal government, I write everyday, and am always cognizant that what I write and how I write it matters, and can affect the way the public views the government and the Social Security disability program," she said.
As for advice she'd give to current Calvin students, Jo's is both insightful and challenging: "Be bold, yet humble and never complacent," she said. "Embrace the opportunities that cause you to question and pivot your perspective. In big and small ways, fix the things that need fixing in this world."