Christmas around the world
For Christians, Christmas is a universal holiday, but not everyone celebrates by decorating a Christmas tree, hanging up stockings and leaving milk and cookies out for a fat man dressed in red. Calvin students come from all corners of the globe, from traditions and backgrounds that find unique ways to express the aspects of the holiday that resonate with their culture. From Ghana, to Switzerland Romania and Honduras, students at Calvin share how their cultures (or perhaps just their families) celebrate this universal holiday in an individual way.
England
by Alex Bass
When the Autumn rolls in, my mom begins preparing the Christmas cake for the following December. A rich fruit cake forms the base and is baked at least three months in advance, partly to let the brandy that is poured over the top work its flavor through the cake. When my mom would pull down her well-used recipe book from the back of the kitchen shelf on a Saturday in October, I'd begin to feel settled about the coming of cold weather. The cake base sits waiting the next stage of preparation until around the end of November when a layer of marzipan is added.
Finally, a few weeks before Christmas day, the third layer, icing, is spread on top. This frosting dries hard and is the sweetest layer of the cake. I always thought it looked like snow. Every year, we waited for Christmas day to share it. The cake and its preparation process is a tradition I do not take for granted. As well as representing personal Christmas memories, it is an aspect of my English heritage that I'd like to preserve.
Vietnam
by Tina Nguyen
Christmas is not an official holiday in Vietnam, since the majority of Vietnamese are not believers. However, recently, schools have started to allow students to have Christmas Day off.
Although Christmas is not a time for celebration of the birth of Jesus Christ for many people, it is still a big time for families and friends to get together, mostly for activities in downtowns. Thousands of people, regardless of religion background, gather in the center of downtown to enjoy the Christmas lights, the decorations in malls, or just simply to take in the lively and exciting atmosphere. The weather is warm and pleasant, making the holiday more enjoyable for people, including foreign visitors. Even in the chilly mountainous areas or areas with rainy weather, people still gather.
Moreover, it is a time of love. Christmas time is the time when people write cards to each other and students engage in packing gifts for the poor the most. This aspect of love and gathering together, despite differences in religions, makes Christmas in Vietnam unique. Christmas in Vietnam is not defined by material possession; rather, it is about expressing love to one another through small things like cards, about giving gifts to the poor and about gathering for joy.
[media-credit name="Lusi Wang" align="alignleft" width="234″]
[/media-credit]
China
by Lusi Wang
Beginning in first grade, every year on December 24th, I went straight to church after school, had a quick dinner and got ready for choir. My family never spent a single Christmas Eve at home because we were all at church. Every year, my church put on skits, dance, choir singing and a sermon to share the life stories of Jesus with non-believers.
In China, churches are not allowed to do public mission work outside church buildings. Even putting up posters for Christmas services can get us in big trouble. But every year, God brought thousands of people to our front door. Most of them were college students. Many had never heard about Jesus. They came with an eagerness to know the true meaning of Christmas. Policemen also came to us every year. They stood at the church front gate to make sure that no riots or stampedes happened. We shared the good news of Jesus with them as well.
Every Christmas, we gained new brothers and sisters. Some of them came back several years later telling us how their journey with God started on a Christmas Eve service here. I was often amazed at the great things God had done through our meager efforts on Christmas Eve. The God who was incarnated to save the lost 2,000 years ago is still at work today.
[media-credit name="Ana Barahona Reyes" align="alignleft" width="300″]
[/media-credit]
Honduras
Ana Barahona Reyes
"It's like being in a giant popcorn machine." That's how an American friend described her first Christmas in Honduras. She was referring to the explosion of firecrackers that thousands of children and some rambunctious adults light up at exactly 12 a.m. to mark Feliz Navidad. Once the mark of midnight hits, everyone proceeds to hug, kiss and congratulate each other. We feel that in this way we somehow take part in the gift that Christ's birth really is.
Unlike in the United States, Honduras's big Christmas celebration takes place on Dec. 24th, not on the 25th. Tradition mandates that everyone wear brand-new clothes, and if you want to take things to the extreme, then you may extend this rule to new shoes, underwear, bed sheets, curtains and pretty much anything else that gives you an excuse to shop.
People spend the 23rd and the morning of the 24th making tamales, sweet and sour chicken, torrejas (a Honduran dessert that resembles French toast) and rosquillas en miel (the less-processed version of a Krispy Kreme doughnut). Those who can afford it prepare a pig's leg and sometimes even a turkey. The side dishes include yellow rice and different versions of lettuce salads with almonds, grapes and tangerines (these kinds of foreign mixtures are reserved for special occasions only). For beverages, fruit punch "with a kick" and Coca-Cola are a must. We complete the meal by trading in our tortillas for some bread. The craziest part of a Honduran Christmas dinner is that we all eat it so late: 10:00, 11:00 or even 11:30 p.m. But never at midnight, because that's when we all must kiss. In short, Honduran Christmas is pretty fun; perhaps you should come and try it some time!
[media-credit name="Joy Christopher" align="alignleft" width="300″]
[/media-credit]
India
Joy Christopher
I grew up as a child of missionaries, so Christmas for our family was a time of prayer, planning, preaching and service. The people group we lived with, called the Madia tribe, are very community-oriented. The entire neighborhood comes together to celebrate. My highlight as a child was going caroling with my church on still winter nights, carrying our candles from hut to hut across the village and singing songs under the starlight. We would sing the story of how God sent her only son to earth for us (fun fact: the Madia language uses female pronouns to describe God). Since we do not have a written language, songs are a sacred oral tradition, used to pass on the scriptures from generation to generation.
Christmas morning involves going to church in our best clothes, singing and performing dances and drama, followed by a whole day of feasting and celebration. During the week leading up to Christmas, the men go out in a hunting party to capture an animal for the feast, usually a wild boar. Every family contributes a small portion of their crops, produce or poultry to be part of the meal. In the evening, the community gathers around a large bonfire next to our church to dance and talk throughout the night.
This celebration is very different from the way most of India treats Christmas. In a country where only about one percent of the population is Christian, it is not widely celebrated. However, Christmas is starting to gain popularity in urban areas as a secular holiday as just another reason to party. For Christian communities, there is a strong focus on service to the community, especially feeding and clothing the poor. I really appreciate this aspect of Christmas in India, especially after experiencing how Christmas in the West can be a season of frenzied shopping and pointless decadence. Rather than Christmas trees and elaborately decorated houses, Christian households often hang a large, lighted star on their porch or balcony.
[media-credit name="Romy Clauss" align="alignleft" width="225″]
[/media-credit]
Germany
Romy Clauss
Many traditions, which are followed all over the world, are German, like the Christmas tree. The first documents about a Christmas tree are from Germany in the 16th century but the specific origin is unclear. Some people speculate that Martin Luther decorated a tree with candles for the first time.
Traditionally, families gather in the late afternoon of Christmas Eve. After a big and formal dinner the main part begins. In families with children, one person dresses up as Santa Claus — der Weihnachtsmann — and comes with a big book and a sack full of presents. The spotlight is on the children now, as they have to impress Santa Claus with a poem or a song they present to him. Sometimes Santa Claus also tells them what he wasn't happy about in the last year. I remember, that this was the scary part; how did he know all those things about me? The rest of the evening the family spends together, eating cookies, drinking Christmas punch and playing games.
Very special in Germany are the handmade wooden decorations and the amount of love with which people decorate their homes. In the past, the wood industry was an important part of agriculture and one of the resources people had plenty of. The tradition of making nutcrackers, ornaments and smokers is still retained today. By Christmas Eve, every window is lit by a wooden candle arch which showcases different situations from real life and the Christmas story, topped off with candles, and when the church bells ring at 6 p.m., I know it is Christmas.
[media-credit name="Grace Thuo" align="alignleft" width="300″]
[/media-credit]
Kenya
Grace Thuo
Imagine waking up on a hot, sunny day with the smell of roasted goat meat in the air and the atmosphere filled with constant chatter of children playing, loud music, the sounding of pots and pans, and non-stop laughter: this is only a glimpse of Christmas Day in Kenya.
Christmas in Kenya is primarily about family and delicious food. We spend months planning and budgeting to ensure that every member of the family has a memorable day. As mentioned, food is an essential part of Christmas day, especially goat meat and chapatti. A live goat is usually bought in advance, and the men of the family slaughter and roast the goat meat early Christmas morning. The chapattis are usually made by the women of the family. For the drinks, there must be soda. As a kid, it was not Christmas day, unless I had a bottle of soda with my meal.
Family is a huge part of the celebration as well. This is the time when you see all of your grandparents, cousins, aunts and uncles. For most Kenyan families, including my own, this adds up to 40 or more people. For some, having that many family members in one house is overwhelming, but for us, it is pure happiness and a blessing from God.
Church is usually a part of this day as well. The younger kids are encouraged to go to church while the older kids stay at home and help with the meal preparation. Unlike in the States, we do not have snow on Christmas morning, we do not receive gifts and we do not have a Christmas tree or Christmas lights. Instead, we put a lot of emphasis on coming together as a family and celebrating the birth of Jesus. In my family, we occasionally share testimonies about the great things that God has done for us throughout the year.
For all of you reading, I hope and pray that this Christmas is more than the presents, a time to enjoy every second with your family, celebrating Jesus and his gift to us.
[media-credit name="Nasya Sutrisno" align="alignleft" width="225″]
[/media-credit]
Indonesia
Nasya Sutrisno
Although Indonesia is the most populous Muslim country in the world, about 10 percent of its population (23.7 million) celebrates Christmas. Generally, Christians celebrate Christmas by going to church on Christmas Eve and Christmas Day and by having a lunch or dinner with loved ones. Nevertheless, each region in Indonesia has its own way of celebrating Christmas, which is mixed with local traditions and cultures. In most big cities in Indonesia, Christmas is always associated with Christmas decorations and, of course, Santa Claus. Artificial giant Christmas trees made from plastic can almost be found at the center of every mall in Jakarta. Photo sessions with Santa Claus are also available for children and family to commemorate this festive celebration. Major streets are decorated with lights showing Christmas themes, but families don't usually put up Christmas decorations outside their houses. However, putting up a Christmas tree inside the house and preparing wrapped gifts underneath the tree are both common traditions in Indonesia.
When I was just a small kid, my parents used to tell me and my siblings this story that if we provide some grass outside our house, Santa Claus would stop by our house, his reindeer would eat the grass that we have provided and he would give us presents underneath our Christmas tree. I had always believed that story — until they told me that Santa is not real when I got older. Nowadays, I don't get Christmas gifts anymore, but I celebrate Christmas by going to church and having a meal with my extended family afterwards.
In my opinion, the way Indonesians celebrate Christmas is similar to the way other cultures celebrate Christmas. Wherever and however Christmas is celebrated, it is always a time filled with joy and thanksgiving in remembrance of the birth of his son, Jesus Christ.
[media-credit name="Maria Risanger" align="alignleft" width="300″]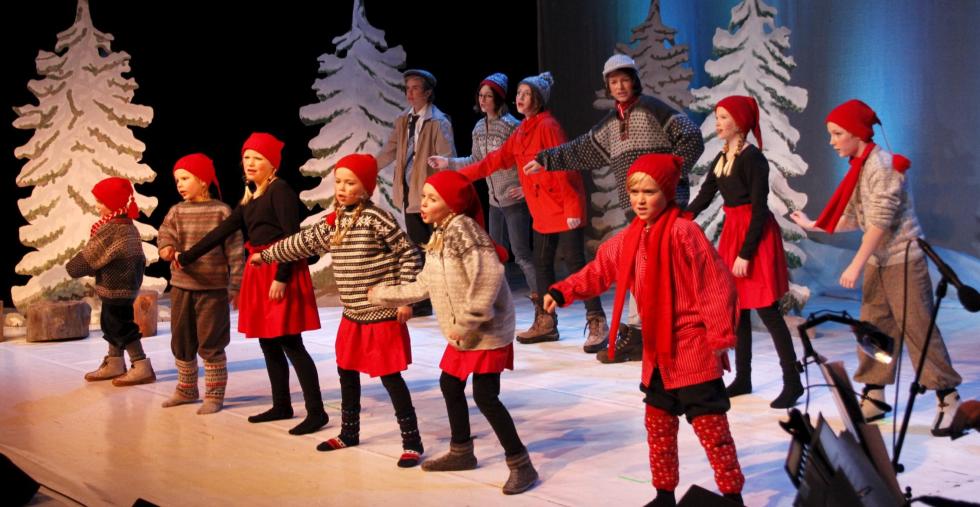 [/media-credit]
Norway
Maria Risanger
Norwegian kids jump out of bed on December first. Their Advent calendar reveals a new gift every day until Christmas Eve. So begins the Norwegian Christmas.
December days are filled with excited children, busy parents, grandmas knitting for churches' Christmas markets, concerts by children's choirs and local marching bands, baking the correct amount of cookie types — we make seven — and relaxing in front of the TV watching the correct episode of the 24-episode Christmas calendar. We also light a new purple Advent candle for each of the four Sundays leading up to Christmas.
All of these festivities take place while eating our specialty, risengrynsgrot, which is porridge of rice. Not to mention its hidden almond; whoever finds it is the lucky Marzipan Pig-winner. Farmers also give a portion to Fjosnissen, our Santa Claus, a small three-foot creature with a beard who lives in a barn.
Norwegians decorate with Christmas lights outside and a wreath at the door. Ornaments are placed all over their houses. Usually, the Christmas tree is decorated a few days before Christmas Eve.
On Christmas Eve, we watch "Three Wishes for Cinderella," a Czechoslovakian movie. A famous Norwegian man dubs all the voices, which is quite charming. We attend church before we eat a delicious meal of pinnekjott (lamb), svineribbe (pork ribs) or cod. The famous lutefisk may also appear. Then we open gifts.
Christmas Day at my place is unusual compared to other Norwegian families. My little sister has a birthday. Every year, she ironically complains that she once again lost the attention competition against Jesus.
The week between Christmas Eve and New Year's Day is busy. Everyday, family members and friends knock at our doors, ready to consume our baked goods. I appreciate the love shown at Christmas. Most churches arrange a Christmas feast. There, we sing carols and walk around the Christmas tree.
No pinnekjott for me this year, but I'm preparing risengrot!
[media-credit name="Sarah Westergren" align="alignleft" width="201″]
[/media-credit]
Spain
Sarah Westergren
In Spain, the holidays begin with the drawing of the grand lottery hosted by the Loteria Nacional, which celebrates drawings all year, but it is during Christmas that the largest prizes are won. Even if people do not have a number in the pool, everyone watches the drawing on television and celebrates with people who have won.
The majority of holidays in Spain are of Catholic origin, and at Christmas time, there is great emphasis placed on the holy family. The most traditional holiday decoration in our homes is a nativity scene representing the birth of Jesus and the presence of the shepherds and wise men. Many city halls and Catholic churches display their own impressive and much more elaborate Belen: a small-scale Bethlehem complete with houses, townspeople, the Holy Family and the kings on their way to see Jesus. Many families keep the tradition of touring the city to visit these displays and will often add to their own display by buying a new figurine each year.
We give gifts on el Dia de Reyes (Kings Day) celebrated on the eve of the 5th and morning of the 6th of January. Each city hosts its own Cabalgata (parade) where the Three Kings — Melchor, Gaspar and Baltasar — are welcomed by all the children who will receive their gifts the next morning. In the same way that American children hang their stockings and leave cookies and milk for Santa, Spanish children set out their shoes to be filled and leave turron (almond nougat) for the kings and water for their camels. El Dia de Reyes is celebrated according to the Biblical account of when the baby Jesus received his gifts from the three wise men.
Although these traditions are still kept, Santa Claus and Christmas trees have made their way into the Spanish holidays as well. Christmas is a time when extended family gathers for wonderful meals and some will exchange gifts. Spaniards love seafood on holidays and will often prepare large platters of shrimp, lobster or codfish as the main dish. The traditional sweets are mantecados, polvorones, turrones and mazapan, with the special Roscon de Reyes (a large doughnut-shaped sweet bread) on Kings' Day. Today, traditions vary within each family; some prefer Santa Claus, others only celebrate Reyes and others, like my family, have both!
[media-credit name="Benedicta Arthur" align="alignleft" width="300″]
[/media-credit]
Ghana
by Benedicta Arthur
Christmas celebrations in Ghana usually start a good week or so before the actual day. One can feel the holiday cheer when roadside hawkers are selling Christmas decorations and apparel, and when everyone's car is bursting with "Feliz Navidad" from the famous Christmas music artist, Boney M.
On the eve of Christmas, (also known as the 24th night), most Ghanaians go to their respective churches for a night service. Usually, this night service consists of a plethora of songs in different local languages like Ga, Twi and Ewe from the church choir, where everyone dances and praises God for the gift of his son Jesus Christ. Another common occurrence is the performance of a nativity play, which is always put together by the youth of the church. Christmas Eve services usually go on till late at night (usually 11 p.m. or midnight).
The following day, which is Christmas Day, most Ghanaians find their way to their respective churches again, clad in beautiful traditional attire to give praises to God. This is probably my favorite part of Christmas. It's what I have come to miss since coming here because of the colorful and beautiful traditional attires that everyone wears! After the church service, people greet one another. The traditional greeting for the season is "Afenhyia pa oo!" which means "Merry Christmas and a happy New Year" with the response "Afe nko me to yen bio oo!" which means, "May we live to see another year!"
After the church service, most people visit their relatives and exchange gifts with them. Hamper baskets are a favorite in the Ghanaian culture, and usually, that is how people present their gifts to others for Christmas. Also, since the beginning of December is the harvest season for cocoa (which is used to make chocolate), there is an abundance of the popular Ghana-made "Kingsbite chocolate" which is shared among loved ones as well. Not to be biased, but Ghanaian chocolate is the best in the world! Festivities also include the cooking of traditional meals like fufu (which is a favorite), assorted soups, fried rice, jollof rice and waakye, just to name a few.
After a grand feast, the rest of the day is usually spent visiting friends and extended family. This is one thing I miss about celebrating Christmas back home. From the time Christmas festivities begin to the end of the New Year, celebrations aren't just a family affair, but a communal affair. It is very typical for neighbors to have joint meals and parties, as well as invite people around the neighbourhood who are either poor or who don't have any family, to join in the festivities. I think this practice is one that American culture can glean from my country's culture — the fact that Christmas is celebrated together, and that everyone becomes family during Christmas. In this way, the value of community is really emphasized in the culture.
Romania
Flavius Tomeci
Christmas in Romania has many traditions, but unfortunately, many traditions have already died out since I was little, merely because many do not have time or are caught up with the technology. In villages, people used to meet on the main road on Christmas Day with suits on and march at the sound of drums to meet with people from other villages. Then they would have something that resembled a dance contest and the winner would bring victory to the whole village. Specific traditional suits, music and food are definitely unique to Christmas celebrated in Romania. Santa Claus was not a big figure a few decades ago, but he is now, since the holiday has become more and more westernized and material.
We as a family always went to my grandparents' house, and around Christmas Day, we would cut the pig that my grandmother had been fattening the whole year. We would spend a whole day roasting and cutting it down and eating pork skin and drinking boiled homemade brandy. It is interesting that when I think about Christmas back home, I envision white (the snow) and red (the blood).
Christmas in America is very material and — I have to admit — very exciting and fun. I appreciate that people also spend a lot of time with loved ones and family. The difference is that there is a great expectation for presents to the point that is always stressful because someone has to buy gifts for everyone. Christmas is more than just some presents, but the western influence hides its true meaning more and more. I believe people should take some time to meditate on Christ's birth and to show gratitude.
Lithuania
Enrika Sinvichtute
"Kucios."
My celebration of Christmas has very much become westernized, despite growing up in a Lithuanian speaking home. My mom works hard to preserve our Lithuanian roots, but there's only one day that seems different in my eyes. On Christmas Eve, we celebrate Kucios. This is a dinner that consists of 12 small dishes, each being a symbol of a disciple that has given us wisdom to guide us through the past year. Traditionally, during this meal, you abstain from consuming any milk or dairy. Besides the many dishes, the other significant part of the meal is the thin wafer each member receives, called the "Plotkele." This wafer is similar to the communion wafer served traditionally in a Catholic Church, but has a larger and more rectangular in shape. Many of them have images of the nativity scene imprinted in them. Each member of the family is offered to break off a piece of every family members wafer. By the end, everyone has broken a piece of every family members wafer for themselves. This sharing and exchange symbolizes community and an offering of luck and grace for the new year.
For my family, and probably for many of you, Christmas Eve is a time of celebration of family and awaiting of our King.
Switzerland
Bjorn B. Krebs
When I was little, we celebrated in addition to Christmas, Saint Nikolaus Day on the sixth of December. On the eve of the fifth we would clean our boots and line them up on the stair steps before we went to bed. Being little kids, my brothers and I would try to find the biggest boot we could put out. In addition, we would leave a little wish list in our boot for the "Christmas Man," who comes on Christmas Eve. After this we would await until the next morning. Then there would be small goodies and gifts in the boot including things like nuts, clementines, Haribo gummy bears and a small toy. Then there usually was a note from St. Nikolaus on how good or bad you had been during the year with maybe some suggestions on what should improve. This note would be have burnt edges to make it more realistic for us kids. You would also always get a "Stutenkerl" sticking out of your boot. This is a sweet yeast dough shaped into a little man with raisins and almonds on it, which represented St. Nikolaus.
Celebrating this day is a common European tradition that is celebrated in Germany, Switzerland and several other European countries. This tradition dates back to the year the real St. Nikolaus, who lived around the year 345 and developed into the modern Santa Claus.