New mini-concert series caters to lunch-break attendees
Calvin is now offering students a musical break from their busy schedules in the form of a new noontime concert series, Notes at Noon. These occasional noon concerts will start at 12 p.m. and last anywhere from 30 to 40 minutes, so students can fit the concert in during a lunch break.
"The idea of 'just taking a break and just coming to listen' is a new idea but definitely one that we want to encourage — a sort of musical vitamin," said music events manager Heather Rodgers.
Rodgers hopes this series will be a more manageable option for students who don't have time to go to longer concerts.
"We wanted to create a series that made music accessible in a way that was something other than a traditional concert setting," she explained.
The first noon concert drew around 60 people. Rodgers said that there were not as many students as they were hoping for, but she has faith that as the series progresses, it will attract more and more people.
"My heart's desire would be that people could come and experience wonderful music," she said.
While the target audience is people on campus, the concert is open to everyone.
"It provides great music, and it provides an opportunity for people to hear music," said Rodgers.
Students are not in the lineup for this year.
"We designed this series for professional-level musicians," said Rodgers. "For example, Beth Colpean is one the best harpists in the country."
Colpean will be performing for the noon series on Feb. 15.
"We want people to come and experience phenomenal music. Events like Late Night with Capella are more geared towards student involvement."
The next mini concert will be held on Nov. 11 and will feature the Early Music Consort of Grand Rapids. Other prominent names in the lineup include jazz singer Edye Evans Hyde and Calvin violin professor David Reimer.
Rodgers cited Hyde as one of her personal favorites:
"There's nothing like a little bit of jazz at noon."
About the Contributor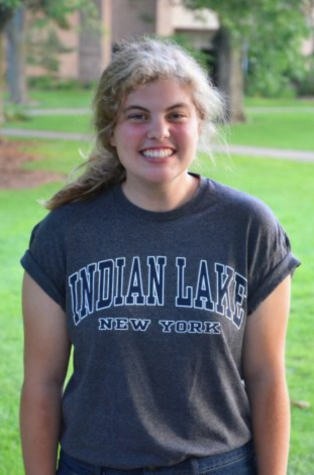 Maddie Hughey, Print Editor
Maddie Hughey is the print editor for the 2016-2017 school year after having been campus co-editor, on-call writer and staff writer in years past. She...