Student Life Tree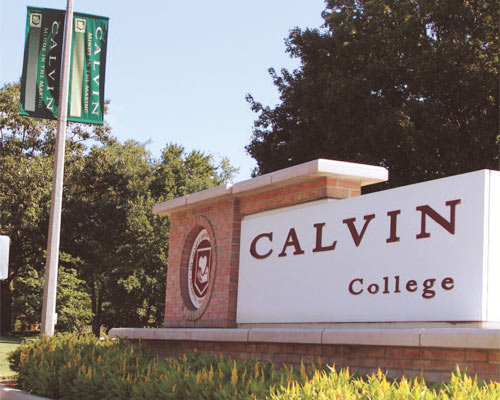 Intro:
Every year, the Calvin dorms seem to add a new leadership position. At this rate, some fear that students not in leadership will soon become the minority in the dorms. So what's with all the leadership positions? Who runs the show? What does student life actually do? This "student life tree" illustrates the organic — though inverted — chain of command and job description of every titled player in the student life division at Calvin.
Cindy Kok – interim vice president of student life
Kok oversees and supports all of the departments under the umbrella of student life at Calvin, from campus safety to health services to residence life. As the representative for the student life division to cabinet and the board of trustees, Kok also plays a role in the decision-making process for the college as a whole. In her position, Kok hopes to help create a campus community where students learn, flourish and grow as whole people.
Bob Crow – dean of student development
Crow's main duties include helping with the college's orientation programs, working with both off-campus (commuter) students and adult-learner students, coordinating the Alliance living-learning community, assisting in divisional key performance indicators and assessment strategies and supporting the work of the service-learning center. In addition, he is involved in the mentoring program, leads a campus-wide Bible study for commuter students and teaches a first-year seminar class. In the Grand Rapids community, he serves on the city's "Good Neighbor" committee and is the Calvin College liaison for neighborhood associations, the city of Grand Rapids and the police department.
John Witte – dean of residence life
Witte oversees all the on-campus housing operations of the college. That includes everything from hiring resident assistants to training dorm leadership to setting dorm policies. Witte's department is also responsible for the living-learning programs on-campus in van Reken and off-campus through Project Neighborhood. Witte's job often requires collaboration with other departments at the college, such as food services and campus ministries. Witte is supported by a team of two associate deans, a living-learning coordinator, ten live-in staff members and two support staff members in the main office.
Noah and Megan Kruis – interim directors of the service-learning center (SLC)
Noah and Megan Kruis play a three-dimensional role as directors of the SLC: the first dimension is supporting student leaders within the SLC. The second is equipping faculty to integrate meaningful service-learning experiences into their courses. The third is fostering relationships with community partners and college constituents to provide meaningful community service and effective learning opportunities for students.
Jane Hendriksma –  dean of students for judicial affairs
Ralph Johnson-  assistant dean of students for judicial affairs
Hendriksma and Johnson work with students to help them persevere through and grow from the difficult experiences in their lives. Hendriksma and Johnson specifically work with students who are facing a crisis, either as a consequence of their own actions or due to the actions of others.
William ("Bill") Corner – director of campus safety
As director of campus safety, Corner works to ensure that Calvin is a safe and orderly environment. In addition to the typical policing duties associated with campus safety, that means educating students and staff about personal safety, reviewing and communicating campus-wide safety policies, preparing Calvin to respond to emergency situations and training student campus safety officers to keep Calvin safe.
Campus Ministries
Rev. Dr. Mary Hulst is the college chaplain. She oversees all the programs and worship services of the campus ministries office, preaches at LOFT and offers pastoral care and counseling for Calvin students, faculty and staff.
Rev. Nate and Rev. Aminah Bradford are the co-associate chaplains for residence life. They are a husband/wife team who work with students, resident assistants and resident directors in the residence halls. Nate oversees the Barnabas program, and Aminah offers pastoral care and counseling for students.
Rev. Paul Ryan is the chaplain for worship and oversees all the daily Chapel services as well as all the LOFT services.
Rev. Matt Postma is our interim associate chaplain for upperclass students and athletes. Matt oversees the campus-wide Bible study each fall and offers pastoral care and counseling to upperclass students and athletes.
Lisa Jousma is our mentoring coordinator. She pairs up students with mentors and oversees that entire program.
Jana Stob is the assistant to the chaplains. She assists them with a variety of administrative tasks.
Irene Kraegel – Director of Broene Counseling Center
Irene Kraegel is serving this year as the interim director of the Broene Counseling Center. Her role is a blend of clinical and administrative work. This includes managing staff, psychiatric services, marketing and daily operations while continuing to hold counseling sessions for groups and individuals.
Glenn Triezenberg – director of career development
Triezenberg manages a staff of career professionals who focus on helping students discover the will of God for their life when it comes to both choosing a major and selecting a career path. He spends half his time managing other staff members and devotes the other half to working directly with students on career counseling. He strives to meet students where they are in their career deliberations and take the fear out of the job search process.
J.B. Britton – dean of campus involvement and leadership
Britton coordinates a wide range of programs and services, including new student orientation, student organizations, student senate, weekend programming and the student activities office.  He works with various student groups and student life professionals to create a dynamic campus culture.
Christina Edmondson – dean of  intercultural student development (ISDC)
As director of the ISDC, Edmonson oversees both the multicultural student development office (MSDO) and international student development office (ISDO) as well as the Perkins Fellows Program, the Retention Committee and the CARE Team. She and her team aim to create programs that improve retention and "flourishing" of AHANA and international students. More generally, as director of ISDC, Edmonson strives to foster a campus community where all students feel a sense of belonging through intentional support, multicultural programming, anti-racism education and Christ-centered intercultural reconciliation.
Laura Champion – director of health services
As medical director, Dr. Champion develops, implements and evaluates the policies and procedures, strategic plans and care planning for the health center in accordance to the goals and values of Calvin College. Additionally, she provides administrative guidance within the health services department and collaborates with the student life division on overall planning and budget activities. Dr. Champion works to assure the delivery of quality services to all patients and serves as a healthcare advocate for the students at Calvin College.
RD
Each residence hall has a full-time, non-student leader known as the resident director (RD). Besides upholding residence life's mission and advising resident assistants, student leaders and residents, RDs foster a community within the dorms that upholds Calvin's policies and supports students as they journey through the first few years of their college experience.
 RA
Each floor has a student resident assistant (RA) who has been trained to help residents grow and flourish during their stay at Calvin. They encourage their residents to not only excel academically and socially, but also grow spiritually.
 SET
A member of a floor's social event team (SET) is made up of a few students who desire to plan fun activities to create a sense of community and relationship building between the floormates, as well as with the other students on campus.
 RHET
Each dorm has a residence hall executive team (RHET) team consisting of a president, vice president, treasurer, secretary and publicity coordinator. They all work together to design and promote dorm-wide events with the purpose of building community. These include Chaos Day and dorm banquets.
 Barnabas
Each spring, campus ministries hires a volunteer to be the Barnabas for each floor. The Barnabas role aims to build a community of worship and spiritual growth whether it be through prayer, accountability or bible study.
 MACS
Multicultural activities coordinator (MAC) is a volunteer position hired through the the international student development office. MACs focus on connecting residents in their dorms to cultural life beyond Calvin. They specifically aim to connect the dorms to campus events such as UnLearn Week and Rangeela.
 CD
When Calvin hosts events, such as movies and various concerts, a dorm's team of cultural discerners (CDs) serves to provide a link between the event and discussions in the dorm. They also aim to initiate conversation surrounding popular culture.
 CPC
Each dorm has a specific partner in the greater Grand Rapids area that they actively serve throughout the school year. A dorm's staff of community partnership coordinators (CPCs) work to bridge the residents of a dorm with their dorm's partnering organization.
AHAs
The academic health ambassador (AHAs) is Calvin's newest leadership position in the dorms. They aim to support students who need assistance with homework, study habits and overall academic performances. AHAs are equipped with knowledge and skills to lead residents to a healthier academic lifestyle and to point them in the direction to various academic resources that can further their educational success.
SCs
Sustainability coordinators (SCs) encourage residents to look for ways to preserve and care for the environment around them and assist in the planning of events such as Kill-a-watt.