Calvin student aims for 2016 Paralympics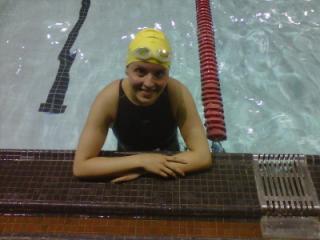 Nydia Langill is one strong athlete. You won't see her competing for Calvin's team, but if you head to the Venema Aquatic Center on any given day, you will be able to see the first-year student churning out laps for hours on end. She is a para-athlete with a unique perspective on life and swimming that is inspiring to those who surround her.
Langill was born nine weeks premature and was diagnosed at 18 months with a mild form of cerebral palsy due to bleeding in her brain. In her first few years of life, she underwent multiple surgeries to correct various bones and muscles that were affected by her condition.
Langill has been swimming as long as she can remember. As a young child, her orthopedic surgeon suggested that she try swimming as a positive first step towards recovery. She learned to walk in the water, and has been hooked ever since.
She first took part in competitive swimming when she was nine, and has experienced some great achievements in her swimming career.
"The first time I swam the 50 meter freestyle, my time was 2:07," she said. "This past weekend I swam the same race in 42 seconds. What keeps me going is the progress."
This past weekend Langill swam for the Canadian National Team in the CanAm Championships in Toronto, her first competition in nine months because of a foot injury that kept her from full strength. She competed in the 100 breaststroke, 200 individual medley (IM) and 50 freestyle. This meet is a warm-up to a National Championship in Miami during spring break.
"It's definitely a God thing that I did so well because of the busyness of school," she said, "because I was able to improve all but one time."
After this weekend, Langill has achieved the 12th fastest 200 IM time in the world in her ability category, with her goal being to reach the top eight and compete in the PanPacific Championships this summer, and hopefully the 2016 Paralympics in Rio.
Despite her impressive list of achievements, Langill keeps competition in perspective.
"It's not about the medals. I do it to keep me well. As you get faster, it's harder to improve and easy to lose perspective. I'm constantly reminding myself that even if I don't hit my fastest time, it's still a good day because I've learned to walk and I've come so far. Through swimming, I've learned to keep things in perspective when they don't go my way."
The odds look good for Langill this summer, as she has already hit most of the qualifying times for the events and will have the opportunity to prove her worth over spring break.
In order to achieve her goals, she trains over 14 hours a week, which includes lap swimming and weightlifting. In addition to her intense training schedule, being a non-traditional Calvin athlete has had its fair share of challenges. While she is able to use some of her leg muscles, almost all of her swimming strength comes from her upper body.
In addition, her Canadian National coach, Craig Mortimer, sends weekly training via email, leaving most of the day-to-day training to Langill herself.
"It's definitely difficult to maintain training long-distance, but I'm glad I have such a great coach. Most able bodied coaches don't bother to coach disabled swimmers."
One of the most inspirational parts of being a para-swimmer, according to Langill, is hearing the stories of people who have overcome great obstacles to become top-tier athletes. Whether these people are well-known, such as Jessica Long, or lesser-known participants, each athlete has a unique path to the competition and a story to tell.
Despite the added challenges that she has faced compared to the average athlete, Langill emphasizes that all athletes are more similar than different.
"The Paralympics is not the Special Olympics," she stated, "we are athletes, and we have the same mentality as all other athletes. We want to do the best we can with the ability we have been given, and we have the same goals and ambitions."