Knights 4 Life feature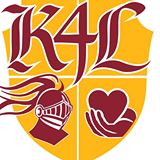 Written by Dana Krol
Through your months, semesters, or years at Calvin, you have been introduced to many programs and events.
There's Buck Fridays and Nite Life with entertaining weekend diversions, Game Day with its sports events and MidKnight Madness, the Student Activities office providing movies and concerts, intramurals, student orgs, Dance Guild and so goes the list.
But have you heard of Knights4Life? Maybe you've heard "K4L" or seen the shield, but do you know what it is about? Are you missing out on the one program that applies to all students? Read on and be informed.
What is K4L?
Knights4Life is the student alumni association. How can I be a part of the alumni association while I am still a student? Once you've completed two semesters at Calvin, you are officially an alum. Congrats!
Knights4Life is under the direction of the Alumni Association and is located in their office. Where is that place? The Alumni Association headquarters are across the Beltline in the Youngsma Center. You may not have ventured there on your campus tour, but it's worth a visit. The office features friendly faces and free Schuil's coffee.
Now that confusion is cleared up, let's expand. At Knights4Life, our primary goal is to help students build lasting bonds with fellow students, alumni and Calvin in general. We encourage the unifying identity of being a part of this institution.
Our hope is that you build connections and a love for Calvin that will last beyond graduation. Through various events, giveaways and traditions, we aim to instill the pride and excitement that comes with being a Calvin Knight.
Each year, we offer an event specifically for every class. Freshmen have Streetfest. Sophomores receive a gift in October. Juniors have a free lunch at Homestretch in the spring. Seniors enjoy the "100 Days" till graduation party and the senior breakfast.
We want you to be excited to be at Calvin every year — we want you to identify with Calvin. That's why we support other campus organizations like Nite Life and Game Day. That's why we want to give you free K4L swag.
When you rep the t-shirts, glasses or tattoos, you're showing you are proud to be a Calvin Knight. It creates an identity that we hope will stay with you for life.
Knights4Life also wants to help you be prepared for life after graduation. We provide opportunities to connect you with alumni so you can set up an internship or land a job. In Chicago, for example, there are regular alumni networking events, plus an annual Chicago Career Fair that brings in top-name companies.
Chris Wiesehan, an alumni board member living in Chicago, participated in the career fair this year. "The alumni know the quality of a Calvin education and were very excited to help provide students with full-time jobs and internship opportunities," commented Wiesehan.
The networking isn't just reserved for students. Chicago also holds networking nights for alumni. "We had 66 young alumni at the Chicago Christmas-Themed Networking Night," said Wiesehan. "This was a new record and we look forward to continuing to build a community that young alumni can join after graduation."
Not going to Chicago after graduation? Don't worry. We have you covered. There are 41 alumni networks across the country and world. These networks aim to provide Calvin communities for alumni as they follow where God calls them
. Different events include networking nights, luncheons and "The Rivalry" parties. The recently created K4L Young Alumni Network offers events for recent grads. Another gem of the alumni association is uKnight, the Alumni directory.
This treasure allows you to find Calvin connections in different fields and locations. Use uKnight alongside LinkedIn and Facebook for an easy way to network.
New Things from K4L
K4L has recently launched a new and improved website. Check it out at: http://knights4life.wix.com/knights4life. On this site, you can find more information on events and K4L. We also have a gallery for students and alumni representing K4L. Send us your pictures on Facebook and we'll add it to the mix!
Starting spring semester, K4L will be launching a new project, called K4L Profiles. These profiles will be shown on the website and will highlight three students and one alumni every month. We're inspired when we see students getting involved and making the most of their Calvin experience.
We're encouraged when we hear of alumni who recognize the opportunities offered by Calvin don't end when the books are put down. We want to share these stories and encourage others through their accounts. The Calvin community is full of amazing people whose stories are worth passing on.
Up Next: uKnight Week February 8-15
Calvin's own spirit week is coming up next month, providing a time to show your pride of the maroon and gold.
A plethora of events fill the week of Feb. 8-15. The uKnight Games kick off the week on Saturday, Feb. 8 with the Dodgeball Tournament. Teams will fight for the chance to play the final match in the Van Noord Arena and the first place cash prize.
Dodgeball not your thing? Don't worry, there will be other diversions, like Calvin-themed crafts, octoball and a rock wall competition. We'll also have pizza from Uccello's and giveaways before the final match.
Continuing on in the week, seniors visit the Library Lobby and order their caps and gowns at Senior Salute. Seniors also attend "100 Days" on February 14, a party for the Class of 2014 celebrating 100 days until graduation. Free food, laughs and cash prizes will be provided.
The biggest event of uKnight Week also occurs on February 14, making for a cold Valentine's Day. The Cold Knight Club, also known as the Sem Pond Jump, will begin at 5:00 p.m. You provide the courage, we'll supply the hot chocolate and towels.
Ending the week with a bang is Airband, a must see for all students. This is one of the most entertaining events on campus. Students lip-sync and dance for Best Video and the coveted People's Choice award.
There's even more to do: cheer on the basketball teams or attend "Into the Woods," performed by the Calvin Theatre Company. Whatever your thing is, get involved during uKnight Week!
Now what?
Now that you know K4L, what we do and why we do it, the rest is up to you. You are Calvin College. Being a Knight4Life means taking the opportunities that Calvin offers. It means getting involved.
But the great thing about being a knight is that it doesn't end here. Once you become an alum, you join the alumni community, over 60,000 Knights worldwide. We are Calvin. The ties you make during your four years will last a lifetime.
So build the bonds. Create the identity. You only get this Calvin experience once. Live it, then carry it on.