Editorial: 'Because' not 'and'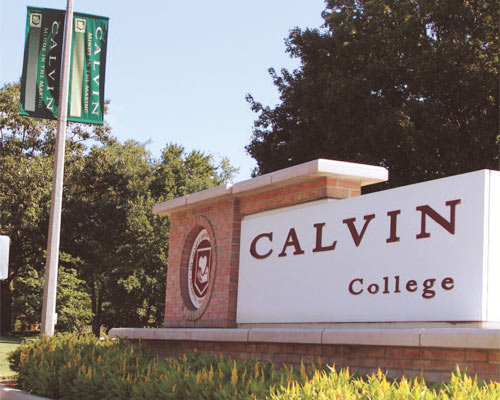 If you walk around campus long enough, you'll notice several little plaques on the walls with Calvin's vision statement on them.
It starts something like this: "Calvin College is a comprehensive liberal arts college in the Reformed tradition of historic Christianity."
But now it's getting a revamp. President Le Roy sent a survey out to students, faculty and staff this week asking for input on the all-important job of trying to articulate Calvin's mission in a fresh, clear way.
Thankfully, we aren't the only higher education institution who has thought, or is currently thinking, about this task.
Over the summer, I got the chance to visit one of these schools: Santa Clara University, a Catholic liberal arts school with about 8,000 students out in San Jose, Calif.
During the visit, I got to go to a student panel for prospective students. I was having a fun time thinking about how I would answer the questions if I were back at Calvin: stuff about dorm life, how to choose a major … all the classics.
Then came a question on their core curriculum. Easy, I thought. We value liberal arts because it makes us more well-rounded. A liberal arts education gives us a broad foundation of basic knowledge so that we can be good citizens in our communities. And, frankly, it looks good on a resume.
It's a good thing I wasn't the one fielding questions that morning, because this student's response blew mine out of the water.
She answered by immediately appealing to her Catholic faith. She said that the Jesuit Catholic tradition emphasized educating the whole person and her faith and commitment to grow in following Jesus Christ in this tradition makes the core curriculum vital to her faith.
Oof. Nothing about being well-rounded. Nothing about being good citizens. And certainly nothing about a resume.
Those are valid reasons why a liberal arts education is important, and they are especially important to me as a journalist and political science major, but they aren't the reason we do liberal arts here at Calvin.
If we start separating liberal arts and our Reformed faith into two pillars, we are making a major mistake — a mistake I want to correct with this small but fundamental distinction.
At Calvin College, we are not liberal arts and Christian. We are liberal arts because we are Christian.
Our God is sovereign over every single square inch of creation — from biology to political science, from music to philosophy. And the more square inches we learn about here at Calvin, the more effective agents of renewal we are going to be.
As Reformed Christians, we know that God is redeeming and bringing his kingdom not just into our field, but into every field.
That explains why this year's discussions over potential changes to core are so passionate — because the core is inseparably tied to our calling as Reformed Christians.
This is an essential concept that President Le Roy and our board of trustees absolutely have to get right this year: our Christian identity prompts our liberal arts curriculum. They are not separate pillars.
There are several worthwhile, valid reasons for the liberal arts — but compared to the role of liberal arts rooted in the redeeming power of Jesus Christ at work in every square inch of the world — the other reasons don't quite cut it.
And that's why calling ourselves "a comprehensive liberal arts college in the Reformed tradition of historic Christianity" doesn't cut it either.
So as we work to articulate Calvin's mission in a new way, let's keep our Reformed identity at the core of everything we do here, including — and especially — our liberal arts education.