Calvin's PBS show Inner Compass cut after 15 years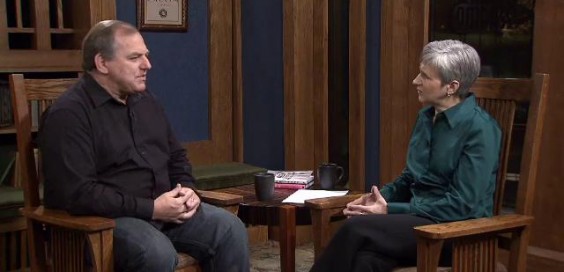 After 15 years of airing on PBS, Calvin's Inner Compass budget was cut earlier this year, bringing the nationally-aired program to a finishing halt.
"It was sad but necessary for Calvin to weigh its priorities," said Shirley Hoogstra, vice president for student life and co-host for Inner Compass. "The show had a great impact on a wider community, but it didn't have as great of an impact on the students."
By cutting the show, the college is saving $60,000 per year.
Inner Compass was a PBS television series filmed by Calvin to provide "refreshingly candid conversations with articulate people who have thought broadly and deeply about issues that matter," according to the program's webpage.
For over a decade, the show aired across the country, reaching almost a third of the U.S., said Karen Saupe, English professor and co-host alongside Hoogstra.
"Inner Compass displayed the special brand of Christianity that Calvin is most proud of," said former producer Jazmyne Fuentes. "The approach that is unafraid of wide territory, knowing everything belongs to God."
Each week, a new episode was filmed, creating discussion and conversation with a special guest speaker, sometimes returnees.  Experts came from all fields including healthcare, international affairs, religion and culture.
"Many of our most prominent guests, who had been interviewed countless times, said this was one of the best interviews they'd had, reflecting well on the college as a whole," Fuentes said.
But with budget cuts sweeping across campus, the show was cut.
"I do miss it and I think we've lost something good," said Saupe. "But how do you measure what has the most value? There are no easy budget cuts. Every little bit helps and every little bit hurts."
"Inner Compass was probably the only series on national television with a budget that small," Fuentes said. "We walked with giants."
Airing alongside the program on PBS was the show On Being, budgeting about $2 million per year.
"Calvin's mission is to do what we do within and beyond the confines of our campus," said Saupe. "It was more important beyond the campus than within and perhaps that's why they cut us."
Though the program impacted a much greater audience, it did not go unnoticed by students.
"Inner Compass benefited me," said senior Reid Petro, the program's camera operator. "I learned so much about the topic we were filming that day. I think we will be missing the opportunity of invaluable knowledge that these experts can provide."
After years of airing, the show will be missed by students, alumni and strangers from Texas, as Hoogstra experienced, but the show is not dead.
The shows filmed last year, Saupe explained, are still airing this year as new, never-before-seen episodes.
In addition, PBS is running reruns for another year since Inner Compass was "the only public television series in the country offered by a Christian College," said Fuentes. "They liked it enough to keep airing."
Though the show is not making any new episodes, Saupe said, "we're trying, on a volunteer basis, to maintain our online presence through the website and Facebook posts."
"Go to the website," Hoogstra recommends. "It can still be used as an educational resource regardless of whether new episodes are being made."