New enrollment numbers highest in six years: minorities up, CRC down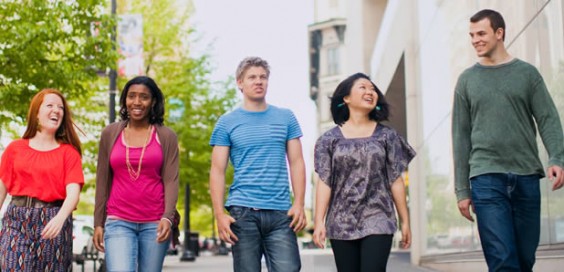 More than 1,000 students are enrolled in Calvin's class of 2017 — the highest numbers since 2007 — despite news of the college's recent financial difficulties and prioritization process, a recent report shows.
The report shows students from a Christian Reformed background at an all-time low of 32.4 percent, while the number of ethnically diverse students is the second highest ever with 15.5 percent.
The numbers aren't officially finalized until the tenth day of the first semester, in mid-September, although the July numbers are usually fairly representative of the final numbers.
Russ Bloem, vice president for enrollment management, credits the broader Calvin community for the spike to 1,007 first-time students and 83 transfer students.
"It's not just enrollment doing these things and students showing up," he said. "It's really enrollment engaging certain students and having them intersect with the broader community. It's that broader community that makes the individual connections and makes the difference."
The new numbers come about nine months after news of Calvin's financial difficulties, and Bloem said that at least one student did not choose Calvin because of the financial instability.
"We had some headwinds this year in terms of publicity and concerns. Would we have been at 1,025 [students] without it? I don't know. It's one of those things you can't concern."
"There are always some headwinds," he continued. "Whether it's a Fun. concert or human origins … it's Calvin. We're going to be involved in those kinds of discussions. We'd never want to change anything about who Calvin is and what it does."
Of the incoming class, 326 students are from the Christian Reformed Church (CRC), the denomination that owns the college, which will mean that the overall percentage of CRC students at Calvin is likely to drop below 40 percent for the first time.
Bloem identified two reasons for the shift.
"It's a combination of a smaller pool and more flexibility within that pool," he said. "If you take a look at the baptisms 15 years ago compared to now, it's been a steady decline. The pool of college age students from the CRC is declining."
This steady decline is because of decreasing birth rates, which have resulted in a much higher average age and much fewer college-age CRC members, according to a strategic white paper by John Witvliet.
"There's also less denominational loyalty," said Bloem. "That's not just true of the CRC, but I think of most denominations. People don't feel that same strong requirement that since they are a CRC member they will go to a Christian Reformed college."
But an all-time high of 156 students in the incoming class identify as minority race students, or AHANA (African-American, Hispanic, Asian and Native American) students.
Bloem credits Calvin's progress over several years and the reputation Calvin is gaining in diverse communities.
"We're getting a critical mass of students that kind of builds on itself," said Bloem. "When you start getting one or two or three people from that community, having a positive experience at Calvin and word of mouth help."
Chimes will have more extensive coverage of finalized enrollment numbers in mid-September.