Students and faculty reflect on Polman as dedicated professor, caring friend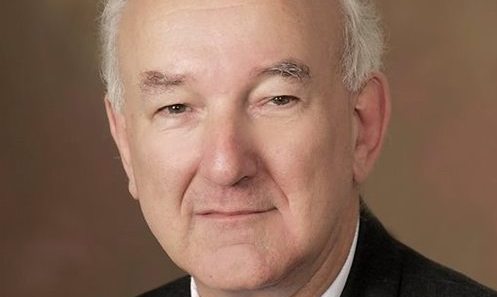 On a day usually abuzz with orientation excitement, one incoming freshman strayed from the beaten path and arrived at a room off the library lobby, where a small group of staff and faculty had gathered.
The group was remembering the work and life of music professor Bert Polman, 68, who had passed away Monday morning after a battle with cancer.
Music professor Benita Wolters-Fredlund saw the student and his family walk in.
The student explained that he had met Polman, affectionately known as "Dr. Bert," just once at a Fridays at Calvin visit last year, and he had taken the effort to seek out the memorial service.
"I don't know how he heard about it, but [Polman] was so gracious and so friendly that even from that small first introduction, they had felt like they had grown to know him," said Wolters-Fredlund. "That's a testament to how good he was at making people feel welcome."
And now, after Polman's death, faculty and students alike paint a picture of a grace-filled man who was passionate about investing in the lives of both the faculty and students around him.
"He just had what seemed like an infinite capacity to give of himself, to pour himself into his relationships," said professor Tim Steele, who will serve at department chair next year.
"I don't know a single student in the department who didn't love Dr. Polman, just because he had the ability to empathize, to understand what students were going through," he continued. "He treated each student as an individual."
One of those students, Arianna Tolsma, remembered how Polman invested so much in his students, even when his health was failing him.
"Even though he was a little slower moving or didn't hear the best, he cared so much about us and the material, he wanted us to learn it no matter the cost to him," she said.
Among other health concerns, Polman had paralyzed vocal cords for most of his life, meaning that he could talk only in a hoarse whisper.
People who knew Polman well said it was remarkable that he was such a prominent leader at Calvin and in the field of hymnology, despite his vocal paralysis.
"It took enormous courage," said Steele. "I have a hard time getting up in front of small groups, but he wouldn't hesitate to open concerts and open sessions of the worship symposium and lead singing and all these sorts of things and do so with gusto and with conviction."
"It just was a testimony to his courage and I think to his faith in his Savior," he continued.
"This was the irony of his musical career: he focused so much of his research on congregational song and he was not able to sing," said Wolters-Fredlund.
But Polman never saw that as something that was going to slow him down.
"When he would try to explain his vocal disability, he'd always make light of it and turn it into something humorous — but never an awkward thing, never a cringe moment," said Steele.
"His first joke was always he was the chief custodian of the music department," said Wolters-Fredlund. "Then he would joke that he taught voice lessons here."
Polman often sprinkled that sense of humor throughout his classes and his work.
"Every day in class, with the straightest face ever, he would just say something so outrageous or ridiculous," said Tolsma. "I would just laugh in class and everyone would just look at me like, 'is he kidding?' and I would just say, 'I think so.'"
Even while working on the handbook for the Psalter Hymnal, Emily Brink from the Calvin Institute of Christian Worship said his sense of humor showed through.
"He would do the writing and I would do the editing," said Brink, who has worked with Polman since 1977. "He would often throw in an opinion that I knew was so outlandish, he knew that I would not put it in — like, 'this is the most awful tune.'"
"He took his work very seriously, but he always had a sense of grace and humor," she continued.
Wolters-Fredlund has seen two sides of Polman — studying under him at Redeemer University College in Ancaster, Ontario and then teaching alongside him at Calvin.
"He was a really colorful teacher, a really theatrical teacher," she said. "It was not uncommon for him to show up dressed as a historical character. He would just show up as [composer Joseph] Haydn. You could just tell he was having a grand time doing that," she laughed.
Both Steele and Wolters-Fredlund pointed to Polman as a passionate person who was always working on several projects.
"He was incredibly hardworking. It was not uncommon to get replies to an email at 2 a.m. while he was burning the midnight oil," said Wolters-Fredlund. "He was very, very dedicated. I think that's really what you need to be a really good educator."
Junior Trisha Maddy had Polman as an advisor for her first two years in the music and worship program at Calvin.
"Advising appointments would just end up being a conversation," said Maddy. "He would say, 'Tell me about your life.'"
Junior Joel Altena, also one of Polman's advisees, said that Polman was especially helpful in helping him shape his interdisciplinary major.
"I could tell he really cared about what I have to do to accomplish what I want to do," said Altena. "He was so excited about [my major]."
But Steele said that Polman's grace and caring spirit wasn't limited to students: even in a complex department like the music department, Polman recognized each faculty member as an individual.
"He never treated us as cogs in a wheel: we're all individuals and we all come from different backgrounds and different approaches," said Steele. "He had that uncanny ability to sit with any one of us as professional colleagues and encourage us in what we're doing and understand what we care about and help us achieve our goals."
Looking to the future, Steele and the music department remember Polman as a man who has left an indelible mark on the department and Calvin College.
"His is a presence that will be very hard to fill, and as I'm taking on the chairman's responsibilities, I realize every day just how much and how significant his work was and how hard it is to fill those shoes," said Steele.
"I think the thing that's hardest to describe is … [Polman's] ability to help us understand we were part of something bigger," he continued. "We weren't just trying to run our music department, but we were part of the development of God's kingdom."
The funeral for Bert Polman will be held on Saturday, July 6 at 1 p.m. at Plymouth Heights Christian Reformed Church.