Petition urges Calvin to become more LGBT-friendly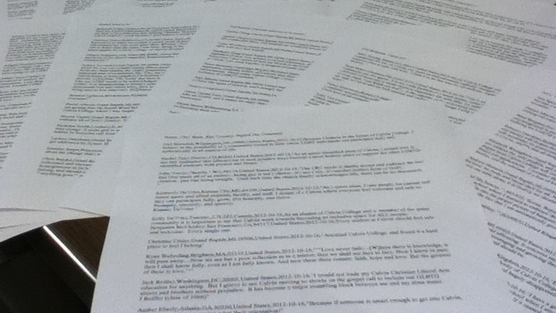 More than 1,100 people have signed a change.org petition encouraging Calvin College to become more welcoming to LGBT students.
Recent Calvin alumnus Joel Meredith formed the petition in response to Calvin's ranking as the No. 11 most LGBT-unfriendly school in the country on the Princeton Review's annual list.
The petition will be sent to newly-inaugurated President Le Roy.
"When faced with the hard reality that the Princeton Review highlights, we feel that the response has been underwhelming at best," states the petition.
The Princeton Review ranks schools each year in a number of categories based on surveys completed by students at each school. Calvin has been on the LGBT-unfriendly list for several years.
"Year after year we make the list. Year after year we're told by school officials, 'We realize that we're not perfect, but we want everyone to know that they have a place on our campus regardless of their sexual orientation.' This poll clearly shows that not everyone has a place on Calvin's campus," it continues.
Change.org is a website that hosts petitions about various causes. Once a student, alumnus, faculty, staff member or community member electronically signs the petition, they are given the opportunity to state why they chose to sign it.
Many hoped it would better the lives of their friends or family.
"In the nearly 30 years I have taught at Calvin, I have had a number of gay students in my classes," commented Larry Herzberg, a professor at Calvin.
"Some have shared with me their pain at having to hide their true identity at Calvin," he continued. "A few have left the college because they feel it is not a welcoming place for people like them. I would like to see us live up to our ideal of being a loving, welcoming community."
Both LGBT students and heterosexual students are citing reasons to sign the petition.
"As a friend of many who identify as part of the LGBTQ community, I have vicariously felt their pain and their suffering," said senior Tara Elders.
"Our creator has called us to love," she continued. "To me this means that we should welcome these individuals into our community and allow them to be their authentic selves rather than marginalizing them."
Meredith said the petition addresses both a surface issue and a deeply rooted problem.
"Of course, we would like to get the school off of the Princeton Review's top 20 list, but ultimately the list is symptomatic of the problem, not the problem itself," he said.
"Calvin could, and should, be a shining light for the Christian community at a time when we are seeing many leave the church because they feel unwelcome," he continued.
Meredith is optimistic that the petition will encourage change at the college.
"We are excited about the future of Calvin College," reads the petition.
"Welcoming and advocating for LGBTQ students is not acting unfaithfully toward denominational positions on homosexuality; rather it is acting in the wise, compassionate, ever-reforming character that the Reformed tradition holds to, and more than that it is acting in the nature of Christ's expansive love for all God's children."
In response, Shirley Hoogstra, vice president of student life, highlighted a continued conversation that Calvin hosts on campus each year.
"We need to continue to learn together how to address difficult and emotive topics in a civil, humble way," said Hoogstra. "Through the Sexuality Series, the annual LGBT panel, peer education, SAGA, RA training and dorm programming, as well as in many classes, we regularly address various aspects of LGBT experiences and issues."
As the college hosts this conversation, the official statements of the college also seek to include LGBT students and welcome them as fellow children of God.
"Calvin's stance is that all members of our community, including those who identify as LGBT, should be treated with respect, justice, grace and understanding in the spirit of Christ," said Hoogstra.
Because of Calvin's affiliation with the CRC, the college adopts the denomination's position that marriage is meant to be between a man and a woman.
The CRC's position on homosexuality says that homosexual orientation is a "condition of disordered sexuality that reflects the brokenness of our sinful world," according to the denomination's website.
The position states that homosexuals "should not be denied community acceptance based solely on their orientation." It goes on to say that explicit homosexual practice is "incompatible with obedience to the will of God."
Mary Hulst, college chaplain, suggested ways that Calvin can become a more accepting community while maintaining the church's position on homosexuality.
"We need to help each other speak well of members," she said. "There are certain words that we should simply never say. Always assume someone in the room is LGBT or knows someone who is LGBT."
"Every member of the community has a part to play in their own interactions with others to be caring, respectful, fair and Christ-like," said Hoogstra.
Hulst also encouraged LGBT students at Calvin to continue the dialogue.
"Come and talk with me or another chaplain," said Hulst. "We want to hear your story — no, we need to hear your story. LGBT students think they are the only person here that is gay or lesbian or has this issue. It creates loneliness, and they need to know that there are incredible resources around to help with this."
There is hope from many members of the Calvin community that the petition would be successful in steering the college toward becoming a welcoming and loving place.
"We are at a moment of great possibility and potential here at Calvin," said Elders. "At this point, I strongly believe that some sort of change is necessary in order to create space for both acceptance and support at our college.
"We don't get to opt out of this conversation as Christians. These are our brothers and sisters and Jesus calls us to love well," said Hulst.