Election feud in Mexico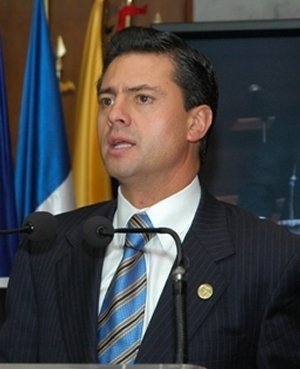 Mexico's Federal Electoral Tribunal, the country's highest electoral authority, declared Enrique Pena Nieto the legitimate winner of the July 1 presidential elections.
This ruling comes despite continued accusations of fraud and coercion made by presidential runner-up Andres Manuel Lopez Obrador, the leftist candidate and former Mexico City mayor who ended up with about 31 percent of the vote losing to Nieto's 38 percent.
"I cannot accept the ruling of the electoral tribunal, which declared the presidential election valid," Mr Lopez Obrador told reporters on Friday.
The Tribunal unanimously said that Lopez Obrador failed to prove that any of his claims of vote-buying had a great enough impact to affect the overall results of the elections.
Lopez Obrador submitted a long list of violations including the vote-buying with both gift cards and, in rural areas, farm animals, and participating in an international campaign finance money-laundering scheme. The electoral judges said that some of the evidence submitted was unclear or based on rumors and could therefore not be recognized as incriminating evidence.
"There is no proof of vote-buying, there is no proof of coercion," Judge Flavio Galvan Rivera told the tribunal.
The accusations were centered on hundreds of thousands of gift cards that shoppers at a Mexican grocery store chain said they were given by Pena Nieto's Institutional Revolutionary Party (PRI), which governed Mexico for 71 years until 2000. Lopez Obrador's Democratic Revolution Party showed reporters thousands of such gift cards, but never publicly demonstrated convincing evidence that millions of votes had actually been swayed by corrupt practices.
"The evidence absolutely didn't support annulling an election with a difference of three million votes between first and second place," said Jose Antonio Crespo, an analyst at the Center for Economic Studies.
In past decades, the PRI engaged in widespread coercion of its opponents, monopolizing virtually every institution in the country, its rule was marked with vote fraud and periodic economic crisis. Pena Nieto insists, however, that the PRI has changed.
"Mexico will have a modern, responsible presidency, open to criticism, willing to listen and take into account all Mexicans," Pena Nieto said at a ceremony in which the tribunal gave him the document certifying him as president-elect.
The elections ended up being closer than anticipated with some pre-election polls predicting as much as a 20 percent lead for Pena Nieto which fueled Lopez Obrador's lengthy fight. He also called on his supporters to hold a demonstration in the capital's main square on September 9.
A similar incident occurred six years ago when Lopez Obrador lost the presidential election by a small margin and initiated protests that caused disruption in central areas of the capital. So far, no major protests have been held other than a brief blockage of highway toll booths by a group of students. There is little evidence of widespread mobilization.
Calls for the post-electoral disputes to end have been made by leaders throughout Mexico in light of Mexico's current poverty and violence.
"It's time for peace, harmony and agreement,"said Mexico's Roman Catholic Council of Bishops. "We want our representatives to demonstrate that they can work together."