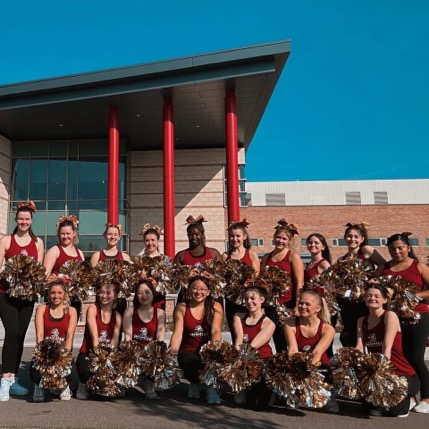 On Sept. 30, as Calvin's football team holds their first scrimmage, the Knights Cheer team — a new club sports program — will be there with their poms to help rally the crowd. 
"We're a sideline cheer team. That means we're there to hype up the crowd at games. We're there to get people excited and into it, really cultivate that school spirit," said Abi VanDoorne, one of the new team's head captains. 
As a club sport, the cheer team is primarily student-led and student-run. The head captains, Celia Carey and Abi VanDoorne proposed the team following the fall 2022 Dance Guild season, and they are "fronting a lot of the organization of it," said Parker Nanzer, the team's dance captain. 
Nanzer, who has experience in competitive dance, is in charge of choreography while Bour makes and teaches the cheers. Chelsey Brownlee, a program coordinator in Student Life who has prior experience in coaching cheer, helps with safety, communication with the athletic department and some coaching, according to VanDoorne. VanDoorne said Brownlee's help "makes the team feel more real."
The team's leadership came together while participating in Poms — a cheerleading-style dance — through Dance Guild. Carey and VanDoorne were choreographing the fall 2022 Poms routine, and VanDoorne invited Nanzer, said Nanzer. Bour, who has participated in Poms every semester and choreographed it before, is also on the team. 
"It was definitely inspired by Dance Guild," said VanDoorne.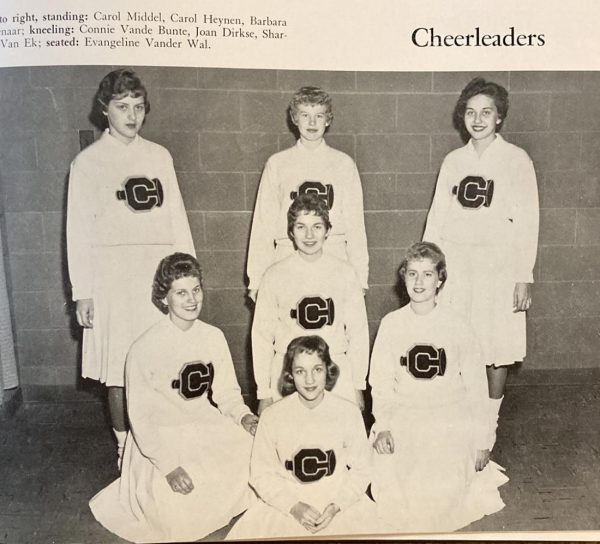 According to Bour, President Wiebe Boer told them this isn't the first time Calvin has had a cheer team; yearbook photos from the early 1960s confirm the existence of an earlier team. However, the team will be Calvin's first in recent institutional memory. 
As Dance Guild wrapped up, VanDoorne said she and Carey realized how much they "like doing a lot of the cheer side of things, like we like doing the stunts, we like having a team atmosphere" and because football had recently been announced, they decided to propose a cheer team. 
She and Carey sent emails to both Student Life and Club Sports. It was Jason Faasse, director of club sports, who responded. "It did definitely take a lot of initiative on our part, but they were really excited about it," said VanDoorne.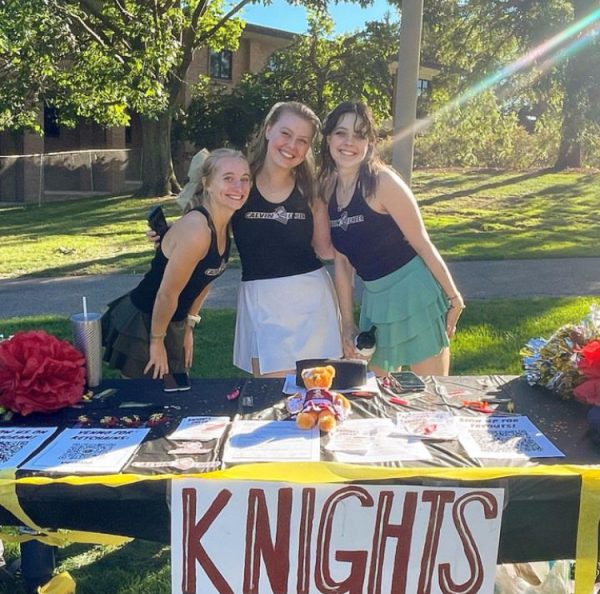 The next step was recruiting members. A lot of recruitment was word-of-mouth, according to VanDoorne and Nanzer. They also put up posters and had a table at Cokes and Clubs. According to VanDoorne, joining the team is a semester-long commitment, and tryouts for the spring will be held sometime in late November. Currently, the team has 19 members, and "you can have a really solid team with just 15 people," said VanDoorne. Nanzer said that all present participants are women, though the team is officially co-ed, and they "would love to have guys on the team." 
According to VanDoorne, the team is "really beginner focused" so people don't need prior cheerleading experience to join; current members are "50/50" on having prior cheer experience. 
This is partly because the captains themselves had limited experience with cheerleading prior to joining Poms in college. VanDoorne, who transferred to Calvin from Wheaton, said she did a semester of cheer at Wheaton but hadn't done cheer before that. Carey also had limited prior experience. Nanzer and Bour both said they had extensive histories with dance, including ballet, but they had only done cheer for a year when they were younger. 
"It's not intimidating because none of the captains have that experience, so it's kind of a learning environment for everybody," said Bour. 
While the team is meant to be open to beginners, that doesn't mean it doesn't strive for excellence, according to VanDoorne.  
"We have a lot of talented girls, even the people who have never done it before. The progress that I have seen in just three weeks of practice has been phenomenal," VanDoorne said. 
Nanzer said one of the biggest challenges while starting the team was "agreeing to do this and not knowing how much time to set aside for it." The team practices twice a week for two hours a week. Captains also have to figure out logistical aspects such as uniforms, which has been "a little hard this semester," due to budget changes, Nanzer told Chimes. 
While VanDoorne and Carey were organizing the team, club sports, which had previously operated under the Campus Involvement and Leadership (CIL) office, moved to the Athletics department as a part of the university's Strategic Plan for Athletics. According to Faasse, the money that club sports got as student organizations from Student Life did not transfer with them to athletics. "The athletic department did not get this increase of funding by bringing essentially seven teams, seven organizations over here," said Faasse. 
This has led to some confusion over the budget. Faasse said the athletics department is "still learning what [club sports] need, what resources we can provide them, and what resources in some cases that they'll have to come up with on their own." 
VanDoorne said the restructuring –– especially the uniform budget –– has been a "challenge, and sometimes it's tough to feel like we're getting the support that we need, but we know that the department wants us to be there." 
According to Faasse, next year, the university will purchase traditional cheerleading uniforms called shells for the team. These shells will be the university's property and will stay at Calvin for future use. The delay in obtaining these shells is partly logistical. "You can't do sizing until you have a team, and they take kind of a while to make," said Nanzer. 
"It's a little bit bigger than, 'We need 24 uniforms by Thursday.' These kinds of things take time and energy, and we want to do it right the first time," said Faasse. 
Faasse pointed out that the football team also has "practice uniforms, not game uniforms," because there are no official games yet. 
For now, the cheer team will wear a simpler, less expensive uniform — black leggings, a crewneck, and a tank top — which team members will purchase on their own and keep, according to Nanzer. 
Despite these logistical challenges, the team "got really lucky with the people who wanted to show up," VanDoorne said,  "Regardless of experience, everyone is really kind, and they're there to work and practice and be there for each other."