A collision of faith, history and education: Calvin connections and the CRC in Rehoboth, NM
For a small town in New Mexico, Rehoboth has a surprising number of connections to Calvin University and the Christian Reformed Church (CRC), beginning with its becoming a CRC mission in 1903. Many of these connections have had positive impacts, but some have more complicated histories. According to Tim Bruinius, Rehoboth Christian School (RCS) science and math teacher and Calvin alumnus, "This is … a group of people that have been in many ways oppressed but also have a really vibrant culture."
Calvin's second telescope
Rehoboth houses Calvin's second telescope, which is remotely connected to the telescope at Calvin's observatory on campus.
Astronomy professor Larry Molnar, along with former Calvin professor Deborah Haarsma, came to Calvin 25 years ago to start Calvin's astronomy program. Molnar wanted to set up two telescopes in two different locations, especially since Grand Rapids is cloudy much of the time. These two telescopes would be remotely connected, a technology which was brand new at the time. From talking with people at his church about a possible location for the second telescope, Rehoboth kept coming up for its much clearer skies and darker nights.
According to Molnar, Calvin alumnus Andrew Vanden Heuvel accidentally discovered an asteroid using the Grand Rapids telescope, tracked its orbit and eventually got to name it "Griffioen," after Roger Griffioen, former Calvin dean and physics department chair, according to the winter 2006 edition of Spark.
Following this discovery, between September 2003 and April 2017, Molnar started using the Rehoboth telescope with students. He said that "we had about 180 asteroids discovered out there that are now recognized in the catalog of known asteroids as being Calvin discoveries."
More recently, Molnar and his students focus on binary stars, as many of the asteroids have been discovered. This research would not be possible without the Rehoboth telescope.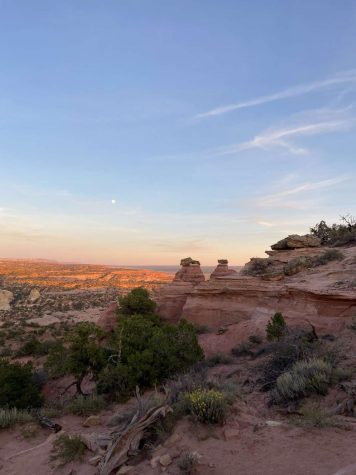 History and mission
The RCS in Rehoboth, NM was founded as a mission school of the CRC, Calvin's denominational affiliate which also founded a hospital and post office there. Because it was founded on land given by the United States Army, the CRC had to form a school in the way the army wanted — by "try[ing] to erase [Native American] culture and start[ing] over … in a Western mold," according to Bruinius. He told Chimes that the original goal of the school was "assimilation and placation." The CRC originally called their ministry "the mission to save the heathen." However, Rehoboth "was better than most" other boarding schools at the time, according to Eryn Hannink, former RCS preschool teacher and director and Calvin alumna.
Because there is a whole generation of parents now who were raised in boarding schools, they are "trying to determine how to integrate language and culture into the lives of their children now," said Hannink.
In 2003, RCS issued an official apology for the way Native Americans were treated at the boarding school.
Today, RCS is a school that serves a 60-mile radius, including the Navajo Nation and the Pueblo of Zuni reservations. Because of the distance, according to first-year Calvin nursing student and Rehoboth graduate Kora Zylstra, the earliest time to get on the bus was around 6 a.m. Some of the students lived very far away, like a friend of Zylstra's who had to get up at 4 a.m. to do chores before leaving for school. A senior at RCS, Alyssa Chavez, has lived on the Pueblo of Zuni reservation her whole life. She takes the bus two hours each way to RCS every day.
Hannink said that currently "there's also been a lot of effort on Rehoboth's part to really integrate Navajo language and culture from a Christian perspective." For instance, students can take Navajo for their language class.
Why Rehoboth?
Chavez started attending RCS her freshman year of high school after having attended Zuni Christian School on the Pueblo of Zuni reservation previously. She has stayed because of the welcoming environment. Chavez said that "even though there's a lot of Native Americans that go to [RCS], and some teachers are Native American, I just like how some of the non-native [Americans want] to know more about the community and try to tie themselves into the community."
Zylstra's family moved to Rehoboth after her dad got a job there, although they already had family connections in the area. She said that she has really appreciated the way she was brought up in New Mexico because of its diversity.
Hannink studied elementary education with an early childhood endorsement at Calvin. She did student teaching in New Mexico and then returned there to teach after graduation. She went because, at the time, teaching jobs were very competitive in Michigan, but she stayed because she was struck by student needs and wanted to help meet them. After teaching at several schools in the area, she came to RCS and became the director for the Early Childhood Center and preschool teacher for 10 years, a position she held from 2012-2022.
Grace Huizinga, a Calvin junior studying secondary education, said that her mother had wanted to move to New Mexico for a long time — ever since going on a January Interim trip there while at Calvin, and they finally moved in 2008.
"I look back now, and I realize I was the only fully Caucasian student in my entire elementary school class. It didn't really faze me until I started growing up, and I started realizing, oh, I am a part of the majority in the United States but the minority in my community here, which ended up being really, really cool, and it gave me a lot more insight into being a white person in the United States," said Huizinga.
Having moved around and experienced different cultures since graduating from Calvin, Tim Bruinius started teaching at Rehoboth in 2006 after hearing about a job opening. He said that he "was very interested in the … mix of cultures" at Rehoboth.
Culture and complexity
"We currently have Navajo classes. I think the culture is a little more honored and obviously there's actually a lot of traditional Navajos. … But that's an interesting sort of thing: What parts of the culture do you want to accept and teach your own kids and which parts are you going to discard?" said Bruinius.
Zylstra said that she has had conversations with classmates who struggled to integrate Christianity with their Navajo traditions. "I'm really, really grateful that I grew up in a community like Rehoboth. It's very diverse, and you learn about other people's cultures and traditions. You also see students who are learning how to balance their Christian faith as well as their Native American traditions and Native American beliefs," Zylstra said.
Bruinius also recognizes some Navajo traditions like: "celebrating the coming of age of girls," the Laughing Party after a child first laughs, which is the first ceremony performed for a child and cradle boards that are good for infant development and keep them from suffocating. 
As a Zuni, some of the ways Chavez embraces her culture are through traditional dances and religious practices. "I really admire how traditional and how ancestral the Zuni people are," Chavez said.
When students are talking about traditions and navigating their own culture and beliefs, Bruinius said that "I love the fact [that at Rehoboth, they can] talk about those things because they're not the only kid in the room" with those experiences, questions or struggles. 
But the situation in Rehoboth is far from idyllic. According to Bruinius, "Since the land is held in trust by the tribe and is leased to individual families, they can inherit the rights to living on the land but cannot sell it to non-Navajos." While this keeps the land from being sold, the downside is that the Navajos do not really own the land which means that it is almost impossible to get a loan for a house. Bruinius said that, "Houses are rare as a result and mobile homes are more common, which depreciate in value. Since home ownership is the primary way most Americans build wealth, Navajos are often shut out of this sort of investment." This is one example of the hardships many Navajos face, among other hardships like "lack of access to running water, food deserts and difficulty accessing medical care."
According to Bruinius, hardships at home due to alcoholism, generational poverty, cultural norms and trauma — including parents who lacked parental presence in their lives because of the boarding school system — add barriers to education. He recognizes that this is due to the injustices imposed on them. Despite these hardships, he said that his students are "resilient, fun loving, curious and full of humor. I love working [at RCS], and it is predominantly because the people here are so wonderful."
Bruinius said that there are challenges to the Rehoboth area, but that he also finds it a beautiful region. This "is a very complex area to figure out, but … I think Calvin is a place where you can get people who are highly capable but also thoughtful and interested in this sort of thing. Usually the thing you need to be able to do is walk into a place like [Rehoboth] and be like, 'I would love it here,'" said Bruinius.
Huizinga said she can see herself going back to New Mexico in another season of her life. "Someday I hope to go back to New Mexico and teach."
Leave a Comment