Volleyball beats Chicago in latest ranked showdown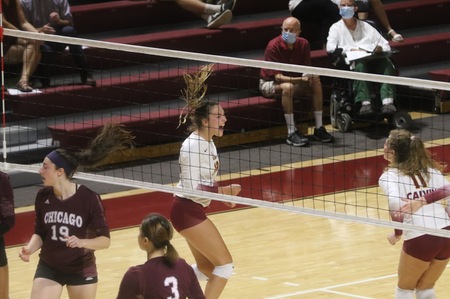 Calvin volleyball notched its biggest win of the season so far on Wednesday with a 3-0 victory over the University of Chicago. The Knights came into the match ranked sixth nationally in the American Volleyball Coaches Association Top 25 Poll, while Chicago was ranked 13th. 
The Knights won the match in resounding fashion, taking the three sets 25-18, 25-20 and 25-11. Junior Heidi Westra and senior Madelyn Hall led the way for the Knights with nine kills apiece, while junior Maria Bos added eight kills of her own.
The matchup was the latest in a series of showdowns between the Knights and the visiting Maroons. In 2018, Calvin captured a thrilling 3-2 victory over Chicago at Van Noord Arena after trailing two sets to one in a game where the Knights came in ranked No. 1 in the country and Chicago was 19th. In 2019, the No. 1 Knights went on the road to sixth-ranked Chicago and lost 3-1.
Wednesday's matchup against Chicago likely won't be the last time Calvin participates in a match between two ranked teams this season. Calvin will host the Midwest Invitational Oct. 22-23 at Hoogenboom Gym and Van Noord Arena, which will feature a number of currently ranked teams. The Knights are set to play eighth-ranked Ohio Northern on Oct. 22 and 17th-ranked Miliken on Oct. 23.
Rival Hope College was also ranked in the top 10 in the last AVCA poll, just three spots behind Calvin. The Knights will host Hope on Oct. 22 at 3 p.m., then travel to Holland for the regular season finale on Oct. 30.
The team will be back in action this weekend at the Hope Tournament, where it will face Dominican, Muskingum, and Cornell College on Friday and Saturday. The next AVCA Top 25 Poll is set to come out on Tuesday, Sept. 21.
Leave a Comment