Student organizations experience loss in numbers due to COVID, chartering process confusion
Twelve student organizations won't be returning to Calvin this semester, an "abnormally high number" compared to the Campus Involvement and Leadership office's typical five to six losses each semester, according to John Britton, associate dean of CIL. Britton attributed the unusually high number of losses to the impacts of COVID-19.
According to Britton, the challenge of adapting to online-based events and students' mental health vulnerability resulted in a low activity rate last year; these factors also played into a lack of new student leaders stepping up. Additionally, a number of event-based clubs and close-contact sports organizations were forced to put activities on hold due to COVID restrictions. Britton said this ultimately led some clubs to "self-select" out of the rechartering process held at the end of spring 2021, while other clubs could not meet the rechartering deadline.
"We were very lenient in our expectations around last year. We didn't really push the criteria, we didn't cut anybody, there was no red zone – just because of the nature of last year," said Britton. 
All student organizations were allowed to return for the fall regardless of their performance, provided they completed the rechartering forms by the given deadline. The CIL office did not charter any new clubs due to fall 2021 budgetary measures.
Friday Night Soccer, according to President Damola Shobowale, did not receive the leniency they were expecting after they failed to recharter on time. The organization took a hard hit last year due to COVID restrictions against close contact. Given his club's active history, Shobowale expressed disappointment that the group was not given grace after accepting responsibility for missing the deadline to recharter.
"I am accepting responsibility," Shobowale said, "but don't close us down when we have over a hundred people relying on us."
Shobowale said that despite missing out on Cokes and Clubs attendance and club funding, the organization would continue to host soccer games on Fridays.
Other organizations, such as the Calvin Linguistics and Language Club (formerly the Linguistics Club), found the process of rechartering for the fall to be unclear. The club's chair, Michelle Merritt, said there seemed to be a miscommunication about the process last year and the club only learned they were unchartered three days before the fall 2021 Cokes and Clubs.
"Our organization has been quite successful, especially considering last year. It was so hard to get people to come to events, but we had multiple online events that had like 40, 50, 60 people attending," Merritt said. Like other organizations that missed the deadline, Linguistics Club did not make an intentional decision not to recharter.
Merritt said that as the club officially works out the logistics to return in spring 2022, the English department has decided to sponsor the club this semester, enabling them to continue to function, albeit unofficially.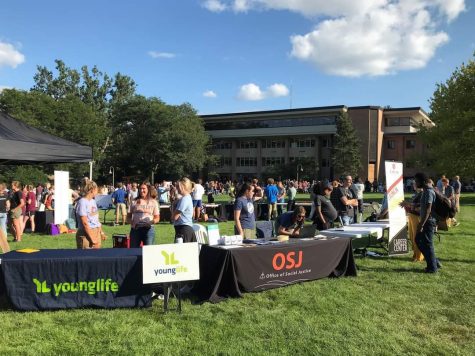 Calvin Democrats did not recharter for fall 2021. According to Chair Isabel Vander Molen, the club went through major leadership and sponsorship changes last year and missed the deadline to recharter in the process of handling immediate housekeeping needs.
"I feel upset that I let a lot of people down by not getting us formally rechartered," Vander Molen said in an email to Chimes. "But at the same time, it's definitely not the end of the Calvin Democrats on campus." According to Vander Molen, being unchartered this fall will grant the Calvin Democrats "opportunities to go at our own pace, practice fundraising, and get experience running an independent organization." The club is also working with Britton to make a comeback in the spring.
Calvin Esports rechartered for fall 2021 after having a successful debut last spring. Club President Trace Rutman said, "Three out of the four of us on the leadership team are on the student org council so we were always in the loop on the process and what was expected of us … we were very on top of things when the process began in the spring."
Despite the drop in numbers, CIL remains optimistic about club activity and student participation for the fall. Britton said, "We're trying to make it so … even though there's a pretty limited amount of organizations, that they're all pretty active on campus."
Britton also said he is working with clubs like Men's Rugby and Calvin Outdoor Adventure that did not recharter for this semester to facilitate their registration for the spring 2022 semester.
Below is a list of the student organizations that did not recharter for fall 2021:
Badminton (Sports/Recreation)

Calvin Democrats (Activism)

Calvin Hacks (Event-Based)

Calvin Outdoor Adventure (Sports/Recreation)

Calvin Pre-Health Club (Departmental)

Calvin Snowsports (Sports/Recreation)

Calvin Ultimate (Sports/Recreation)

Debate (Interest-Based)

Friday Night Soccer (Sports/Recreation)

Linguistics Club (Departmental)

Students for Compassionate Living (Activism)

Student Sustainability Council (Activism)

Video Game Sphere (Interest-Based)
Leave a Comment