Calvin puts up historic numbers in 13-0 win over Finlandia
Ten players score in biggest win since 2015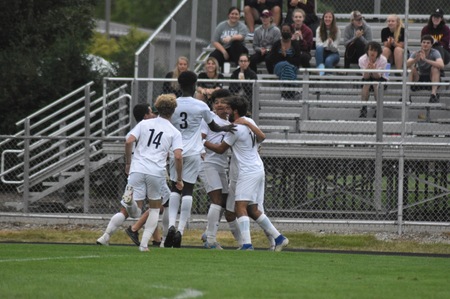 Just four games into the fall season, members of the 2021 men's soccer team have left their mark on Calvin's record books with an emphatic 13-0 victory over Finlandia Tuesday night. In an offensive clinic, the Knights set marks for goals, shot attempts and number of players with goals that haven't been equaled in at least the last six years.
Though the game remained knotted at zero for the first 10 minutes, things quickly unravelled for the visiting Lions. Junior midfielder Chris Schau opened the scoring for Calvin 11:35 into the first half with a goal that was assisted by senior Sam Twigg. Sophomore forward Oliver Akintade doubled Calvin's lead just 17 seconds later after another pass from Twigg, giving the senior two assists on the night. Twigg would add two goals of his own in the following minutes, turning the game into a blowout.
Junior midfielder Jon Szydlowski tacked on two goals for the Knights, and freshman Tyler Swineheart tallied two assists. Goalkeeper Daniel Wunder had a fairly easy night, needing to make just two saves en route to a clean sheet.
The Knights managed to get off a blistering 44 shots, the most they've had since calvinknights.com began recording game-by-game shot statistics in 2007. Twenty-six of the 44 shots were on target. The team's 13 goals were the most they've scored in a single game since 2015, when they won 14-0 in a matchup against Great Lake Christian. 
Ten different players had goals for Calvin: Akintade, Schau, Twigg, Szydlowski, Swinehart, Seamus Kilgallon, Ethan Brown, David Torres, Nathan Van Harn and Jack Kilgallon. Tuesday's game marked the first time in over 16 years that Calvin had 10 or more different players score. Torres and Van Harn notched their first career goals for Calvin.
The matchup was the first meeting between Calvin and Finlandia, which hails from Hancock, MI, in the Upper Peninsula and has an enrollment of 390. Finlandia competes in the Coast-To-Coast Athletic Conference, which also boasts the University of Wisconsin-Whitewater side that the Knights dispatched 1-0 in NCAA tournament play in 2019.
Leave a Comment