Calvin philosophy professors discuss merits of liturgy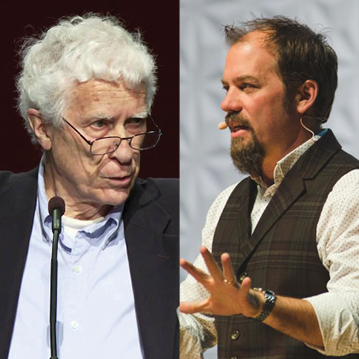 "Liturgy is not theology," Nicholas Wolterstorff proclaimed in the Calvin Chapel on Tuesday night.
The event was a conversation between two of Calvin's most esteemed minds: professor James K. A. Smith and professor emeritus at Yale Divinity School Nicholas Wolterstorff, who taught at Calvin from 1959-1989. The conversation was hosted by the Calvin Institute of Christian Worship (CICW).
The topic of discussion was Wolterstorff's new book, "Acting Liturgically: Philosophical Reflections on Religious Practice."
The event began with CICW Program Manager Noel Snyder introducing the two scholars and laying out the format of the discussion.
The floor was then turned over to Smith and Wolterstorff, who discussed some of the broad themes of the book, keeping in mind that the audience might not be familiar with certain philosophical particularities that the book itself indulges in.
Among topics discussed were the meaning and importance of liturgy, the intent of one who engages in worship and liturgy as an act of restorative justice.
Wolterstorff noted that he wrote the book because in the area of philosophy, which often focuses on the mind, religion is often relegated to what one believes about God. In this book, rather, Wolterstorff is interested primarily in how he feels most people actually tend to engage with religion – not through pure thought and belief, but in practice and action through worship services. The work chooses to focus on the human activity of worship and what that says about how we conceive of God rather than what the act of worship says about God concretely.
Wolterstorff also dwelled on how "liturgy is a scripted activity," not in the sense that it always has to be written out, but in how the people that engage in it are familiar with how it will play out, not unlike how a football coach might tell their players to engage in a certain play from the playbook.
Smith and Wolterstorff also engaged with how social justice plays an often undervalued role in liturgy. Wolterstorff particularly addressed differences between African-American liturgies, which appreciate that "at the center of Christian worship is a lynching, a crucifixion … a gross injustice."
White liturgies, Wolterstorff said, tend to refer to vaguer notions of Christ's "blessed passion."
The discussion portion of the event thus ended with a reading of an African-American Hymn featured in Wolterstorff's book, "He Never Said a Mumblin' Word."
The audience was then invited to ask questions of the scholars related to the topic. Questions asked included how to be hospitable through liturgy, the place of lament in worship, why Wolterstorff chose the title he did for his book, and the book's contents in relation to the current "authenticity" movement in Christianity.
Those that came forward with questions reflected the various kinds of people that attended the talk, including Calvin graduates young and old, faculty, local worship leaders and Calvin students.
Out of the roughly 200 attendees, those that came from various liturgical backgrounds felt they had something to gain from the talk. "As someone who really loves the CRC, and really appreciates liturgy, it helped me articulate some of those feeling that I've had in trying to discuss what I value about liturgy," said Calvin senior Sophia Bryson after the discussion.
"Coming from a background that didn't carry a scripted liturgy … this kind of really helped to define the intent behind a specific liturgy, and the importance of collective action in that manner and how it can be inclusive," said Samuel Mann, a senior.
Another senior, Cory Greeno, shared "I grew up Catholic for the first 17 years of my life, so … talking about that whole 'scripted' idea — everything was scripted to a T … I'd never really thought about it from a philosophical perspective, so this is really an eye-opening thing for me."
"Acting Liturgically" is available from Oxford University Press and the event can be viewed at https://livestream.com/calvin-college/events/8445508.