Calvin students reflect on award winning short-film
Smoke Break Pictures, the largely Calvin-student-led production company, won the audience choice award and a $1,000 award at the 2018 Adrian International Film Festival this spring with their short film "Peak."
"Peak," which can be viewed on SBP's YouTube channel, is a largely autobiographical 12-minute film centered around a college student's reflections on "peaking" during high school — a theme with "personableness" that allowed the film to connect with more people than just those involved, according to director and screenwriter Garrett Strpko. Strpko, a junior at Calvin, is also one of SBP's three founding members, along with Benjamin Eizenga (Calvin) and Jacob McDowell (Michigan State University).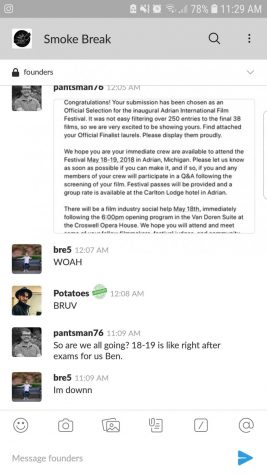 Strpko wrote the script and sent it to the other members for their opinions; although he wanted it to happen, he didn't really think it was a possibility. However, they connected with the script and Eizenga, "the make-it-happen guy," pushed them into production.
They submitted "Peak" to about 10 different film festivals and kept getting denied, which was "disheartening." However, the pace changed when it got into Dialogue and the CAS department's media showcase, according to Strpko.
A year after finishing production, "Peak" was finally accepted into Adrian International Film Festival, during the festival's inaugural year. The original messages indicate the shock of the SBP members and the reality of being a student filmmaker, as this all happened a few days after final exams.
SBP's founding members were impressed with the festival director, Michael Neal, who, even though SBP was in the student film category, gave them significant attention despite feature filmmakers being present.  
All three founding members attended the multi-day festival on the other side of Michigan. Eizenga, as a resident assistant (RA), had to leave the festival early for RA-related duties. Eizenga left knowing that they showed their short, watched other high quality films and enjoyed their time. Thinking most of the other films excellent, they didn't even consider winning any awards. Eizenga left without thinking much of it.
Strpko and McDowell stayed for the final award ceremony — and they were glad they did so.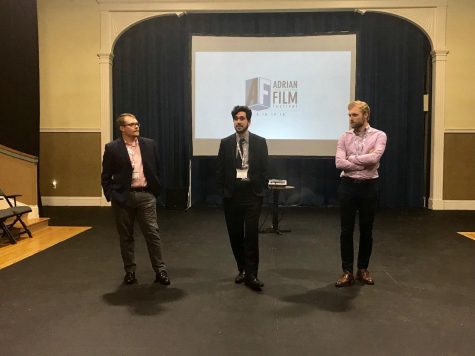 The other awards had been given, including the best student film, which went to "After Ashes," and the best feature film, which went to "Search Engines." But at film festivals like Adrian, the audience choice award is the premier award. They announced "Peak" as the winner and Strpko and McDowell were so surprised that they "were convinced there had been some sort of mixup."
Strpko said, "We [didn't] prepare a speech because we were so convinced we weren't going to win," so he got up there, and not knowing what to say, he said, "Adrian Film Festival is awesome."
After winning, Strpko broke the news to Eizena via a Snapchat of the award.
The members expressed their gratitude to Calvin's Department of Communication (DOC) and professor Samuel R. Smartt. Strpko said, "The reason we didn't have to have a massive budget was because we got to use the equipment from the [DOC]," which professor Smartt helped negotiate, despite the fact that McDowell, the primary director of photography, wasn't even a Calvin student.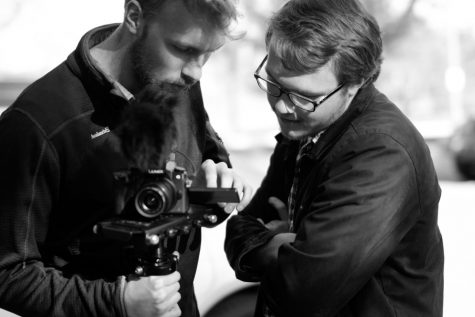 Eizenga clarified that "you have to do [film production] in order to learn about [film production]," and the DOC truly allows students to do this. They're hopeful that the DOC's impending revisions to the film major will create more opportunities like this for film students.
The film was shot over a weekend at three different locations, including Calvin. As night would fall, more shots were still needed so they had to bounce the light from inside to where they were shooting. This was a learning experience, and Eizenga and Strpko both said they've never had anyone question whether it was shot during the day. After production, post-production took two months, "only because it was so sporadic … because of the time of year," according to Strpko.  
The three founding members often pull in other filmmakers as needed, such as Ben Brushaber, a junior film student at Calvin. SBP is currently working on a series of videos for Nourish to Flourish Society, a female holistic health community. They hope to use the money they'll make from these videos on future creative projects, including a possible music video for a Calvin-based band they decided not to name.
Eizenga is the primary business-oriented member, Strpko focuses on screenwriting and creative narrative ideas and McDowell focuses on the tech related aspects. However, they all participate in all aspects of the company and the filmmaking process.
SBP also has a website, podcast and is interested in hearing about possible creative projects. They can be contacted at https://www.smokebreakpictures.com/contact.html.
Leave a Comment