Sir Sly and Joywave bring personal, theatrical energy to CFAC stage
Indie electronic groups Sir Sly and Joywave played the CFAC with opener Flora Cash on Monday. All groups exhibited high energy and a good rapport with the audience.
Flora Cash, a husband-wife duo from Sweden, warmed up the crowd with a short set that mixed folk-indie acoustic guitar with heavy, complex electronic beats. In between songs, the group talked about marriage and taught the audience how to say "thank you so much" in Swedish.
Shortly thereafter, Sir Sly took the stage. With loud, punchy bass and guitar-driven rhythm, their set was punctuated with electronic mastery from keyboards and drum machines. Frontman Landon Jacobs wowed the crowd with gritty and heartfelt songs matched by intensity from his fellow performers.
Between hammering on a Fender Jazzmaster and singing into a microphone that distorted his voice, Jacobs engaged on a very personal level with the audience on many topics, including the new tattoo he had just gotten on the back of his head that very day. He also shared a very personal story about his divorce, which coincided with the death of his mother and the bout of depression he experienced as a result. Jacobs confided in the audience the healing and therapeutic power of music and creating art.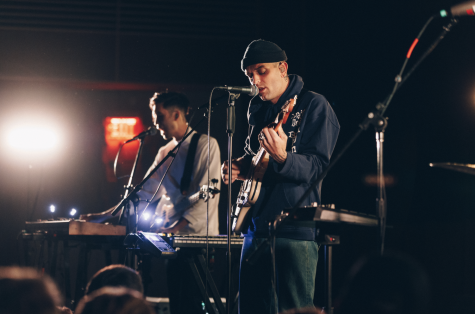 Sir Sly was followed by Joywave, which engaged in even heavier theatrics to the joy of the crowd. Much of their set was accentuated by large displays with various commands like "APPLAUSE" and "LAUGHTER" that lit up in colorful patterns to the beat of the music and ironically oriented the audience during breaks between songs. Frontman Daniel Armbruster raced and dashed across the stage as he sang, interacting heavily with the audience down in front.
A highlight of the set occurred when Armbruster sat down in the front of the stage with the crowd and introduced a new, slower song. Suddenly, the backstage curtains were pulled back to reveal the band's keyboardist, Benjamin Bailey, at the helm of the CFAC's massive organ, surely a unique experience for concert-goers and the band alike.
As usual, the concert was followed by a Q&A led by Student Activities Director Ken Heffner with both Sir Sly and Joywave. Both groups spent a lot of time addressing one issue in particular — the artist's role in such politically divisive times. Members of both groups explicitly encouraged audience members to vote, no matter who for.
Sir Sly and Joywave's latest albums, "Don't You Worry, Honey" and "Content," respectively, are available now wherever music can be streamed.
Leave a Comment