MacMillian comes to Calvin
Whether or not you are new to Calvin College, you will likely attend one of SAO's many spectacular events this year. SAO, otherwise known as the Student Activities Office, has the responsibility of putting together various concerts and movie screenings, among other activities, for the Calvin students to enjoy in their very own backyard. On Monday, Calvin had the honor of hosting John Mark McMillan in the Covenant Fine Arts Center.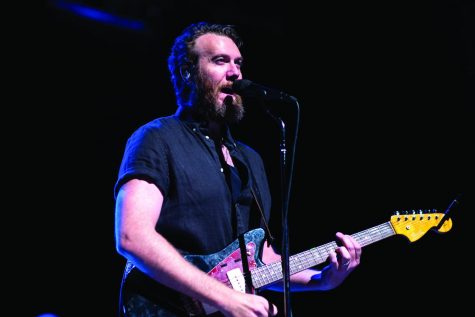 John Mark McMillan is currently on his BODY + GHOST tour going through to October. Opening for him was Mike Mains & the Branches. In comparison to John's laid back and personable performance, Mike Mains & the Branches were all about the pumped up energy. According to audience members, their hyper performance was quickly contagious. They clearly came to show out, and gave a well thought-out performance.  
John approached his set in a much more relaxed manner. The contrast was palpable.  John played a few songs from his newest album "Mercury and Lightning," but many of his crowd favorites came from his first album "The Medicine." The album is currently experiencing a 10th anniversary celebration, and as he performed "Carbon Lungs" from said album, he explained the genesis of this song.
He explained that he wrote it during his earlier touring days, nearly a decade ago. He had found himself in California, in Culver City, a city he had never played in before and, incidentally, the city that the Wizard of Oz was filmed in. He was sitting in his hotel room, the same hotel that had hosted all the famous actors and actresses from the Wizard of Oz, and was inspired by how ceaselessly life continued in this city. It was four in the morning, his room was hot and the appliances were broken, but looking outside his window, he saw a ceaseless stream of cars. People were still going about their days at four in the morning and his amazement at this fact inspired the song "Carbon Lungs."
His somber but hopeful melodies bring a breath of fresh air to the Christian Rock scene, which also makes him a wonderful addition to Calvin's concert roster. His presence came with no resistance and with little surprise, given the Calvin population's proclivity to a hipster ambiance. With "Mercury and Lightning" peaking at number 1 on the U.S. Christian Billboard charts, it is clear that John Mark McMillan will continue to experience success. Calvin will certainly always welcome him.
Leave a Comment