Local band lights up folk scene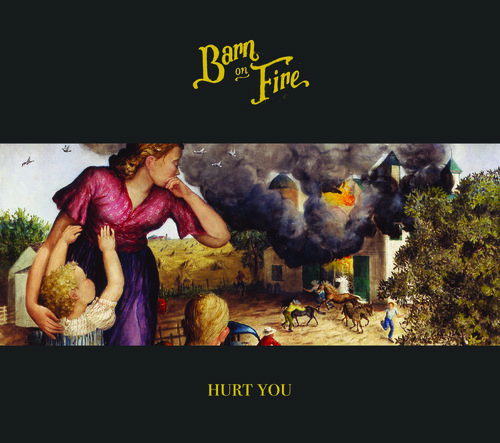 Kalamazoo-based band Barn on Fire recently released their first official album, "Hurt You," after seven years of work.
Barn on Fire's four members first began playing together around 2010. Having met at church and work, they realized they had a common interest in songwriting. Not having any substantial commitments at the time, they began collaborating and performing their music in Michigan breweries and bars.
Now, all four band members are married and three of them have children. However, they still take time out of their schedules to write, play and perform together, as it's a practice that has always remained important to them.
Throughout the years, Barn on Fire's style of music has evolved through several stages. They began strictly as singer/songwriter folk, but have since taken on several other genres like rock, country, blues and gospel. "Hurt You" features a collection of all these classifications, as the band picked out some of their favorites from each stage to include on the album.
"I want to give people the most fun they've ever had when they listen to or see our music, and we kind of play on the fact that a lot of people might not know who we are," vocalist, banjoist and electric guitarist Kevin Romero said. "If we come at it louder, faster and more energetic than anything else they've seen, it's good for us. Our songs aren't that complicated, but we make up for it a really tight vibe and energy."
Barn on Fire has taken inspirations from such artists as Johnny Cash, Bruce Springsteen, Bob Dylan, Roger Miller and many more. They are similar in sound to other groups like The Head and the Heart or The Avett Brothers — which Romero happily embraces.
"Pretty Girl from Kalamazoo," the album's fourth song, is a direct Avett Brothers reference, playing on their series of songs that begin as "Pretty Girl from…" Vocalist and tambourine player Collin Moeller originally named the song "My Best Friend," which, "makes it sound like you were singing about your dog," Romero said.
Many of the songs on "Hurt You" are written by Romero or Moeller, but all of the band members typically have a hand in the creation process of their music. They generally beginning writing new music individually, but then later come together to determine the lyrical content and musical layout.
Barn on Fire also frequently tries new, original experiments with their music to keep things fresh. Along with "Hurt You," the band has also released a Remix EP, which contains six of their folk songs set to EDM. They also are trying to get their music into various videos or films, and they will occasionally bring other singers into their songs. Romero's wife, for example, sings the bridge during "In the Mountains."
Going forward, Romero hopes that the band will continue to evolve stylistically. They currently have no plans to leave southern Michigan, since their families live all here, but they hope to release an album every couple of years. They also hope to book some shows in places other than just breweries, such as the Pyramid Scheme in Grand Rapids.
"I love performing as a band because there's an art and a science to it," Romero said. "You have to have the science part of it down to know how to play as a band, what time signature, what rhythm, what notes, what are the foundations of the music that you're playing. Within those foundations, there's a lot of creative flexibility to be artistic about it."
Barn on Fire's next show is being held on Feb. 23 at Bell's Eccentric Cafe in Kalamazoo. Steel Giant, Modern Adventures and Captain Cat will also be performing.
Leave a Comment