Editorial: Living in the grand pause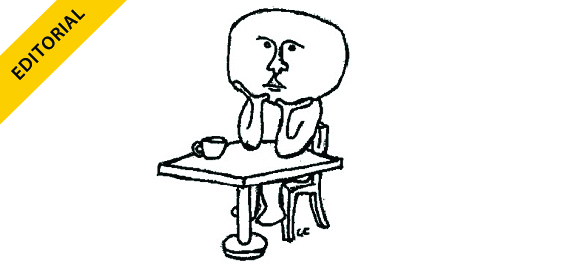 Hang on for a minute...we're trying to find some more stories you might like.
Last weekend I played in my last ever Calvin Oratorio Society performance of Handel's "Messiah." These performances have been highlights of each of my four years at Calvin, and as stressed-out as the hurried rehearsal schedule usually makes me, I'm going to miss the sense of communal accomplishment and joy they've brought every year.
There's a magical moment at the very end of the piece when everyone stops playing or singing before the last two "amens" — in music it's called a grand pause. It's a collective rest, a breath, before the whole two-and-a-half-hour piece ends in a glorious D-major cadence. In just a few seconds, Handel invites us to remember every part of the piece, from the first good news of coming comfort to the tragic moment when our rebuke breaks Christ's heart to, of course, the "Hallelujah" chorus. Together — chorus, audience and orchestra — we say "amen" to the whole story.
The day after that last "Messiah" performance, I attended Campus Choir and Women's Chorale's wonderful Lessons and Carols service at LaGrave Avenue CRC. The theme was "Born to Die, Born to Rise" and the service was a "time warp" between Advent and Lent, juxtaposing our waiting for Christ's coming with our waiting for his resurrection. Christ is coming and has come, the choirs and readers proclaimed. He will be welcomed by kings and shepherds and he will be crucified by the same. We will despise and reject him, and even so in Christ we'll all be made alive.
Since that weekend, I've been thinking a lot about how necessary it is to live in that time warp, to see multiple truths at one time, to remember the whole story. I've found it especially helpful to think that way at this point in the semester, when I'm so tempted to think only about my own story and only about the parts of that story that seem the most pressing, like papers and grad school applications.
Both art and worship can give us that momentary birds-eye view, showing us a much bigger story than we can see from the ground. But we must resist the temptation to think that even the widest, most complete view of reality available to us shows us everything. No piece of music, no sermon, no worship service can tell us everything, and even if it could, we couldn't remember it for very long. That's why we have Advent every year, why we worship every Sunday, why "Messiah" is still performed after hundreds of years and even why we watch the same Christmas movies over and over again. We were made to delight in being reminded of truths we once knew and will one day know perfectly.
So this Advent season, take a few moments away from studying and imagine yourself in that grand pause. Remember as much of this semester's story as you can, and then get ready. The final chords are coming soon.