Knights of Calvin: Sydney Barcey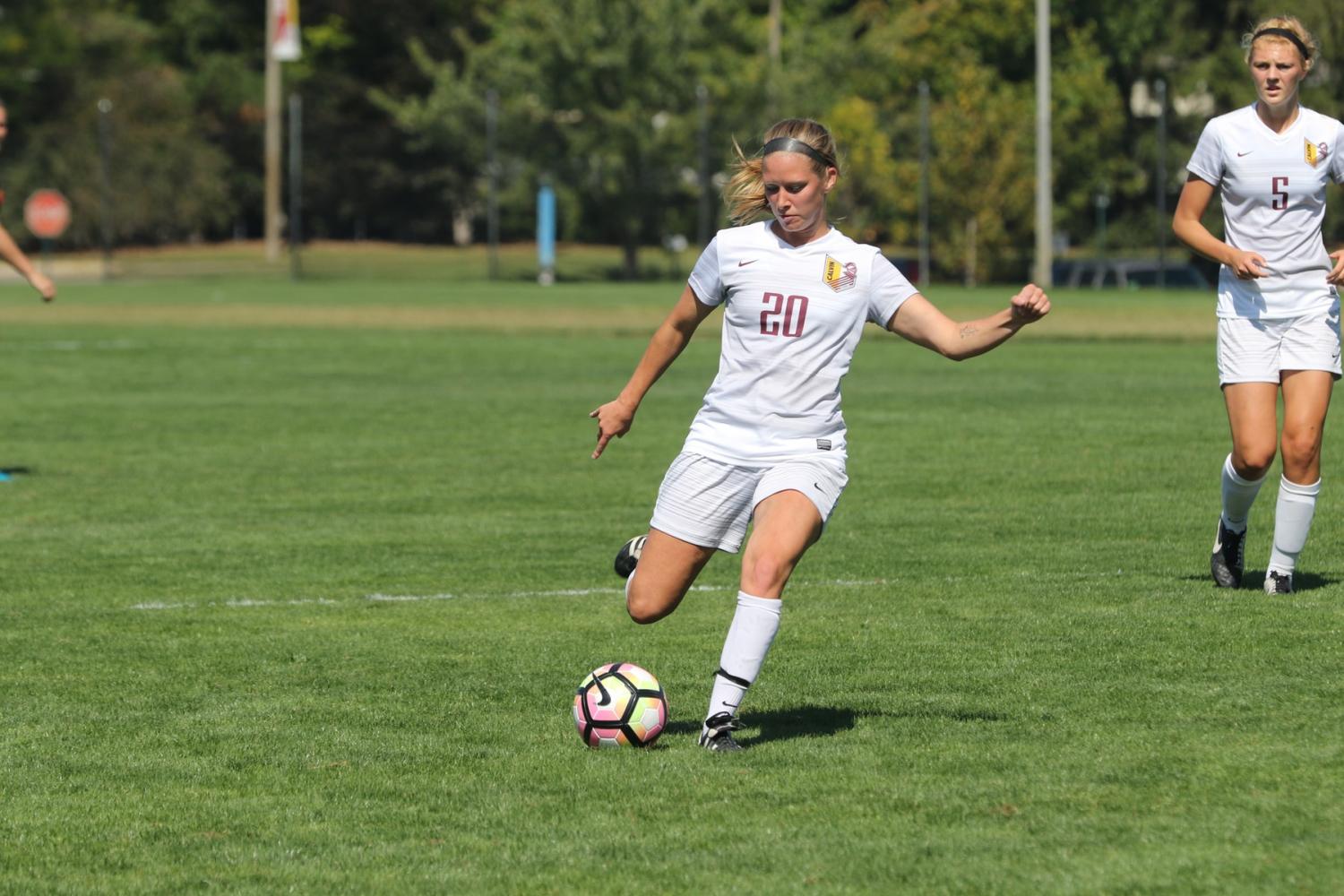 Year: Senior
Sport: Soccer
Major: Business – Marketing Concentration
Sydney hails from Cadillac, Michigan. She is a senior on the women's soccer team, playing in the midfield position. She is a two time all-conference honoree. She is business major with a concentration in marketing.
When did you start playing soccer?
I started playing when I was five years old.
What do you like about soccer?
I just really love the game and the relationships you can make with teammates. I am a really competitive person, so I like to compete. I like to play sports at a competitive level. That's why I've stuck with soccer.
What made you come to Calvin?
I was looking for a small Christian school. I really liked Grand Rapids. I liked the area here. I also had a mentor, my high school soccer coach, who had gone to Calvin and played soccer. She urged me to visit, and when I visited I got in contact with Mark Recker. Then I got asked to try out. It's been a great three — almost four — seasons. I've loved my time with the team. It's almost bittersweet now that I'm almost graduated.
How do you feel about this season?
I have a really good feeling about this season. It's definitely a different team than we have seen in years past. We have a lot of newcomers, a lot of freshmen, and new girls on the team. It's a very different team dynamic, but we are all meshing really well and finding our chemistry on the field. We are 5-0 right now — undefeated so far — so it's been great. We definitely have a lot of potential. We know that we can achieve our goals this season, but it definitely is gonna take some hard work, especially with the new players and a new mindset towards what we want to accomplish.
What is your favorite soccer team and why?
I'm going to have to choose the US national women's team. They've been a team I've watched growing up, so it's kind of an easy answer. There are a lot of just really inspirational players that have come from the team: Abby Wambach, Alex Morgan, and Mia Hamm. Those are the girls that I watched growing up.
Who is your favorite soccer player?
My favorite soccer player is probably Abby Wambach. She is probably the GOAT. She's an inspiration to a lot of young girls, so I really like that about her.
What do you want to do after you graduate?
I would possibly want to work on a marketing team for a bigger corporation. Right now, I am working for Wolverine Worldwide in Rockford, Mich. I'm working on the CAT footwear team. Basically, I would like to continue a job where I'm working on a marketing team with a creative team, finding new ways to promote and show off products through marketing.
Where do you see yourself in 10 years?
I think I am going to definitely stick with soccer as much as I can. I will probably get involved in coed summer leagues or summer leagues that go on in the area. I will probably be as involved in my life as possible. Coaching may be something God puts on my heart, but I don't think I'll continue in a professional career. I see myself working and settling in a job that I really love in ten years. I am definitely open to moving somewhere different. A few major cities have caught my eye, and I have a sister that lives in San Francisco. I really love the city there. I do love city life. I think I will probably relocate. I don't know if I'll stay in Michigan my whole life. It just depends on job opportunities.
What kind of hobbies or interests do you have?
A lot of my interests include music and listening to music. I don't play any instruments, unfortunately, and I can't sing either. But I do really enjoy listening to music and following my favorite bands. I like all different types of music, but my favorite kind of music is probably alternative or indie or rock type music. I have a lot of favorites in that genre. I also like spending time with friends. I really like the friends I've made at Calvin, and so I spend time with them as much as I can.