Just Citizenship series encourages civic engagement
This semester, the Office for Research and Scholarship launched the Just Citizenship series, hoping to create a weekly forum to encourage discussion about relevant issues. Just Citizenship is a series of events that aims to "educate and equip people for civic engagement at this time of political uncertainty," said Matt Walhout, Dean for Research and Scholarship.
According to the Just Citizenship web page, "The issues of our day are complex… And yet, as Christians who seek the flourishing of all people, we bear responsibility for paying attention to political realities…"
Walhout called Just Citizenship a "spin-off" of the Provost's Faith and Citizenship Initiative. "The series was sponsored by Provost Cheryl Brandsen, who is interested in promoting citizenship as a key component in Calvin's educational framework. That interest is what launched both the Faith and Citizenship Initiative and the Just Citizenship series."
During the fall 2016 semester, political science professors Micah Watson and Kevin den Dulk organized the "Challenges for the Next President" series. However, when the professors began preparing for the Henry Symposium in the spring, "they passed the event-planning baton to me [Walhout] and Jenna Hunt (Coordinator for Calvin Seminars Program)… She and the team in Event Services should get all the credit for overseeing the logistics and running the show."
Most Just Citizenship events met in the Chapel on Monday afternoons through the semester. The topics covered included democracy, fake news, refugees and health care policy. While most were panel discussions, three were special lectures.
One complex issue Just Citizenship presented was environmental justice. The final lecture on this past Monday was titled "Climate Change and Human Rights." This talk featured Dr. Robert D. Bullard from Texas Southern University, who is called the "father of environmental justice." Bullard shared his experiences of the environment, equity and race.
According to Bullard, there is not time now to debate about climate change; we must act. He showed that pollution and hazardous waste disproportionately affect the poor and racial minorities, and he called those in attendance to care for the most vulnerable. "Dirty air is not randomly distributed," he said.
In addition to providing a forum for these discussions, Just Citizenship has also been approved by the state of Michigan for State Continuing Education Clock Hours (SCECH) credit. According to Walhout, "One of Calvin's best-kept secrets is its ability to put on educational events that can help local teachers get the State Continuing Education Clock Hours they need."
Walhout appreciated seeing both people from Calvin and people from the community attend each event. "I hope especially that the senior students who attended will remember this series as a significant part of their final semester here at Calvin."
If you missed the discussions, you can listen back through the archives. Each lecture has been recorded and is available to watch online.
Walhout shared his interest in continuing the series next year but did not mention specific plans. However, "There's no doubt that the social and political issues will be with us for years to come."
About the Writer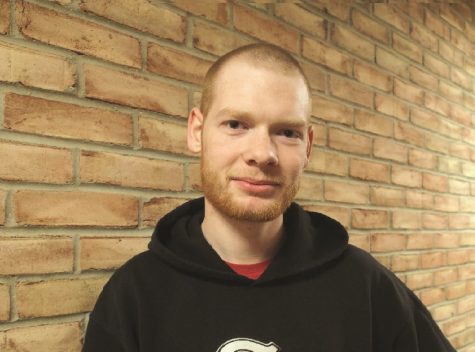 Peter Ford, Managing Editor
Pete Ford was previously a campus co-editor, and has now been moved up to managing editor. He is a sophomore from the great city of Grand Rapids, Mich....