Students make cases for new org charters
Thirteen potential student organizations have applied to be among Calvin's 70 officially chartered spots for the 2017-2018 academic year.
The proposals accepted for consideration are the Apologetics Club, Astronomy Club, Calvin Democrats, Christian Leader Institute, Prison Writers Club, International Justice Missions, Rangeela, Self Asian Student Organization and Water Polo.
Each organization is required to provide a minimum of 17 members, three student leaders and one faculty or staff advisor in order to be considered.
Out of the 13 applications, four proposed organizations (Calvin Scooter Club, GO, Peanut Butter and Jelly Club and The Republic) were denied for various reasons.
For example, The Republic was denied because they wanted to engage in political discourse. John Britton, associate dean of campus involvement and leadership, expressed that there are already enough opportunities for political discourse on campus and encouraged them to partake in those ongoing conversations.  
The remaining nine organizations (listed above) will argue in favor of a charter sport for their organization.
"They submitted applications to be organizations. These applications were approved and now they are waiting for a charter spot," said Britton.  
The nine proposed organizations have more competition for the charters than just the other new organizations.
Out of the 70 total charters, 67 of the previously existing organizations applied again for next year. Active Minds, Culinary Club and the Science and Religion Forum decided to not refile applications for a charter.
This would have left only three new open charter spots.
To create more open spots Student Life Committee (SLC) took the organizations with the bottom seven scores, based on an annual evaluation system, of the 75 remaining organizations.
The annual evaluation is a score from zero to 100 that considers each organization's membership, self-evaluation reports and budget efficiency, amongst other considerations. The scores are then compared to each other.

The African Student Organization and Food Recovery Network had the two highest scores out of the 70 organizations during the 2016 school year.
The seven previously existing organizations with the lowest scores (Feast of Knowledge, Our Daily Dance Crew, Organization of Student Social Workers, Friday Night Soccer, Renewable Energy Organization, Theology Forum, National Society of Black Engineers) will compete with the nine new student organizations for the ten charters.
The decisions will be made May 1 by the SLC.
Though Britton expressed that "it will have no implication on our decision," there is also a budgeting process taking place. While each organization receives an appropriate budget, the college has asked SLC to reduce the overall budget for student organizations by $7,000.
Instead of reducing the number of available charters to reduce the budget, SLC has decided to make reductions across the board. Britton said they will "identify organizations that can have cut [spending] initiatives."
However, not all organizations have a negative spending record. For example, many of the performance based organizations like Dance Guild and Improv earn money for SLC to fund the other student organizations.
About the Writer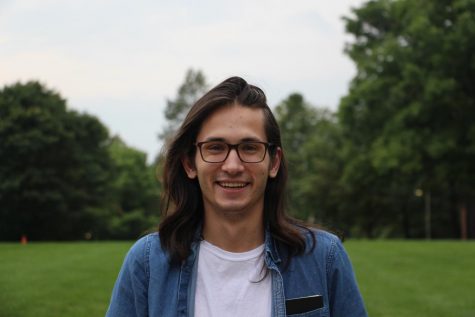 Joshua Polanski, Managing Editor
Joshua Polanski is a senior studying religion and strategic communication with plans to study at the intersection of religion and culture at the graduate...