Library opens on Sundays as study space sans services
The second floor of the Hekman Library will be open as a study space from 1 p.m. to 6 p.m. on Sundays until May 14, the final Sunday of the semester. Although a single student employee will monitor activities, none of the library's services will be available, including circulation and reference. Aside from the second floor, the rest of the building will be off-limits to students, with the stairwells locked.
Back in 2014, the Hekman Library Committee voted to open the library on Sundays, but President Le Roy pulled the plug, saying that the issue is "complex" and that he "want[ed] to have more conversation about it." Three years later, the proposal has become reality—at least through the end of the semester.
Student senate has been pushing for Sunday hours at Hekman Library for many years. The senator in charge of the push this year is student librarian Magdalene Osei. She said that getting the library open on Sundays is "the number one desire of many students here on campus… It's what the students want."
Senate decided to start slow by asking the library to be open during exam weeks, and "then push for more."
Not everyone was thrilled by the move, however. Osei said her boss Carla Hotz "was not necessarily cool with the idea," wondering about the budget and willingness of student workers to work on Sunday. As both a student library worker and a senator, Osei said she tried to work for both the student body and her employer.
Another student library worker, Esther Ryou explained, "When it was brought up last year in October or November-ish, we had hesitations about opening on Sunday because Sunday is the time you spend with God. … We didn't want people to be working on Sundays. … Of course, some coworkers of mine were not happy."
When Osei didn't hear back from Sarah Visser, vice president of student life, last December, she thought, "as usual the project was scratched." So when David Malone, dean of the library, announced in an email to all students the library will be available on Sundays, Osei was surprised.
"They should have found a better way to tell everyone about it. Some senators didn't know about it at first. I didn't know until [I received] an email from my boss asking for us to take shifts." Osei said that when the student workers found out, shift signups on Sunday afternoons "went so fast. Many thought it was an easy shift."
David Malone became the library dean in the summer of 2016.
"Coming into this position, I knew there was some history with Sunday hours." He explained that Le Roy suggested a compromise. According to him, the second floor of the library was designated one of the "living room spaces." Malone said many students "desire to have a place" to study.
Esther Ryou agreed: "There's nowhere else you can go to study on Sundays. … Even if I live off campus, I don't want to go to a coffee shop." She said, "A lot of my friends were extremely happy about it…I'm honestly really happy."
According to Ryou, "My boss Carla [Hotz] brought it up, tried to seek [the student workers'] opinions. I like it. It gives more hours to students. My boss talked to the board about it to ask what they thought, and they thought it was a good idea."
While it has been relatively simple to open up other areas on Sunday afternoons, such as Johnny's and the lobby of the DeVos Communication Center, Malone said, "Locking down Hekman to allow access to only the 2nd floor was much more involved." In fact, "It took several months for the building to get situated so that just the second floor was accessible," a process which included installing locks on the staircases.
Malone assured, "No one is being forced to work on Sunday." He said student employees volunteer to work the Sunday shift. "It's low-impact that benefits the students… We have only one monitor, and we are relying on campus safety if we need backup."
Some students have wondered about the seemingly arbitrary limitations. As a student worker, Ryou said, "I think [five hours] is a reasonable amount of time… I think it's reasonable that we only open the main floor. We'll start out with the main floor and see how it goes… We can try to improve what people are not happy about."
Osei said "people are excited" about the Sunday hours, although she admitted hearing "mixed reviews, but it's more on the positive side. Some say, 'Now I have a place to study!' and others say, 'What? I can't check out books?' One thing at a time, you know?"
According to Malone, a little over 100 people visited the library on April 23, the first Sunday it was open, filling up about half of the available 200 seats. "We hope to add furniture to that space to make it more usable. … We are glad that the building is of use and we are trying to make that second floor a place that invites student engagement and learning."
Neither Osei nor Ryou knew if the Sunday hours would continue into next year. Malone said, "I assume we will continue this into next year. If it continues to be used as it is, it meets the spirit of some of those who desire to not have it open on Sundays."
About the Contributor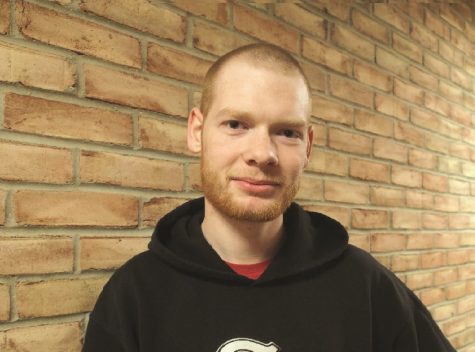 Peter Ford, Managing Editor
Pete Ford was previously a campus co-editor, and has now been moved up to managing editor. He is a sophomore from the great city of Grand Rapids, Mich....