Lunar sample departs Dice Museum
After a 90-day stay in the Bruce Dice Mineralogical Museum, the lunar sample on loan from NASA's Lunar Collection will depart from Calvin College.
Weighing in at less than 5 ounces and collected on the Apollo 15 mission in 1971, this small piece of the moon has been a source of great excitement and significantly increased traffic at the Dice Museum.
The lunar sample was welcomed to Calvin College with a public reception on November 28, when over 200 people gathered to witness the unveiling of one of the most significant exhibits the Dice Museum has ever hosted. Word of the lunar sample exhibit spread across west Michigan thanks to news coverage by WoodTV, Channel 13 and Chimes, drawing in over 1,200 visitors to the Dice Museum over 90 days — a 60% increase in visitors, according to Dr. Renee Sparks, the Calvin geology professor who headed the process of applying to NASA's Lunar Collection loan program.
A variety of groups scheduled visits specifically to view the moon rock: a group of eighth graders from Adams Christian School, Calvin's Historical Geology course, the Lansing Lapidary and Mineral Club, the Indian Mounds Rock and Mineral Club and others. Ten percent of visitors who came to see the moon rock were children, some of whom voiced interest in astronomy and planetary geology after seeing the exhibit, which also featured video footage from Apollo 15.
Along with increased traffic has come increased vigilance and responsibility for museum administrators and docents. For the Dice Museum to be entrusted with the care of such a historically significant sample was a rigorous process, beginning with a written application to NASA's Lunar Collection loan program. Once the Museum had been approved to borrow a sample and had proven the facility was secure enough, Sparks traveled to NASA's Johnson Space Center in Houston, TX to personally collect it. On the flight back to Michigan, Sparks was required to keep the moon rock, which travelled in a NASA-prescribed carry-on case, in her sight at all times.
Once in the Museum, two docents, instead of the typical one, needed to be present whenever the doors were open, and the sample had to be removed from its stand and locked up in a special security case each night at closing time, according to Sparks. Dice Museum curator and senior geology major Daniel Blakemore said, "It was a little bit of a hassle taking it out of the case each day and putting it into the second level of security, but for the visitors, it was worth it."
Even speaking about the lunar sample required caution. According to Sparks, a non-Chimes story released after the welcome reception in November mistakenly stated that the sample was now a part of the Bruce Dice collection; shortly thereafter, Sparks was contacted by NASA and warned that it is illegal for the sample to be considered part of a private collection. The story was quickly amended.  
Sparks will fly back to Houston on February 16 to return the lunar sample to the Johnson Space Center, following the same vigilant procedures as when she brought it to Michigan.
"[The lunar sample] really brought people into the museum from all over the state. It was great for promoting the museum, and hopefully those who visited will come back."
The empty space left by the departing lunar exhibit will be filled by a new display on how to tell meteorites from terrestrial rocks, which will be curated by Sparks and Blakemore. Additionally, Blakemore recently curated a new fluorescent mineral display.
"It's going to be hard to top [the lunar display]," said Blakemore, "but we'll try."
About the Writer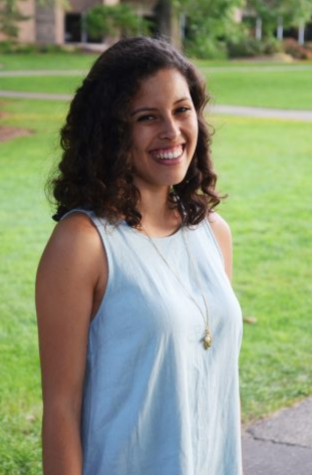 Sadie Burgher, Science and Technology Editor
Sadie Burgher is utterly tickled to be making her Chimes debut as the Science and Technology editor. She is a half-Ecuadorian native of Montgomery, Alabama,...