Wheaton College professor speaks on Adam and Eve identity
John H. Walton, author and professor of Old Testament at Wheaton College, spoke on interpretations of Genesis at last Monday's Christian Perspective in Science seminar.
The lecture, hosted by the Science and Religion forum, was fully packed with an enthusiastic audience composed of students and members of the local Grand Rapids community.
Walton's work as an academic focuses primarily on ancient Near Eastern cultures. Through his studies, he has been "propelled by the quest to pursue an understanding of the faithful interpretations of scripture." Walton concluded that the most faithful interpretations remain faithful to the original context of the scriptures.
Walton proposed that the original meaning gets diluted by our "cultural river." This metaphorical river consists of the current norms in our culture, or more simply, the way we naturally think. Living within the American culture, our "river" acknowledges democracy, social media and many other aspects of our experiences.
At one point during the lecture, Walton startled the audience by passionately insisting that "the biblical writers have no knowledge of our cultural river!" He apologized by telling the crowd in a lighthearted manner, "Sorry, I'll calm down."
After informing the audience about the need to submerge into the ancient Near Eastern culture to understand the text, he analysed Genesis 2–3 through the lens of its own "cultural river."
Walton baffled the crowd with his knowledge of biblical Hebrew as he interpreted the significance of Adam and Eve's names, the importance of a recurring introductory phrase and how, according to the original language, God most likely cut Adam into two pieces to form Eve.
The guest speaker voiced his beliefs that Adam and Eve were historical people, but he chose to interpret them from their "archetypal identity." Walton emphasized that focusing on Adam and Eve's narrative, within the original context, will result in a meaning more focused on human identity and purpose, rather than origins.
Professor Walton closed the seminar with a few closing remarks about how faithful interpretations can still led to different conclusions, followed by a brief Q & A.
Aside from being an Old Testament professor, John H. Walton is also a distinguished author and editor. His publications include "The Lost World of Adam and Eve" and "The Lost World of Genesis One: Ancient Cosmology and the Origins Debate." Walton announced another publication coming later in the year concerning the Flood narrative in Genesis.
The Christian Perspectives in Science seminar series will continue hosting guest speakers throughout the spring.
About the Writer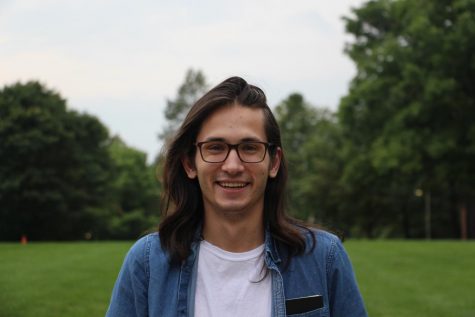 Joshua Polanski, Managing Editor
Joshua Polanski is a senior studying religion and strategic communication with plans to study at the intersection of religion and culture at the graduate...