Alumni authors publish essay collection
The days of regular writing assignments often disappear when a Calvin diploma appears. For some, this is a reason to rejoice: goodbye, late-night essays. But for many word-lovers, this is an unwelcome change. An assignment spurs their creativity, inspiring them to sit down and craft something new; how can writing continue without the familiar push of a deadline?
2013 graduates Josh deLacy, Abby Zwart and Will Montei are some of these "Calvin grads who couldn't stop writing when the classes were done." Three years ago, they created "the post Calvin," a blog dedicated to "explor[ing] these restless years in the best way we know how."
"There's the center ([the editors] as well as, to some extent, Gabe Gunnink)… as well as the concentric circle of the people who write and the people who have written and all the readers," said professor Debra Rienstra, who, along with former professor Sarina Moore, assisted the alumni trio with the website's creation. Today, that small group of creators has grown to about thirty regular writers, as well as a host of guest writers.
"The outer circle [of readers] is getting wider, and so the sense of community is so lovely to see and so important for writing to happen," Rienstra reflected. The website's Facebook page boasts over a thousand likes, and its posts — ranging in topic from world traveling to potty training to film watching to substitute teaching and beyond — receive thousands of views.
This December, after three years and hundreds of essays, the post Calvin published its first anthology. Collecting together pieces from the blog's first three years, "the post Calvin:  selected essays 2013-2016" offer 90 essays in 15 sections.
"We asked for suggestions from writers, and then the four of us (Josh, Will, Deb and I) talked through each suggestion and tried to come up with a collection of pieces that represented the diversity of the blog and the individuality of each writer," said Zwart. "Once we'd narrowed it down, we ended up printing off each piece and laying them all out on a big table. I was visiting Josh and Will in Seattle, and we spent hours organizing the pieces into categories and then ordering them within the categories. It was beautiful to see the whole thing laid out there and to realize what good content we'd produced over three years."
Rienstra, one of the collection's co-editors and the author of its foreword, praised Zwart, deLacy and Montei's entrepreneurial spirit.
"I'm proud of … those three … because starting this is like starting a business: you have to have a plan, you have to have a budget, you have to do lots of research (which Josh did) and you need a team. That was these three, and Gabe Gunnink happened to be in Seattle at one point and got roped into it. They have taken ownership of this in ways that I couldn't have dreamed of," Rienstra said. "The fact that they went and did this entrepreneurial act is really impressive, not anything I could have even begun to do."
Browsing through the book's table of contents this past Tuesday, Rienstra smiled at title after title, remembering their insights, humorous and poignant alike. Cassie Westrate's "Potato Salad Diaries" provoked giggles, and "Tough World," Nard Choi's tribute to the late professor Bill Vande Kopple, inspired a thoughtful nod.
For Zwart, flipping through the anthology's pages included a few encounters with her past self. Her piece "Homecoming," collected within the book's "Classroom 101" section, first appeared on the website in 2014. The essay crystallizes her visit to her alma mater's homecoming football game. After "a middle school stint in between" her then-job and today, she now teaches at that same alma mater.  
"It's strange to read that piece now," she reflected. "Part of me feels the same way, and part of me doesn't."
"the post Calvin: selected essays 2015-2016" embodies all the depth and breadth of the website — in physical form. A wave of multicolored eyes snakes across the book's cover, and other illustrations by Maria Smilde accompany the essays.
"The object itself is really beautiful," said Rienstra. "We've all been reaffirmed in the idea that tangible objects are important … There's something about that tangible object that you can share more easily than a URL. We do that, obviously, but it's not the same as a hand-to-hand gifting of a book."
"the Post Calvin: Selected Essays 2013-2016" is available from Amazon.com and at the Calvin College campus store.
About the Contributor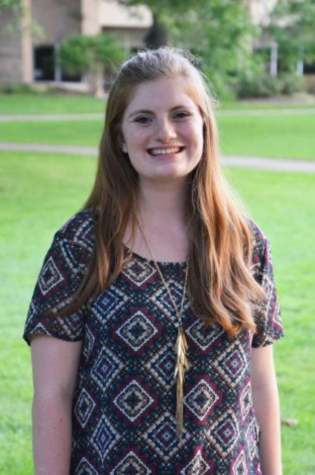 Courtney Zonnefeld, Campus News Editor
Courtney Zonnefeld is a co-campus editor for the 2016 year, having previously written for that same section. She is a junior writing major from Des Moines,...